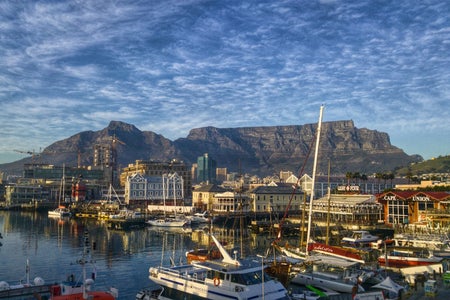 Coronavirus Has Impacted More Than My Personal Life—It Has Disrupted My Entire Community in South Africa
The opinions expressed in this article are the author's own and do not reflect the views of Her Campus.
When stories first broke about a global pandemic, I wasn't initially worried about the severity of the new coronavirus. My family's main source of income is through flea markets where they sell clothes and children's toys. With the spread of COVID-19, the markets had been quieter and vendors had stopped coming — but the markets had been slowing down long before the outbreak, so while I saw the disease as a problem, it didn't feel like an immediate one.  My community had enough problems, and I felt sure that this new wave of crisis would skip over us—it just had to. Here in South Africa, we already deal with load shedding (which are scheduled electricity blackouts), unemployment, crime, and poverty. HIV, AIDS and tuberculosis are rampant here, and that seemed much more dire to my community than a new virus. 
Things changed when a first victim was announced, a man who had traveled to Italy with a group of ten others. Naively, I thought it was an isolated case, but once his entire travel group got tested, we found out that seven of those 10 people tested positive. It was official: the coronavirus pandemic was present here too. News unraveled about how tests weren't being given at South African airports. People were coming in to the country from other infected areas, and no testing was being done. My community was livid, but we were assured that we had no reason to panic yet.
One week after the emergence of the new coronavirus, we had no longer had water in my home. I had to visit my grandmother to bathe, and I made sure to douse myself with copious amounts of hand sanitizer at work. During week two, we experienced more load shedding. At the end of week two, we learned that the coronavirus was now actively being spread among South African populations – and this is when the panic finally set in. Every differing country around the world has handled the outbreak in its own way, but it felt particularly like my area wasn't prepared. 
Schools were closed, sporting events were cancelled, and we were informed that we weren't allowed to hold gatherings of more than 100 people. While all this was happening, I was very adamant about staying germ-free. The government had assured us that by washing our hands, we would be safe. I needed to be extra careful about practicing healthy habits, because my dad was in hospital recovering from a surgery at the time and I didn't want him to get sick. Too, my mother has an autoimmune disease. Once I realized that my parents were at greater risk for the COVID-19 infection, I started to worry even more. Experts in the hostpial explained that the coronavirus is dangerous for people with diabetes and heart disease, like my dad, or people with a compromised immune system, like my mother who has lupus. If I contracted the virus, I would be a risk to both my parents. 
Now, both my parents are unemployed. My mother is medically boarded, while my dad has been retrenched. My family's sole source of income was the flea markets, and now all the flea markets have closed down completely to stop the virus from spreading. The coronavirus no longer seems like a distant problem for someone else—a medical researcher faraway in a lab or a government official—to deal with. It's my problem, in a way more personal than I could have imagined. People were bound to get sick, but I didn't anticipate my life being impacted economically or in terms of access to resources. Looking back now, I know now it was foolish of me to think that the universe would allow the outbreak to bypass my home, because we had "enough problems" already. Everyone should have been cautious as soon as we heard the first news of it, and I worry about what our lack of vigilant safety measures will cost us in the long run. As I write this, there have been 116 new confirmed cases of COVID-19 in my area alone. I don't want to be pessimistic, especially in a time like this, but I'm really worried for South Africa.