Prime Video's new movie Sitting in Bars with Cake made me hungry for two things: lots of cake and lots of knowledge. The movie follows best friends Jane and Corinne as they spend a year baking 50 cakes and taking them to Los Angeles bars to meet people. It's both genius and delicious. Each cake flavor looks heavenly; I need to find a recipe for Corinne's Cocoa Krispies birthday cake ASAP.
Before I start scouring the internet for a copycat recipe, it's my duty to share with you what I learned while satiating my other craving. There are a ton of recognizable faces sitting in those bars with cake, but they're the kind of recognizable that flares up some neuron buried deep inside your brain. You just need a bite-sized bit of knowledge to remember where you know the Sitting in Bars with Cake cast from. Bon appetit, babe.
Yara Shahidi
Now that we're all grown-ish, we can admit that Yara Shahidi is absolutely the breakout star of ABC's Black-ish. Shahidi reprised her role as the fashion-forward Zoe Johnson in the show's spin-off Grown-ish and brought Tinkerbell to life in Disney's live-action Peter Pan & Wendy movie. 
Shahidi's a force to be reckoned with outside of the entertainment industry too: She's a STEM activist and Harvard grad (Michelle Obama wrote her recommendation letter). I wonder if she's as good at baking as her character Jane is in Sitting in Bars with Cake.
Odessa A'Zion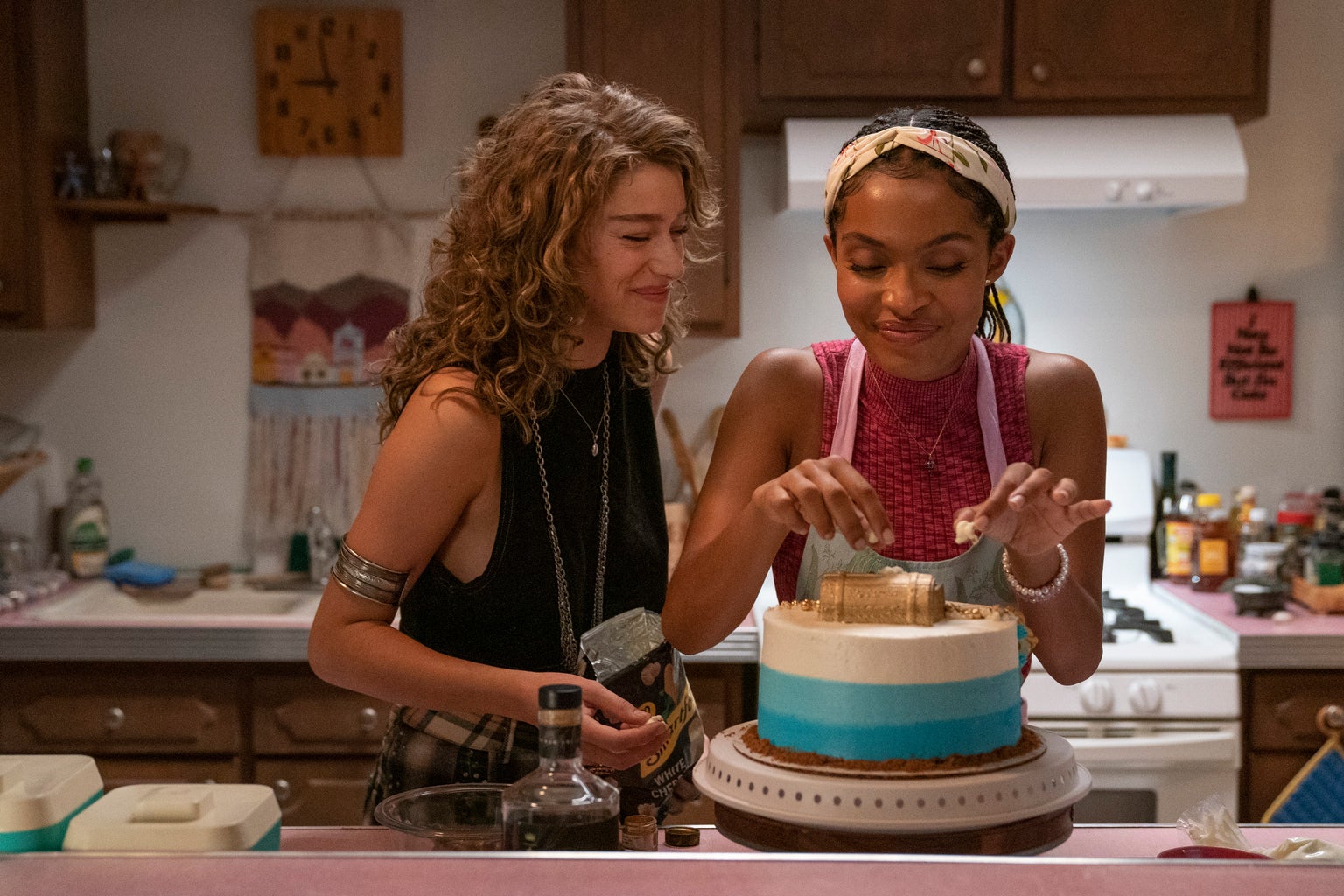 I'm going to be honest with you: I only recognized Odessa A'Zion's name because of her rumored relationship with Outer Banks' Drew Starkey. I'm sorry, Gloria Steinem. A'Zion's a rising star in her own right with roles in the Hellraiser reboot and the short-lived sitcom Fam. Her role as Corinne in Sitting in Bars with Cake proves that her acting range can do it all.
Martha Kelly
This one really bothered me. Corinne's mom was so familiar, from her face to her deadpan voice. You've probably heard Martha Kelly's signature monotone line delivery in Season 2 of Euphoria, where she played the calm yet terrifying drug dealer Laurie. She also played the tour guide in Spider-Man: Homecoming who Spider-Man saves from being trapped inside the Washington Monument's elevator.
Rish Shah
The Sitting in Bars with Cake and MCU connection gets even stronger. Rish Shah landed his breakout TV role playing teen superhero (and maybe supervillain) Kamran in Mrs. Marvel. You might also recognize him from our modern-day Mean Girls, Netflix's high school comedy Do Revenge. He plays Jane's love interest Owen in Sitting In Bars With Cake with his natural British accent that's almost as irresistible as Jane's cakes.
Maia Mitchell
You're cruisin' for a bruisin' if you forgot about Maia Mitchell. The Aussie co-starred with Ross Lynch as Mack in what's arguably the best DCOM of the 2010s, Teen Beach Movie. She also had a major role as Callie Adams Foster in Freeform's The Fosters and its spin-off series, Good Trouble. She plays a supporting role in Sitting in Bars with Cake as Jane and Corinne's friend Liz.
Bette Midler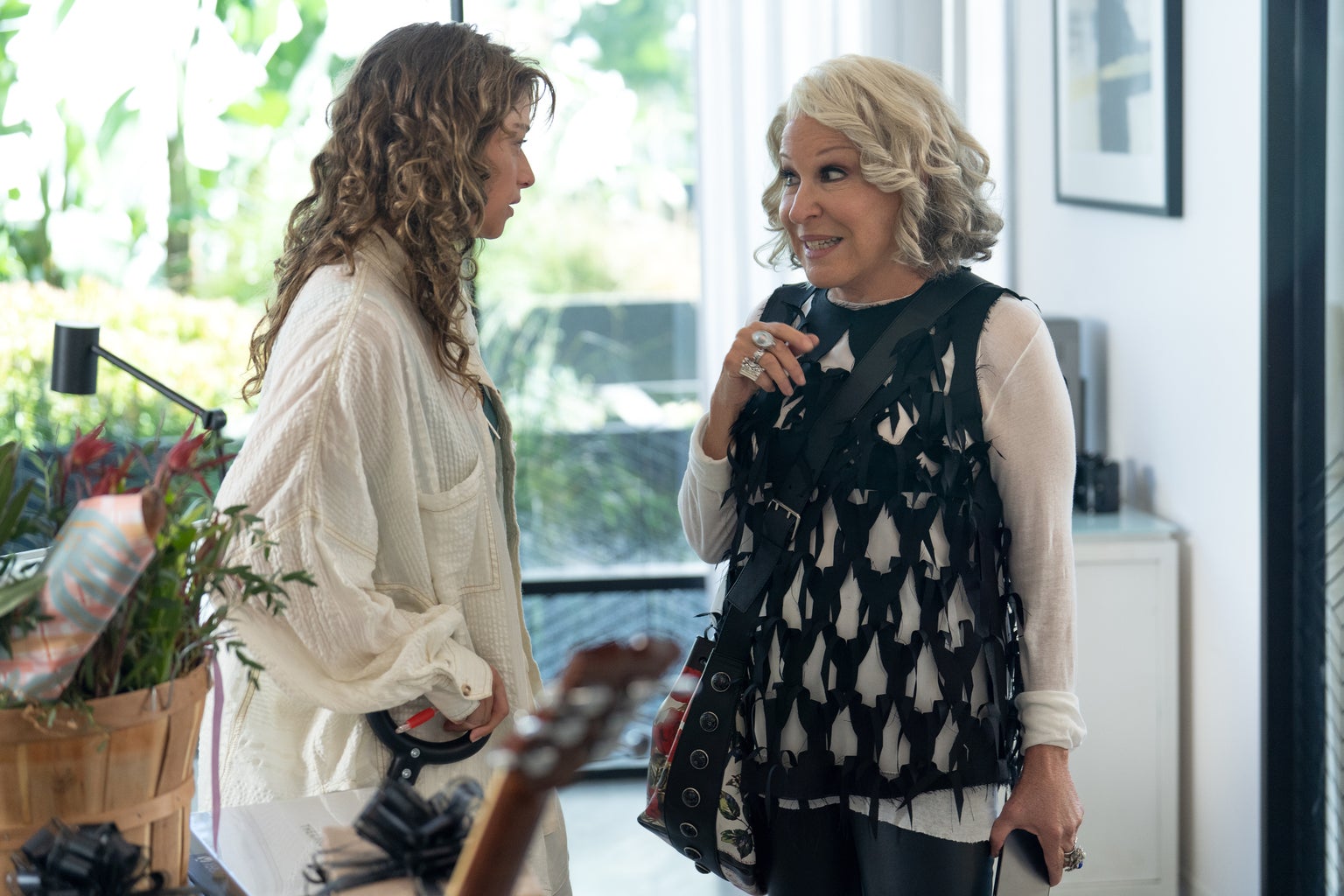 Oh look, another glorious actress! It makes me sick to think that someone wouldn't immediately recognize Bette Midler as Winifred Sanderson from Hocus Pocus. In Sitting In Bars With Cake, she plays a Miranda Priestly-like titan of the music industry who also happens to be Corinne's boss.
Excuse me while I wipe the frosting off my keyboard.