By now, you've probably heard that Season 2 of The Sex Lives of College Girls has come to an end. This season has kept me on the edge of my seat, never really knowing what to expect next. Whether we're talking about Whitney's bio bro hookup or Kimberly deciding to actually sell her eggs in college, one thing is for sure: Season 2 has kept me fed with content. I'm truly such a big fan of the show, so of course I've been wondering what Season 3 of The Sex Lives of College Girls is going to look like. Are Whitney and Kimberly going to stop being friends over Canaan? Is Bela really transferring? These are all very important questions that I need answered. Here's everything we know (so far) about Season 3 of The Sex Lives of College Girls. Spoiler warning: Spoilers for The Sex Lives of College Girls Season 2 follow.
The Sex Lives of College Girls has Officially been renewed for Season 3.
My prayers have been answered: The Sex Lives of College Girls was officially confirmed for a third season by HBO Max on Dec. 14. The recent cancellations made by HBO Max really had me scared for the show's future, but alas, there's no need to worry anymore. After Warner Bros. Discovery announced that HBO Max and Discovery+ would be merging together to create one singular streaming platform, a bunch of other series cancellations had been made. There has been no confirmation, though, surrounding which characters we can expect back for Season 3.
We're Not Sure Which Characters Wll Return.
While I would love to report that Leighton, Whitney, Kimberly, and Bela would all be a part of a third season, that just might not be the case. Of course, there were plenty of unresolved cliff hangers that fans were left needing answers to by Season 2. But, like with any television show, it's unclear if each of the girls will return. 
After revealing that she wanted to transfer away from Essex, we don't know if Bela will even still be attending the same school as the rest of the girls. And with Whitney and Leigthon's unresolved, unaddressed feud over Canaan, there's no way to tell if the foursome is going to even stay friends. The incoporation of other side characters throughout the season (Andrew and Priya, to name a few) has me believing that maybe the spotlight will be shifted from the OG foursome.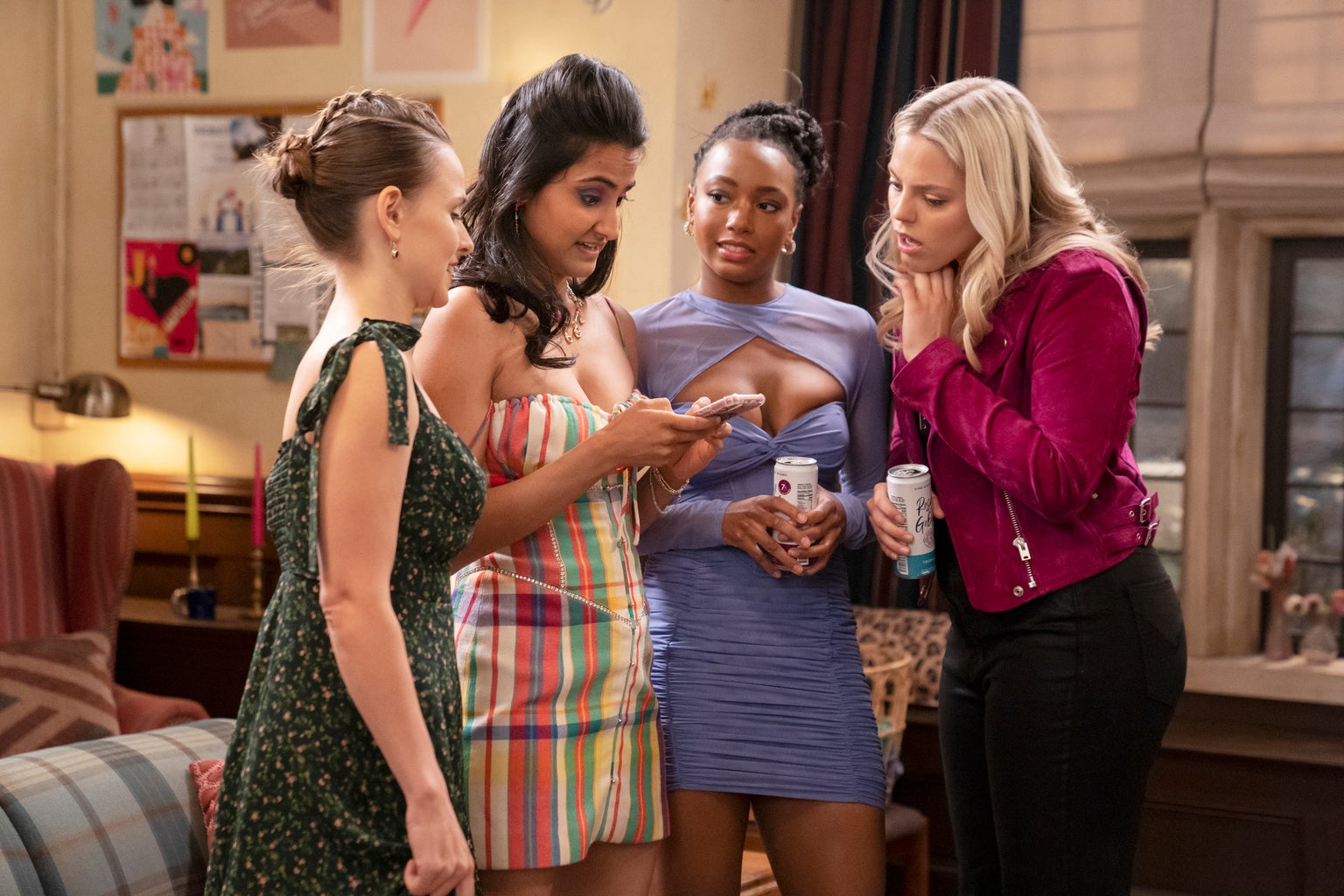 The release date, plot, and trailer are still TBD.
Unfortunately, we'll probably have to wait a while for more concrete details on Season 3, but we can probably expect the plot to pick up at the start of a new school year.
The Sex Lives of College Girls cast is busy working on many other projects.
Of course, the actresses behind the characters are all busy in their own rights. Amrit Kaur (aka Bela) dished to Glamour that she probably wouldn't even have the time to watch Season 2 until 2023, as she's been busy working on a movie while the episodes have been premiering. Renée Rapp (aka Leighton) has been releasing original music and just landed the role as Regina George in the new Mean Girls musical movie. With her new show Reboot premiering during 2022, Alyah Chanelle Scott (aka Whitney) is also occupied with other projects, and Pauline Chalamet (aka Kimberly) is enjoying working both in front and behind the camera.
With that, it's clear that the cast is booked and busy. Of course, the show wouldn't be the same without our four leading ladies, but the finale of Season 2 has left me wondering if they'll all be heavily apart of Season 3. Of course, I feel like we'll need to get some closure on the cliffhangers that the last episode of the shows second season left viewers with. However, that's not to say that the show won't tie up the loose ends and send some of the other characters packing. To be honest, I'm scared that this will be the case, but nonetheless, I'll be waiting for some type of confirmation surrounding the official cast before I jump to any rash conclusions.
Based on just how much I loved Season 2, I can't express my excitement about the upcoming Season 3 of The Sex Lives of College Girls. From the potential storylines that will develop in the next season to the potential introduction and spotlight shifting to new characters, it's clear that I'll be waiting patiently for Season 3 to come out.