Pedro Pascal has made his career playing suave yet rugged characters on screen and he has made the world love him off-screen with his protective, loving personality. If you didn't already have enough reasons to stan Pedro, I've got another one for you: his sister Lux. 
In his most recent interwith with Esquire, the 48-year-old actor opened up about his relationship with his youngest sister, 30-year-old Lux Pascal. Despite their 18-year age-gap and living on different continents, the sibling duo does their best to see each other as often as possible (according to Pedro). When asked about his sister, who he's spoken about in multiple interviews, he always has something positive to say. His most recent mention of their relationship has me melting inside.
"I wouldn't want to speak on her behalf," Pascal said of Lux to Esquire, "but she is and has always been one of the most powerful people and personalities I've ever known. My protective side is lethal, but I need her more than she needs me."
We love to see a supportive older brother. But, we already know plenty about Pedro. Who's Lux? The Chilean actress and transgender activist has her own impressive resume. You might just have not heard of her if you can't speak Spanish.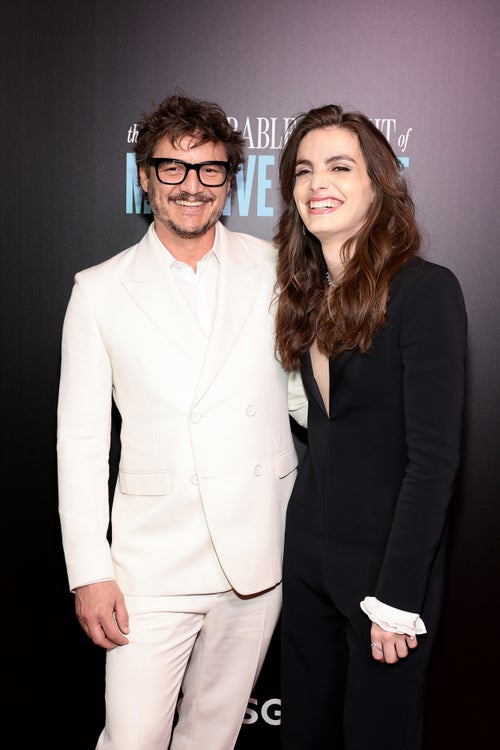 Lux pascal has been in a ton of Movies and TV shows.
For most of her career, Lux has starred in Spanish-speaking media. (Although, she was in Season 3 of Narcos with Pedro.) In 2014, she made her debut in Pablo Rotemberg's play La Noche Obstinada (this also happened to be her senior year studying theater). In the same year, she landed her first silver-screen role on Canal 13's series Los 80, where she played Axel Miller.
Her film debut, 2016, was in Prueba De Actitud, directed by Fabrizio Copano and Augusto Matte. In 2017, she played Elijah on Narcos. Her most recent works have been in Chilean films, No Quiero Ser Tu Hermano, directed by Sebastián Badilla, Ella Es Cristina, directed by Gonzalo Maza, and The Prince, directed by Sebastián Muñoz.
She's posted cute pics with her partner on Instagram.
Lux has been in a relationship with actor José Antonio Raffo since 2011 and the pair are a theater power couple. (Their pics together on her Instagram, @luxpascal_, are so freaking cute.)
Lux came out as transgender in 2021.
A major reason Pedro and Lux's bond has become relevant is due to the anti-trans legislation sweeping the United States. Lux began to publicly identify as a transgender woman in 2021. She came out, splashed on the cover for the Spanish-language Ya Magazine, where she opened up about her transition for the first time. Pedro was quick to post her cover story and offer support. "Mi hermana, mi corazón, nuestra Lux," Pascal wrote in his native Spanish, which translates to, "My sister, my heart, our Lux."
Lux herself said in the interview that Pedro "has been an important part of this. He's also an artist and has served as a guide for me. He was one of the first people to gift me the tools that started shaping my identity." 
She's not Pedro's only sibling.
Lux isn't Pedro's only close sibling. His older sister, Javiera Balmaceda, invited Pedro to be her honorary date to the 2023 Oscars. Balmaceda works for Amazon Studios and helped create Argentina, 1985. The movie was up for Best International Feature at the event.
It's been over two years since Lux came out as herself and the Pascal siblings have all been vocal about their passion for LGBTQ+ rights. Their relationship has me weeping; it just so perfectly fits with how I'd imagine Pedro to be based on the characters he's played. Go stream The Last of Us or The Mandalorian — or some of Lux's Spanish movies if you're down. The Pascal siblings deserve all the love.