Forget About History: 5 Women in Politics Who are Shaping the Future
One hundred years from now, when the memories of the 2020 election have faded, one person will be remembered: Amanda Gorman. The moment Gorman recited her poem, The Hill We Climb solidified her in American politics forever. But she's not the only trailblazer to emerge from the 2020 election, which saw an increase of progressive Democratic women in Congress, the White House, and in state legislatures across the country. Each of these trailblazers represents the power, diversity, and tenacity of American women today. These are just a few of their stories.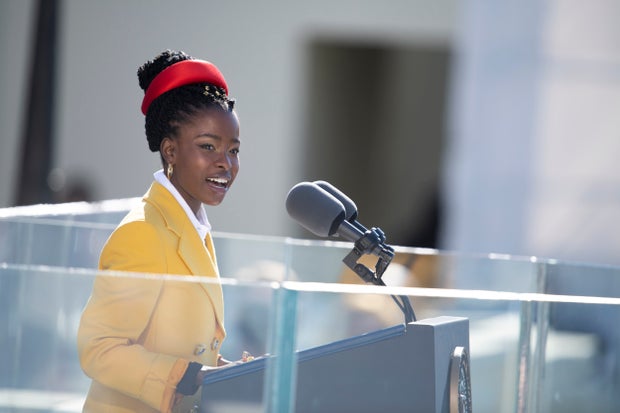 Photo by Navy Petty Officer 1st Class Carlos M. Vazquez II distributed under a CC BY 2.0 license
1. Cori Bush, Congresswoman for Missouri's 1st District 
Cori Bush first sparked national attention when she ran against incumbent Democrat Lacy Clay in Missouri's 1st Congressional District. Though she lost this election, her run was documented in the Netflix film Knock Down the House. In 2020 she defeated Lacy, and became the first Black woman and first nurse to ever represent Missouri.
Prior to her congressional win, Lacy spent 400 days "leading the Ferguson Frontline as a nurse and clergy" during the 2014 Black Lives Matter demonstrations. As a Congressman, Bush intends to focus on economic justice, prison reform, and improving public safety.
2. Sarah McBride, State Senator for Delaware's 1st District 
On November 3rd, 2020 Sarah McBride made history as the first openly transgender Congresswoman in United States history. Upon winning her election, McBride told journalist Randall Chase, "It is my hope that a young LGBTQ kid here in Delaware or really anywhere in this country can look at the results and know that our democracy is big enough for them, too."
After graduating from American University, McBride became the first openly, trans woman to work in the White House, and the first openly trans woman to speak at the Democratic Convention. In addition to LBGTQ+ rights, McBride is committed to "fighting for health care for all, strong public schools'' and improving job quality in Delaware. 
3. Safiya Wazir, member of the New Hampshire House of Representatives
Safiya Wazir defied odds when in 2018, the former refugee was elected to the New Hampshire House of Representatives. When Wazir was six years old, she and her family fled Afghanistan and lived in a refugee camp in Uzbekistan for 10 years. She arrived in New Hampshire when she was just 16 years old, and when she was 27, entered state politics. Wazir told Associated Press reporter Holly Ramer, "Immigrants or refugees have ideas that they could contribute to this state because every bit of new blood brings new ideas to the state."
Two years into her term, Wazir educates Americans on the Afghanistan war. Wazir told reporter Emma Adams, "I am grateful for family and friends and constituents who voted for me, to allow a person who suffered, and who was war-torn, to be their representative," Wazir said. "They listen to me, I listen to them."
We need to elect more women of colors in every level of government. https://t.co/CnECOAe7V7

— Safiya Wazir — NH State Representative (@WazirNh) March 8, 2021
4. Nupol Kiazolu, Black Lives Matter activist and future president 
In November 2018, Teen Vogue featured Nupol Kiazolu as one of their 21 Under 21: Girls and Femmes Who are Changing the World. Flash forward to 2020, and Kiazolu is "one of the most well-known activists of the Black Lives Matter movement," according to CNN.
In addition to being the president of Black Lives Matter Greater New York chapter, Miss Liberia USA, and the founder of the national voting campaign "Vote 200," Kiazolu also aspires to be president of the United States by 2036. "You are never too young to raise your voice and stand up for what you believe in," Kiazolu told journalist Emerald Pellot. Kiazolu's ambitions and accomplishments place her in league with other Black female activists such as Angela Davis or Shirley Chisholm. 
5. Elisa Crespo, candidate for the New York City Council, 15th District (the Bronx) 
The 2020 election may be over, but women across the country continue to run for office. Elisa Crespo is currently running against outgoing Councilman Ritchie Torress. If elected, she would become the first openly transgender lawmaker in New York State, as well as the first former sex worker to be elected to office. 
Crespo demonstrates that facing challenges and barriers makes for an emphatic and powerful leader. If elected, Crespo is determined to lessen economic inequalities in New York and promote higher education, worker unions, and voting awareness.
These five women aren't the only progressive leaders fighting for change in their communities. In fact, I could go on to profile dozens of Congressional leaders, community organizers, and activists. These changemakers have utilized the hardships and barriers of their past to become more emphatic and powerful leaders in their community. Their stories show that no matter what you go through in life, you always have the potential to lead others and inspire change. This Women's History Month, we honor the women who continue to meet today's challenges with grace, empathy, and power. Here's to the future!