How We Can Keep Increasing Queer Visibility, Even Though Pride IRL Has Been Cancelled
Pride is a colorful explosion of culture, intended to commemorate the impact of historic individuals and promote the LGBTQ rights movement. It's one month of the year where we can gather together and celebrate our identities, without shame. Pride is for us. 
So, if you're anything like me, you're probably feeling a bit bummed out that Pride celebrations around the world have been canceled or postponed. This year actually would have been my first time attending a Pride parade, and the same goes for many other college students who will have to wait until 2021 to march through the streets waving a rainbow flag.
But, what can you do to still feel close with other LGBTQ folks and raise awareness for queer and trans causes, even when Pride won't take place IRL? Here are a few ways you can keep visibility alive, this month and always.
Recognize LGBTQ figures in history
I can't tell you when I've sat in a class and regularly heard the stories of queer figures. I haven't seen a textbook in my high school or college courses discuss some of the most notable LGBTQ individuals in history. Mathematician Alan Turing was a man who was responsible for helping the Allies defeat Nazi Germany. Brenda Howard was the bisexual feminist credited for the birth of Pride. Sylvia Rivera was a transgender activist who is responsible for the Sylvia Rivera Law Project, which fights discrimination against workers for anything such as sex, gender and race.
To keep queer visibility top-of-mind, you can self-educate on LGBTQ historical figures and LGBT History Month. Without these people and moments, our current social and economic systems wouldn't be nearly what they are today.
Read up on pivotal events
It's also important for us to honor the impact of events that shaped LGBTQ history. Some of the most notable turning points include the Stonewall Riots, the legalization of same-sex marriage in 2015, and the moment when homosexuality was removed from the DSM which previously listed it as a mental illness. This timeline from CNN lists milestones for the community beginning in 1924 and leading all the way up until 2019. As another resource, this timeline from GSAFE marks key moments in LGBTQ spanning the past 400 years.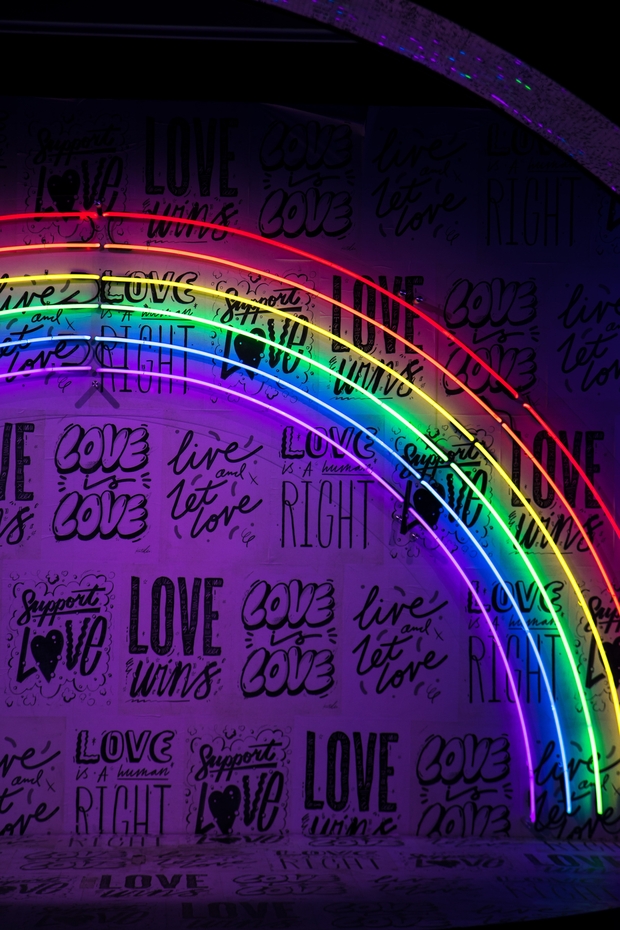 If your school hasn't shared these stories, your need to seek them out. It's our job to teach ourselves about the parts of history that some would prefer to ignore, to honor Pride even when there aren't fun parades to go along with it.
Consume queer pop culture
Queer pop culture is so important for visibility because it shares the narratives of LGBQT characters and often promotes inclusivity. You can watch films like Love, Simon, The Half of It, or Moonlight—or binge shows like Sex Education, Gentleman Jack, and Schitt's Creek.  Some LGBTQ book titles include Red, White & Royal Blue by Casey McQuiston, and The Stars and The Blackness Between Them by Junauda Petrus.
Consuming LGBTQ media, whether brought to life by queer creators or inclusive of characters, is also easy to do with friends and family. Just sit on the couch and watch a movie together—it's a super accessible way to immerse those around you in Pride!
Use social media for conversation
Social media is another helpful tool when it comes to raising awareness. This month you can post pictures of your at-home Pride celebrations on Instagram, write up a Twitter thread of queer-run businesses to support, or even share fundraising opportunities on Facebook. My favorite tactic is to share in-feed posts from creators in my Instagram stories—just an easy reminder to my followers that the LGBTQ folks can't fade into the background.
This will be a different year without an in-person Pride, but there's still a lot we need do to support LGBTQ people during this time, to ensure that progress isn't lost or hidden. Everything you do to support your queer or trans friends and community members helps to expand queer visibility, even without the grand gestures of a Pride festival. This is still our month to commemorate Pride and its history, and that won't go away.