Tumblr Is Combating the Spread of Political Misinformation with the Ultimate Educational Campaign
If voters learned anything in 2016, it was that it's really easy to spread misinformation on the internet. With the primary election in progress, Tumblr has launched an internet literacy campaign to help its community combat fake news and cyberbullying. The blog platform prompts its audience with a single question: "What will you do to make the world better in 2020?" Although this question feels like it's brimming with pressure and responsibility, Tumblr just wants this election year to be remarkable for its community, especially Gen Z users. As a way to provide an informative experience, the platform will transform every month to highlight social issues that you can access at action.tumblr. Within the page, you can scroll through the #NeverAgain gun violence prevention blog, the #BlackExcellence365 blog that brings attention to Black creatives, and you can even register to vote.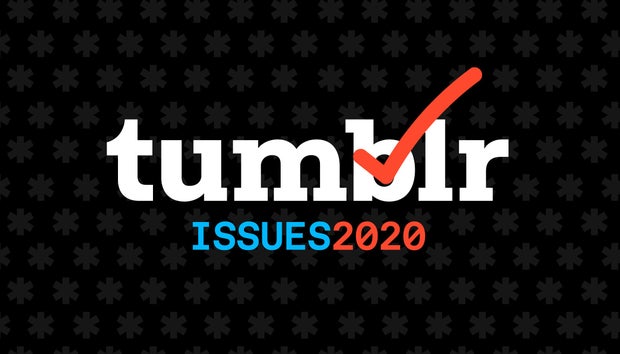 Tumblr
Because Gen Z is the largest generation in the U.S., our voices are loud when leading conversations about activism—and as such, this initiative pairs perfectly with the active Tumblr community. "Millennials are a little more reserved, but Gen Z is just not afraid," says Victoria McCullough, the Director of Social Impact and Public Policy at Tumblr. "They're very courageous in that respect – not afraid to speak out to power, to authority, or to adults, and that's going to be a powerful thing going into this election." Tumblr has a long history of responding to its community's interest in voter participation, and it initially launched Action on Tumblr just two days after the 2016 election. The outcome of that election was jarring for many young first-time voters who were highly engaged in the race, hoping that their preferred candidate choice would take office. "They were very discouraged, they weren't sure what to do, and also felt like their vote didn't matter," McCullough explains. "We felt like we needed a home on Tumblr, where we could really pull all those resources and pull all that conversation together and use that for all the activism that we see, just to make it easier to share perspective on all sorts of issues."
This year, Action on Tumblr plans to evolve from its roots and will generate partnerships with several different organizations (like Black Girls Vote, 18 Million Rising, and Planned Parenthood Action Fund) to host a monthly Q&A segment called Issue Times. The goal is to foster discussion while educating users on how to handle social media spaces and political conversations. 
"By bringing resources, experts, and advocates to the issues that we know our audience cares about the most, they are reminded not only how to vote, where to vote but they get all the motivation that they can get so they see how high the stakes are," McCullough says. "That can be Tumblr's place in the larger internet universe – a place where people feel like 'Oh man, this why I need to vote.'" Tumblr has seen outstanding impressions with an 140% increase in engagement on the Action page since the campaign launched at the end of January.
Whether you're a grassroots activist canvassing around your local neighborhood or you're just beginning to follow election news, Action on Tumblr can be your home base. This goes for everyone who wants to see change start at their fingertips. November 3rdfeels like a distant thought because it's still so early in the year, but huge developments are occurring daily. If you want to exercise your political engagement in a community that loves reblogs, consider exploring Action on Tumblr. And to keep up with all other voting issues and updates, check out Her Campus's election page.