Madelaine Petsch is probably best known right now for her role as Cheryl Blossom on the CW's Riverdale, but many may also know her from her YouTube channel, where she makes beauty, lifestyle and wellness vlogs — many featuring her Riverdale cast mates. Thanks to her successful career as both an actress and a YouTuber, Madelaine has been able to use her platform to advocate for issues she cares about, previously including environmentalism, veganism and animal rights. 
Most recently, she's partnered with AbbVie, the maker of contraceptive Lo Loestrin Fe, on their new campaign 'Are You in the Lo?', which advocates for women to research their pregnancy prevention options. Madelaine took some time to speak with Her Campus about her path to becoming an activist, and why she's passionate about the messaging behind 'Are You in the Lo?' 
Over 60 percent of women over the age of 18 use some form of pregnancy prevention, whether it be oral contraception, an IUD, or another method. Just like any other form of medication, it's extremely important for people to consult with their health care provider about their options, so Madelaine became involved with 'Are You in the Lo?' to encourage women to become educated about their own bodies and their reproductive health. "…There's a lot of stigma around speaking about this topic still, and it very much bothers me," she says. "It's just like any other part of health. It should be a very normalized topic within society." She hopes to instill a sense of curiosity in young women, encouraging them to research their options and to speak candidly with their OBGYN.
Because she wasn't always comfortable talking about her own body
During her health classes back in school, pregnancy prevention options were never discussed. "They taught you about the condom and the banana, but that was as far as that went," she says. The lack of conversations around pregnancy prevention options lead to stigma surrounding discussions about her reproductive system, so her first encounters with an OBGYN were awkward. 
"When I first started going to an OBGYN, it was like an awful – it felt awkward to talk about my vagina. And it felt awkward to talk about my reproductive organs. And I don't know why that is," Madelaine says. "I don't know if that's maybe a stigma in society, or the human constructs that we've created around having a vagina or [female-presenting] reproductive organ[s]."
So she became an advocate to educate others about issues she cares about 
Campaigning for people to take issues she cares about seriously isn't something she does for pleasure, but instead as a way for people to become more knowledgable about the world around them. "I did it because I believe in the causes that I'm speaking about, and I want people to understand and be educated on those same things," she says. "It's about helping people learn more about what's going on in the environment, and with reproductive health, and with feminism and equality."
But, she wasn't always so open about her stances 
While Madelaine is quite active now in her advocacy, that wasn't always the case. She was scared that if she spoke up, she'd lose the approval of some people. Madelaine worked through these fears by going to therapy, and now reminds herself she'll never have the approval of everyone. The same can be said for every one of us, so it's important to focus instead on what you believe in. "[Now I have a process of] settling into myself and asking, 'what's important to me?'," she says. "Is it important to me to make sure that everybody likes me, or to be authentic to myself and to talk about the things that are important to me?" She hopes that by adhering to the latter, she'll be able to educate others on those causes, leading to even one person to believe in environmentalism, or to be more into equality, for example.
Even so, she doesn't blame celebrities for not speaking up about the issues they care about, as it's "very scary to be controversial, and to be taboo, and to create a story." While Madelaine understands that many people would like to see celebrities speak out more on social, political and environmental issues, she's able to empathize because she, too, had a time where she was afraid to openly advocate. However, Madelaine does believe that if people are comfortable with it, they have a great responsibility to use their platforms for activism.
Being a vocal advocate has made her a more confident person 
In speaking up for the issues that she feels are important, and urging people to take action, Madelaine has become even more confident — both with speaking up in her activism, but also outside of her advocacy work and her career. "[Activism has] definitely taught me a lesson in self-confidence, and also talking about it and speaking up more overall – and for what feels authentic to me – in my personal life. It's taught me a lot about myself," she says. 
One thing she learned about herself was that she didn't want to stay silent any longer about the issues she cared about. Not speaking out not only hindered her ability to inform her followers online, but also beyond that in her day-to-day interactions. "I think that women have a tendency, or maybe in the past, have had a tendency to quiet themselves and not want to cause a stir, especially in my parents' generation. And I don't want to be that person," she says. "I wouldn't be able to speak up about what's important to me not only online, but also in my personal life. So I think it's taught me a lot about being confident in how I feel, and who I am, and what I have to say."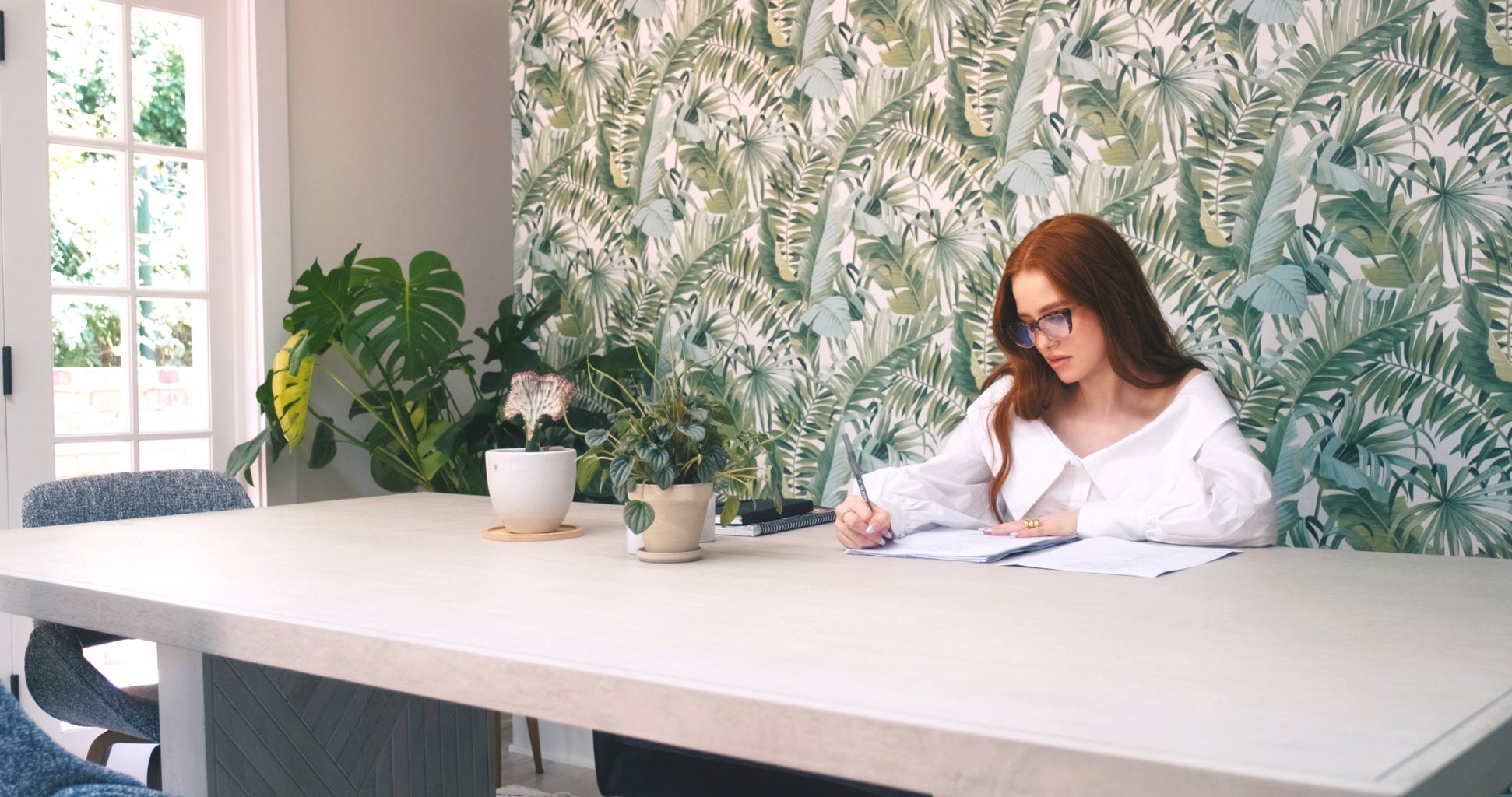 And she knows she wouldn't be able to share the issues nearly as broadly if she wasn't an actress 
When someone becomes an actor or actress, it basically comes with a built-in platform. For some, that platform is used to promote themselves, but Madelaine is extremely thankful to have that platform to promote advocacy for the global issues she cares most about, and inform her fans and followers on those topics. Whether it's funding racial justice, encouraging people to vote, or urging people to adopt their pets, Madelaine has used her social media as a way to educate those who follow her. 
So much of activism is done through social media, as it's the easiest way to disseminate information to a large group of people. When someone with a large social media following posts educational materials about social, political or environmental issues, it can reach hundreds of millions of people. "It feels like a really beautiful responsibility that I have to try and become a good role model for people who follow me, and to educate them on certain topics that maybe otherwise wouldn't be on their Instagram feed," she says. "I don't think I'd have that platform, and that way to raise awareness if I wasn't an actress."
But anyone can become an activist at any time
Being in a position with a large platform certainly helps, but it's not a necessity to advocating for the things you believe in.
If Madelaine could have given her younger self one piece of advice about becoming involved in advocacy work, she would have tried to view it as a discovery, rather than something to be scared of. Obviously, there's so much information out there, and it can be scary for those in the initial stages of educating themselves. By shifting the way that one is looking at this process of learning, Madelaine believes she could have begun her journey earlier,  
"There are so many hurdles when it comes to environmentalism or inequality that it feels a little daunting to learn everything about it. Because the minute you dive in it's such a beautiful thing to look at, and you want to read things that you're passionate about," she says. "So instead of looking at it as a daunting task, I wish I would have looked at it in an exciting way, because I would've been able to know more about it way earlier on in my life."
Moving forward, Madelaine will continue to make her voice heard, both on and off the screen. She'll be appearing in several movies in the near future, including the upcoming thriller Sightless. In addition, she'll continue to star in Riverdale, which is set to return in January 2021. The smash teen drama didn't completely finish filming its fourth season due to the coronavirus pandemic, leaving its protagonists in the midst of their final weeks at Riverdale High. Madelaine will be continuing her advocacy work, with a few projects to be announced in the coming weeks. 
Whether she's strutting the halls of Riverdale High or promoting women's education on their pregnancy prevention options, Madelaine continues to inspire thousands to stand up for what they believe in and feel confident about their decisions. "The more research that you do and the more you educate yourself, the more powerful your choices in your life can be."