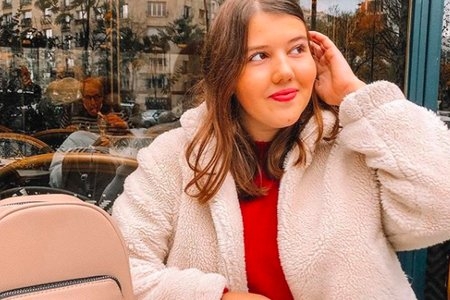 Original Photo by Ariane Vigna
I'm an International Student in France, & I Don't Know When I'll Get to Come Back to the U.S. Again
It feels as though a lifetime has passed since March 7 when I was nervously waiting to board my flight from Boston back to Paris. I'm an international student from France, and though I love Boston, visiting home keeps me sane. I knew if I took on summer classes or an internship and stayed in Massachusetts, I risked not seeing my family for months because of how quickly COVID-19 was spreading. I took a chance on a last-minute flight for a quick trip home, and I was so stressed at the Boston airport because I had a gut feeling that something was going to go wrong. I didn't know that President Trump would soon impose travel restrictions. At that time, the new coronavirus disease had started to surface in my country, and was impacting Italy pretty badly as well. I figured that time would be on my side, and that I would visit home, then be back on campus a week later. It didn't occur to me that once I left, I wouldn't be able to come back.
When Trump called for a sudden restriction on travel to and from European countries starting on Friday, March 13, it was the middle of the night. I had been planning on returning to Boston from France that weekend. I was still awake because of the jet lag, and I changed my plane ticket to Thursday instead of Sunday. I wanted to go back at all costs. The next day, I was on my way to the airport. I didn't have the a chance to say goodbye to my family – they were off to school and work by the time I woke up. I couldn't even bring myself to cry, because I felt such an amount of extreme stress and exhaustion draining me. There was one thing I needed to do before boarding the flight: check if I would even be allowed back into the U.S. since a student visa proved to be a fragile guarantee of entry on American soil. "If I get there just a day before the travel restriction window, would I even make it past customs?" I asked an airport official. They said I would be, before adding, "But you won't be able to come back to France." My heart dropped. In the frenzy of packing, I had not realized that this ban was a two-way street. AirFrance would not be welcome in North America for a while, so there would be no flights I could catch if an emergency situation occurred due to the virus. I had to choose between two cities. Everyone was counting on me, and I had no clue what to do. It was too much pressure.
Eventually, I took my suitcase back to the parking lot. I decided to stay in Paris. I knew I needed access to free healthcare if things got ugly, and I also knew that I would be devastated if anything were to happen to my family and I couldn't get to France – or even to have the chance to mourn someone in the worst-case scenario. 
In retrospect, I'm devastated that I didn't get to say a proper goodbye to Boston, the city that became my second home. I also didn't get to say goodbye to my partner, who I will now be separated from for the next two months, if not more. Sometimes, I fall asleep thinking of the stupid moment I let go of her hand at a MBTA stop downtown. Now, my country is on a national lockdown. I can only go outside to exercise or shop for groceries, alone. There is a frightening silence around me, because the street outside my window is now quiet, and truthfully, I feel lonely.
After talking to other international students, I see more and more why the pain of being told not to come back to the country you've grown to love is incredibly painful. 
So here I am, now. I don't regret getting on that flight back to Paris, but I am scared for the future. Taking online classes with the time difference is proving to be hard. One of my classes takes place at night now, and I can't participate without waking up my entire family, and my professors haven't been that understanding. Social isolation from both my American friends and my French friends makes the distance heart wrenching. Trump's restriction on work and student visa holders has me feeling like a reject. Why is it that we aren't we granted the same opportunity to self-quarantine like the American citizens who are returning from spring break? 
When all of this is over, I won't return to Boston feeling bitter. This is mainly because this pandemic affects all of us, we share the same pain and anxiety – even as it impacts us in vastly different ways. This whirlwind has made me realize just how grateful I am to be able to study in America and to be physically healthy. It is truly a dream to be an international student, no matter the tremendous obstacles that sometimes get in the way of my education. The fact that I am able to lean on the Her Campus community and my school's chapter in times like these goes to show how lucky I am to have bonded with people from entirely different cultures and backgrounds halfway across the world.
So, before I return to Boston, I will open my heart, stay positive, and be thankful that I am even able to have two homes in the first place. I say to my brilliant, spirited school and friends, "Ce n'est qu'un au revoir." It's only goodbye and not farewell. I hope that all my fellow international students, who have been facing similar dilemmas are taking care of themselves and getting ready to be back in America again soon. In the meantime, let's all fight this pandemic with kindness and resilience, no matter where we come from and where we're quarantined.