Seriously, Though, Hannah B. Needs To Be the Next 'Bachelorette'
If you've watched Hannah Brown on this season's Bachelor with Colton, you know she's Bachelorette material — she's relatable, no-drama, and full of contagious positive energy — which is why I'm practically on my couch with a bottle of rosé and popcorn ready for for Hannah B to be running the show. Hear me out. 
Even while re-watching her breakup with Colton during the Women Tell All, Hannah stayed poised and collected — telling Colton that she hopes they are "cool" with each other and there are no hard feelings between them. A true class act.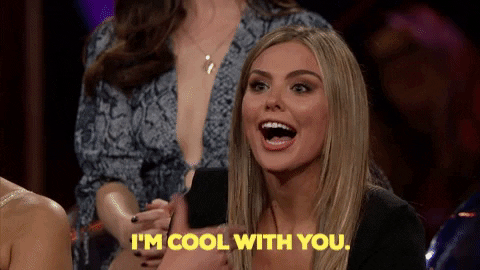 Hannah acknowledges that she learned from her time with Colton, and it has prepared her for what's next. "This experience and the relationship I had with Colton allowed me to see myself in a different way and be vulnerable with who I am and who I want to be and what type of love I want to have," she said to Chris Harrison. Anyone who plans on being The Bachelorette needs to be confident and know what they want, and that's exactly what Hannah has. Besides Demi, no other contestant was as forward and confidently herself as Hannah was. The Bachelor and The Bachelorette is so fast paced, that whoever is chosen needs to be ready to open up, and that's why I have my money on Hannah B. 
Listen, I'll be the first to admit that Hannah B. wasn't a fan favorite at the start of this season's Bachelor, but after watching her develop serious feelings for Colton — feelings so strong she even ate a fish eye with him — things changed, and viewers realized how genuine she was. And when Colton didn't feel as strongly about Hannah in the end, her poise and maturity shined through.  In an interview with US Weekly, Hannah said she would love the opportunity to be the next Bachelorette. And I'm here to say, give it to her. Bachelor Nation deserves it. 
Tune into the season finale of The Bachelor this Monday, March 11 and Tuesday, March 12 at 8 p.m. EST. Cross your fingers for Hannah B. to be announced as The Bachelorette Tuesday night during the live finale.