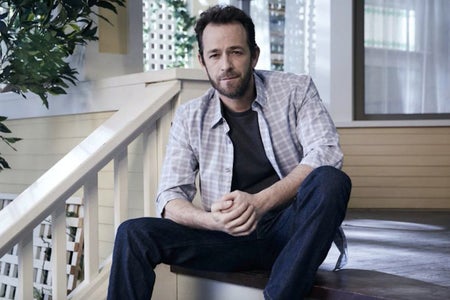 The Internet Responds to Luke Perry's Death With Heartfelt Tributes
The death of Riverdale's Luke Perry has resulted in an outpouring of supportive messages from celebrities and fans. Having suffered a severe stroke on February 27, Perry died earlier this week at 52. 
Perry was best known for his role as teenage heartthrob, Dylan McKay on the 1990 show Beverly Hills, 90210 and most recently, played Fred Andrews, father of Archie Andrews on the CW hit show, Riverdale. From teen idol to doting father, Perry was a veteran in the entertainment world and his death has spurred reactions from celebrities all over social media.
From his 90210 co-stars: 
In an exclusive statement to PEOPLE Jenny Garth said: 
"My heart is broken. He meant so much to so many. Such a very special person. I share my deep sadness with his family and all who loved him. Such a terrible loss."
With the heaviest of hearts, I am devastated [email protected] you we lost Luke. I am still in shock and I have no words beyond saying he was a truly kind gentleman. He will be mourned and missed by everyone who know him and the millions who love him.
RIP, deari… https://t.co/OvqjOm2mqK pic.twitter.com/HktgGQinVy

— Christine Elise (@celisemccarthy) March 4, 2019
Dearest Luke- I am so heart broken and at a loss for words. You my friend were a mighty soul and have left your mark. My love and prayers to the family and all who loved you. RIP

— Gabrielle Carteris (@TheGabrielle_C) March 4, 2019
From the Riverdale cast and crew:
My heart is broken. I will miss you so much Luke Perry. Sending all my love to your family. ❤️ #LukePerry

— Molly Ringwald (@MollyRingwald) March 4, 2019
I'm finding it hard to grasp that he will no longer be around to give long hugs and share his wisdom and kindness with all of us.

I'm thinking of his family. His children.

I pray for them to heal and find peace in this devastating loss.

— Lili Reinhart (@lilireinhart) March 4, 2019
I just can't believe it.

— Lili Reinhart (@lilireinhart) March 4, 2019
Angel...no words 💔 pic.twitter.com/YIQg71kL7B

— Vanessa Morgan (@VanessaMorgan) March 5, 2019
I'm totally heartbroken. Luke took me under his wing the day I was cast and made me feel like I belonged. He was the most generous, wise soul with unmatched kindness. He treated everyone with love and joy. We had so much fun. Praying for his family.

— Casey Cott (@CaseyCott) March 5, 2019
Please. I beg of you to show Luke's beautiful family the respect and privacy that they deserve during this devastating time. Sending love to them.

— Mädchen Amick (@madchenamick) March 4, 2019
Luke Perry... you were a joyful and vibrant soul. You will be missed but most certainly your legacy will be remembered forever. Rest in love and peace, friend. #Riverdale

— Riverdale Writers Room (@RiverdaleWriter) March 4, 2019
 
From his Buffy The Vampire Slayer co-star and writer:
I abruptly woke at 4:30am thinking about you Luke & I couldn't go back to sleep, then 5 hours later I hear you are gone. The tears won't stop & they never ever will. You were that guy, that forever friend, we always had each others back & I will always remember you this way... pic.twitter.com/7DtSvYdIGe

— Kristy Swanson (@KristySwansonXO) March 4, 2019
 

From his Buffy the Vampire Slayer cast and crew: 

The first time I met Luke Perry we talked about what kind of movie we wanted "Buffy" to be. I asked if he'd ever seen "Near Dark" and he gave me a look of HOW DARE YOU SIR and I knew we'd get along. Funny, committed, and always gracious. He shouldn't be gone.

— Joss Whedon (@joss) March 4, 2019
Other outpourings of love: 
RIP Luke Perry. 💔 pic.twitter.com/g6rR5lqLUG

— Mayim Bialik (@missmayim) March 4, 2019
Rest Luke — the way you always treated me (and anyone I ever introduced you to, no matter how much they screamed and squealed with joy and excitement) — in peace. #RIPLukePerry

Cherish every moment. 🙏🏼 pic.twitter.com/Cgd9qeVKRX

— Donnie Wahlberg (@DonnieWahlberg) March 4, 2019
Luke Perry - Irreplaceable beautiful and kind human being, incredible friend, generous actor and adoring father to Jack and Sophie and loving partner to Madison we are all heartbroken. You are the love and you are the light. pic.twitter.com/X3ycTvmXsb

— Patricia Arquette (@PattyArquette) March 4, 2019
Luke Perry was a great actor and truly one of a kind. Watching him on 90210 was one of the reasons why I wanted to move to LA. Thinking of his family and friends on and off the set. Rest in peace.

— Ryan Seacrest (@RyanSeacrest) March 4, 2019
Luke Perry was a character actor in the body of a heartthrob.

Much respect. #RIPLukePerry https://t.co/rqNxPgUoAN

— Jon Cryer (@MrJonCryer) March 4, 2019
L.P.

you
made every
situation better,
my man.

your
elegance
your wit
your charm
and
your giant heart,
inspired and
enchanted so many
of us,
on countless
occasions,
with brilliant aplomb.

R.I.P good sir.

i am
truly honored
to have known you
all of these years.

©️

❤️

— Charlie Sheen (@charliesheen) March 4, 2019
Luke Perry was my 1st crush. Eh, more like obsession (I wore pins w his face on them to school 🙊) I used to dream of making it to LA just to meet him. I never got to, but I've always heard he was a really great person. 😔 Praying for his family & kids.... Rest in love ❤️❤️❤️❤️🌥

— Olivia Munn (@oliviamunn) March 4, 2019
Luke Perry was just 52 and gone way too soon. Please take a moment to note the signs of a stroke. pic.twitter.com/YMRB3PKlm9

— Olivia Munn (@oliviamunn) March 4, 2019