The Best Moments from the 2015 Golden Globes
We look forward to the Golden Globes every year: The irresistible combo of hilarious BFFs/co-hosts Tina Fey and Amy Poehler. The unpredictable speeches of some of the most beloved actors in Hollywood. It's usually just one big party, but we were pleasantly surprised by the way that this year's honorees used their voices to speak for larger causes. In case you missed the show, we've rounded up the best moments from the 72nd annual ceremony.
Tina and Amy's monologue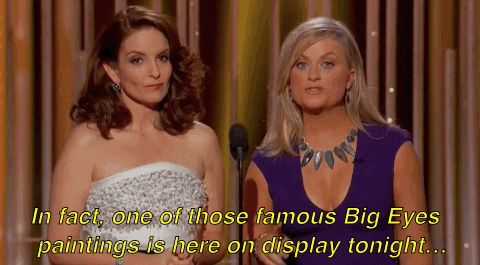 We had no doubt that they would deliver, but we especially loved their lack of hesitancy toward scoring a laugh at the expense of Bill Cosby, Emma Stone, George Clooney and anyone else they found to be a good target.
Billy Bob Thornton keeps it short and sweet
In a night full of long and at times exhausting speeches, we appreciated his ability to just say a quick, meaningful thanks and move on.
Naomi Watts' adorable ear tug
Did you catch Naomi tugging on her ear before she presented? We have a feeling she was saying a quick hello to her kiddos at home. So cute!
Jennifer Lopez and Jeremy Renner flirt it up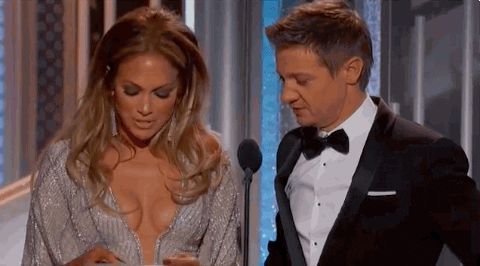 You never know how awkward these presenting pairs will turn out, but Jeremy Renner's joke referencing J. Lo's low-cut, cleavage-baring gown was well worth it.
HFPA President's Standing Ovation
Rarely do we pay attention when the Hollywood Foreign Press Association's President makes his remarks, but Theo Kingma's refusal to accept recent attacks on freedom of speech earned him a standing ovation from not only the audience but us too!
Jared Leto wears a man braid
Because the man bun was so last year.
Prince dazzled on stage
We have no words.
Common's call for understanding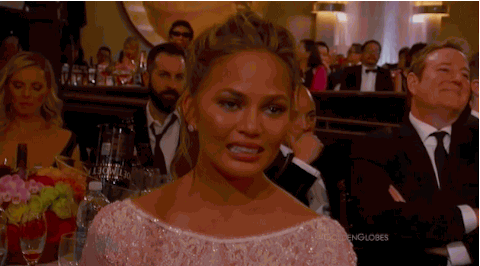 Accepting for his song "Glory" with John Legend, Common put into words what we've all been feeling lately and encouraged us to stand together in the midst of continued racial unrest. And Chrissy Teigen made this face for some reason. 
The return of Ricky Gervais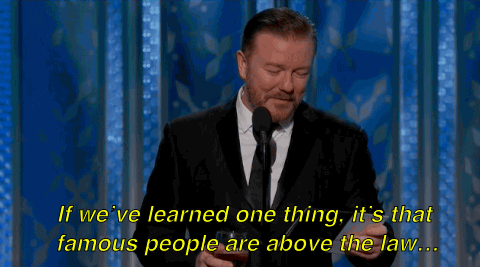 It just wouldn't be the Globes without Gervais showing up to roast a room full of beautiful, rich, and all around awesome celebrities. Will he ever learn? 
Chris Pratt and Anna Faris win at coupledom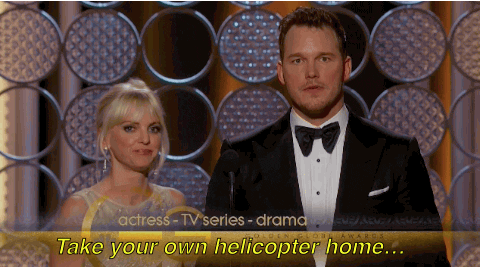 Hey Anna, we'll take that helicopter if those plans change...
Maggie Gyllenhaal applauds complicated women
While many have been praising the wealth of roles for strong women on television, Gyllenhaal more appropriately credited roles for actual, complicated women. We agree that we'd much rather see roles for women like ourselves—multi-dimensional and authentic.
George Clooney gets oh-so-romantic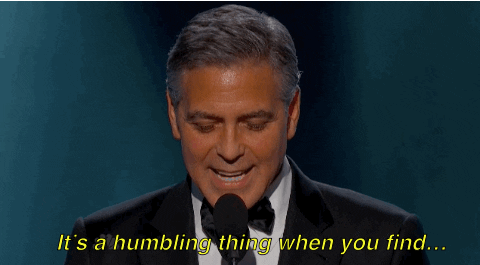 We have to admit we shed a tear when George, while being honored with the Cecil B. DeMille Lifetime Achievement Award, uttered the most perfect sentences we've ever heard: "It's a humbling thing when you find someone to love. Even better when you've been waiting your whole life." Swoon!
And that's a wrap! What were your favorite moments from the Golden Globes, collegiettes?