All the Best Celeb Appearances on Jon Stewart's Final 'Daily Show' Ranked
Even if Jon Stewart had spent his final episode of The Daily Show sitting motionlessly mute behind his beloved desk as we admired his marvelous wisdom and charm, we would've been satisfied. After all, how do you top a sixteen-and-a-half year legacy like his? But although Donald Trump was conveniently booked, that didn't stop Jon from rounding up his spectacular roster of celeb pals for a slew of appearances that couldn't be contained to the episode's allotted 50 minute run time. Here's a ranking of those who came to wish him adieu.
21. Larry Wilmore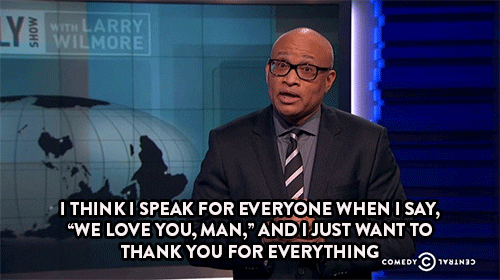 We all know Larry didn't just show up because The Nightly Show got bumped for Jon's extended episode. Translation: he hearts him.  
20. Michael Che
Did you forget that the SNL Weekend Update cohost was once a Daily Show correspondent? His tenure was so short that Jon kind of did, too.
19. Kristen Schaal
The Last Man on Earth star returned in her best duds to welcome replacement host Trevor Noah to the team…until she realized Jon hadn't left yet. Whoops.
18. Rob Riggle
Rob Riggle came to enlighten Jon on the trail of hate he's leaving in his wake, though we prefer to think of it as more of a path of mild dislike.
17. Matt Walsh and Dan Bakkedahl
These two former correspondents showed up as their Veep characters, and the overlap between their dual lives had even them confused.
16. Rob and Nate Corddry
Rob tried to leave his brother Nate in the car, but their sibling spat was worth the wait once he bravely snuck in and hid under Jon's desk.
15. Olivia Munn
Can't believe it's #JonStewart's last @TheDailyShow today. That's so stupid. #JonVoyage

— oliviamunn (@oliviamunn) August 6, 2015
Olivia was convinced she had been invited back to The Daily Show for Jon's 70th birthday bash. And though she was way off, we're definitely glad she brought cake.
14. Darth Vader
Only one could assume the mantle of Senior Evil Correspondent, though 'ole Darth didn't like Jon's joking comparison to Dick Cheney.  
13. Samantha Bee
We know she hasn't been gone that long, but we've really missed Sam Bee!
12. Hillary Clinton
Hillary was just as bummed as we were that Jon is leaving just as she decided to run for president.
11. Josh Gad
By far the best line of the night—"Disney money, b*tch."
10. Bill O'Reilly
We just know Bill O'Reilly was somewhere doing his happy dance at the thought of finally ridding himself of his adversary.
9. Martin Scorsese
Jon gave a Goodfellas-inspired look at the staff behind-the-scenes of his fake news program, but Marty was none too amused that he'd once again been ripped off by the comedian.
8. John McCain
To my old interrogator Jon Stewart: So long, jackass! #JonVoyage pic.twitter.com/t3Eg83oWq3

— John McCain (@SenJohnMcCain) August 7, 2015
A Jon Stewart puppet was the perfect addition to his farewell message for the departing host.
7. Gitmo
Oh, Gitmo! Our hearts were breaking as the bearded Elmo doppelganger realized he wasn't being set free along with his longtime sympathizer.
6. Ed Helms
You can sign us up for a weekend trip to "The Rocky Mountain Institute for Men Who Get More Distinguished and Handsome as They Age" anytime.
5. John Oliver
John Oliver's signature HBO-style storytelling of his first day working at The Daily Show just wasn't going to cut it in this abbreviated goodbye.
4. Steve Carell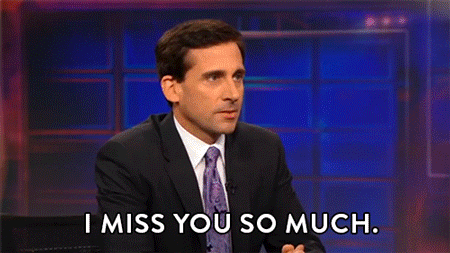 Arguably one of the biggest—and busiest!—stars to come from the land of correspondents, we knew Steve hadn't been waiting idly by for his next assignment from Jon as he claimed.
3. Arby's
Jon's favorite fast food chain couldn't miss his final show. And they said good riddance in an oh-so-Arby's way.
2. Bruce Springsteen
And here it is, your moment of zen... Bruce & The E Street Band giving Jon Stewart a proper send off last night. https://t.co/ni2wKeSwAc

— Bruce Springsteen (@springsteen) August 7, 2015
The final moment of zen was always going to include a musical sendoff from "The Boss" because New Jersey, right?
1. Stephen Colbert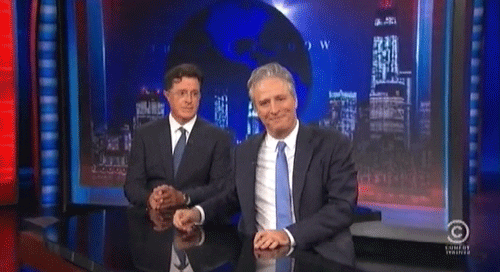 We were holding our breath waiting for the prodigal son to return, and he didn't disappoint, making Jon tear up during his unscripted testament to the influence his mentor had on everyone he'd worked with throughout his years as host. To clarify, we're not still crying; there's just something in our eye.
Who was your favorite celeb guest on Jon's final episode of The Daily Show, collegiettes?