40 Thoughts We ALL Had During Bachelor Ben's Double Love Confession
In all our years of watching The Bachelor, we've never seen anything like last night's episode. Yes, we're talking about that awkward moment when Ben told both Lauren B. and JoJo that he's in love with them. JAW. DROP.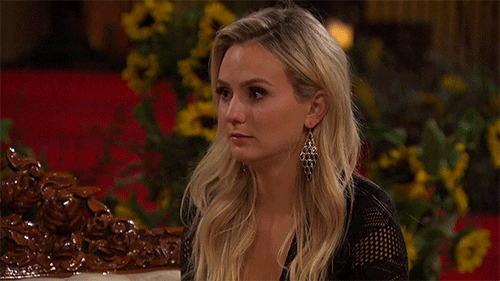 We think it's fair to say everyone watching had these 40 thoughts.
We better prepare ourselves now. The preview hinted that Ben's going to drop the L-bomb on two women.
But that was probably just really misleading editing, right?
Ben would never do that. He's America's sweetheart.
Surely Ben won't tell Caila he loves her. This date is beyond awkward.
We can literally hear crickets chirping.
Bullet dodged—Ben did not tell Caila he loves her.
One down, two to go.
Guess this could still happen.
This date with Lauren B. is adorbs.
Oh look at the baby sea turtles!
Cannot get distracted by the cuteness. Is he going to say it or not?
Oh my gosh, he said it and our hearts literally just exploded.
They could not be a better match.
She's the one; we can end this season here and now.
And wait…he's not just going to say it once.
He's saying it over and over again. SO SWEET!
Man, his date with JoJo is going to be totally weird.
How can he go from lovey-dovey time with Lauren B. to a one-on-one with JoJo?
Hmm, looks pretty dang easy for him actually.
Oh no—he's got that love look in his eyes again.
Is he going to do it? Whew, don't think so.
And now JoJo is telling Ben she's in love with him.
And she's just as shocked as we are when he says he loves her, too.
WTF JUST HAPPENED?
WHO IS ALLOWING THIS?
WHERE IS CHRIS HARRISON?
He just keeps saying it again and again.
Ben sure is loose with the ILYs, isn't he?
This cannot be happening.
He's going to crush one of these girls when this is all over.
Could he just keep dating both of them?
Is that something we'd be okay with if everyone's feelings were spared?
Oh crap, completely forgot Caila is still here.
Poor girl, she won't be for long.
And she's gone.
Well, looks like Ben is really on board with this "in love with two women at the same time" thing.
This is unlike anything we've ever seen on this show. Not kidding.
Where do we go from here?
Ew, no. Group hug at the rose ceremony? Really, Ben?
Well, this is about to get real complicated.