In Her Campus' series Next Question, we rapid-fire interview emerging talent about what it's like to rule over the internet. This month, actor David Iacono is in the hot seat to answer our burning questions. 
As the ride-or-die captain of Team Cam Cameron, David Iacono is just as surprised (and thrilled!) as you are that he's back for another summer in Cousins. Cam is only featured in the first book of Jenny Han's The Summer I Turned Pretty series, but fans fell so deeply in love with Iacono's on-screen portrayal of the character that Han decided to cut Cam's indefinite whale-watching internship short. 
"I was lucky enough to be a part of the process of incorporating Cam into the second season," Iacono shares with Her Campus in an exclusive interview. "I pitched Jenny some ideas. She kept me pretty included in what they were planning on doing with the character, which I appreciated because he means a lot to me."
If the thousands of fancams and passionate Tweets are any indication, Cam means a lot to TSITP fans too, and Iacono knows why. "He's doing way above the bare minimum, which is what Conrad, unfortunately, is doing in the first season. Kind of less than the bare minimum," he laughs. "Jeremiah doesn't even really get involved until later in the first season … I just think in terms of Belly's options, [Cam's] the most logical."
Cam and Belly's on-screen chemistry has been years in the making — literally. Iacono and his co-star, Lola Tung, were in the same drama class during their first three years at LaGuardia High School of Music & Art and Performing Arts in NYC. His favorite high school memory with Lola hails back to a freshman-year drama student rite of passage. 
"Our teacher had our class do this thing called Rockstar. We had to dress up like a famous musician, lip sync, and perform their choreography. She was Gwen Stefani and I was Prince," he recalls. "She used to come off as shy and timid even though she wasn't. That was the first time I ever saw her really perform. I was blown away."
The TSITP set is a mini high-school reunion; Sean Kaufman, who plays Steven, was two grades above Iacono and Tung at LaGuardia. The cast's off-screen connection definitely translates to their characters' friendships. If given the chance to come back to our screens next summer, Iacono hopes to see Cam's sense of self grow within his friend group. "Cam empathizes with people in such a way that he puts them before himself. By the end of this season … he's at a place where he can grow out of that and start putting himself first. I would love for him to start holding his own space a little more confidently," he shares.
The 21-year-old Brooklyn native's spotlight shines brightest when the sun blazes hottest. The TSITP star answers our burning summer-themed questions below — sunblock not included.
This interview has been edited for length and clarity.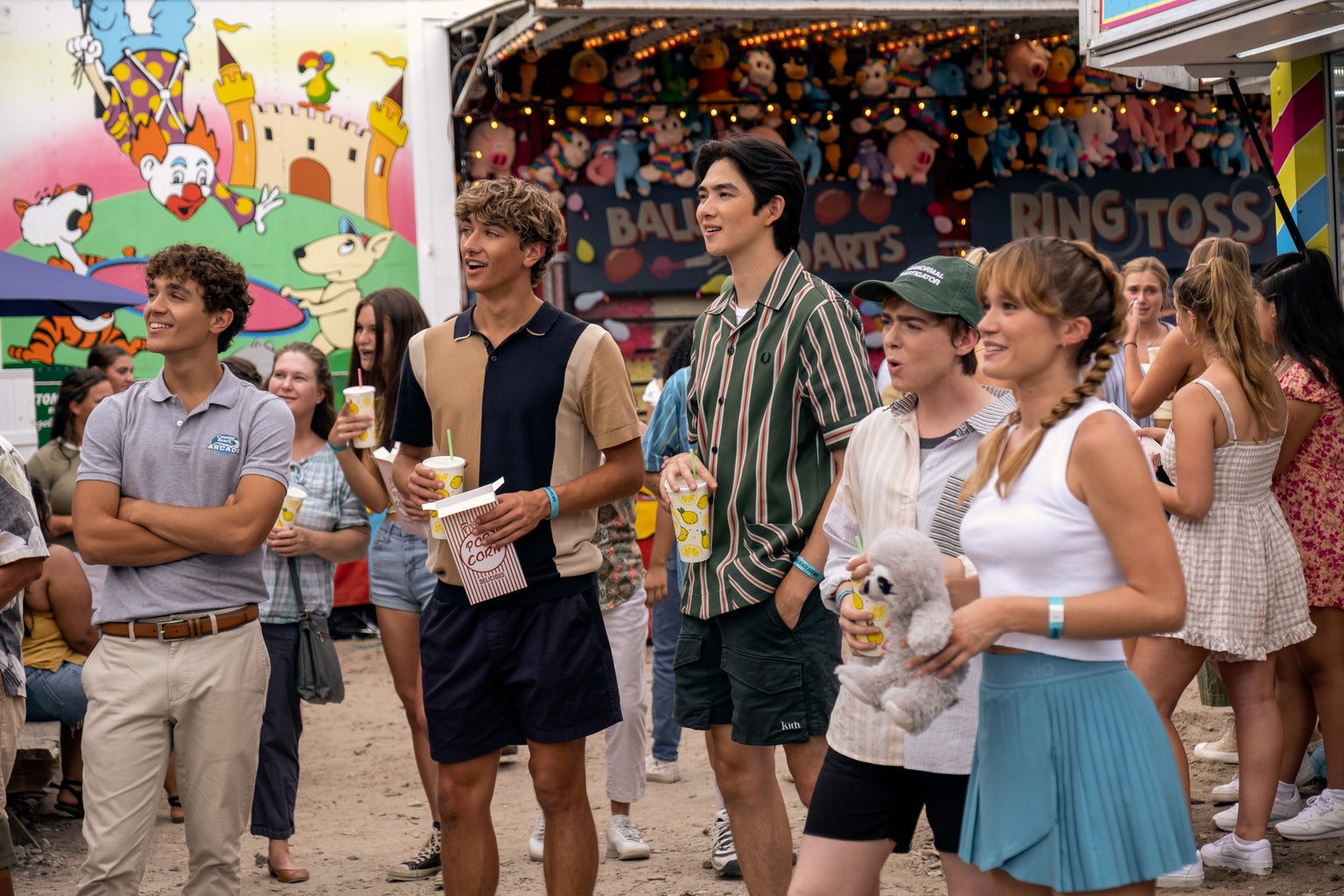 What's your favorite ride at Coney Island?
It's the Cyclone. I mean, kind of a basic answer when it comes to Coney Island. I told my drama yearbook that it might be my favorite place in New York.
Would you rather night swim like Belly or go sunrise surfing like Jeremiah and Conrad?
Sunrise surfing, definitely. It's a really good way to start the day. Waking up and going for a surf early in the morning would be a beautiful thing.
Ice cream or popsicles? What's your favorite flavor?
Popsicles are the quintessential summer snack. I like orange-flavored everything. It feels so tropical.
You're part Puerto Rican. Pick a must-have Latin song for your summer playlist.
I just heard a new one when I was walking down the street recently. It's called "Yay Boy" by Africando. It's from the '90s. I was playing it in the shower this morning and feeling the summer vibes.
You and Sean Kaufman both have SUMMER birthdays. If you hosted a joint party, what would its theme be?
We always talk about how we used to see each other on the M11 bus coming home from school. He didn't remember me from school. He remembered me from the bus, which is kind of wild, really. So maybe we would do an MTA-themed birthday, like, the subway and bus system in New York. That would be kinda lame. But I feel like we could make it work!
What's your dream summer internship?
I've been very into acting my whole life, so it would probably still have to be in the entertainment industry. Just maybe more so behind the camera. I would love to shadow a director or do some petty tasks for editors since they're slaving away in the editing labs all day.
What's been the best summer of your life so far?
I can't pinpoint one specific summer, but there was a series of summers when I was 10 to 13 when I would go visit my cousins down in Florida. I think that's where some of my best memories have been made. Family is something that's really important to me; I link family with summer kind of like how Belly does in the show.
Which arcade game do you crush every time?
It's more of a boardwalk game. You know the one where you shoot the water gun at the target? I really believe that probably in my life, eight times out of 10 on average, I win that game. I'm pretty proud of it.