5 Tips for Finding Your Huddle, According to CNN's Brooke Baldwin
When I connect virtually with Brooke Baldwin minutes after she wraps her afternoon segment on CNN, I can't help but notice her undeniable presence, which I imagine comes naturally after 13+ years of reporting on the world's most groundbreaking news. Baldwin is an expert storyteller and unwavering champion for women around the country who now invites us into her world with her inspiring debut book, Huddle: How Women Unlock Their Collective Power.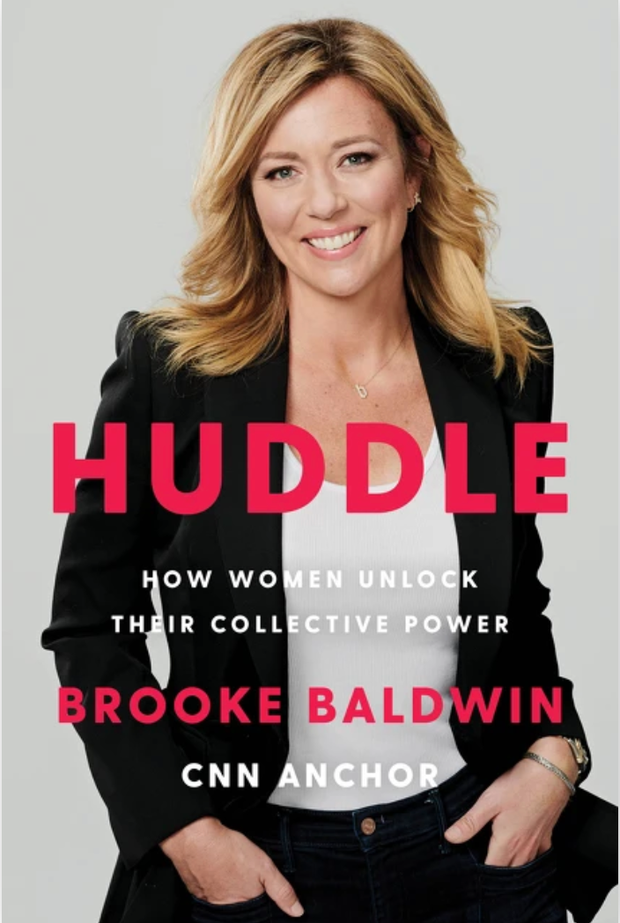 HarperCollins Publishers Through a mix of journalism and personal narrative, Baldwin explores what happens when women lean on one another — in politics, Hollywood, activism, sports, the arts, and everyday friendships. She covers headline-making huddles like Black Lives Matter, #MeToo, and Times Up, and explores stories of everyone from everyday women to famous figures like Reese Witherspoon, Megan Rapinoe, and Ava DuVernay, who has served as one of Baldwin's biggest inspirations.
In celebration of her debut book, Baldwin spoke with Her Campus about what sparked the inspiration for Huddle and how to find a huddle of your own.
The inspiration for 'Huddle'
When she first got the inspiration to write Huddle in 2016, Baldwin remembers balancing on the back of a truck making its way through the nation's capital. "The Trump motorcade was winding its way to the White House for the first time," she recalls. "The next day, like emotional whiplash, I was covering the Women's March surrounded by half a million women. I noticed women were showing up in ways that I had never seen before in my nearly 20-year career."
The phenomenon of women coming together was quite different from what Baldwin herself had experienced growing up in the South, relocating frequently during her 20s and 30s, and navigating journalism largely on her own. "When I was reporting at the Women's March, I thought, 'Would I have a group of women who would travel here to be with me?' And the honest answer is, I didn't. I didn't have the group of girls that so many other women have." In Huddle, Baldwin dives deeper into her personal story to inspire other women who may be feeling lonely.
Finding your huddle
Whether you're a college student, recent grad, or young professional learning to navigate the working world (or life in general!), having a supportive community is everything. However, it can be tough to find your crowd, whether in-person or virtually. In her book, Baldwin outlines helpful tips and tricks for how to find a huddle of your own and shares a few of them with HC:
1. Believe in yourself
"Number one is to believe in yourself," says Baldwin. "If you're finding it hard to put yourself out there, I feel you more than you know. After all of the time I spent in my twenties lonely, moving for my career to places where I had no good friends or family, I know what it's like to wish for deeper friendships. You deserve to have a huddle, and there are huddles out there that need you."
2. Make an intentional choice to be a 'huddler'
When it comes to building community, Baldwin reminds us that intentionality matters. "Be deliberate about prioritizing your huddles, whether it's a group of colleagues you make it a point to have lunch with, an organization you give your time to on a regular basis, or just checking in with your friends."
3. Find a huddle that shares your passions
"Even if you feel alone, you are not!" Baldwin tells HC. "Find a huddle that shares your passions. There are others out there who care about the same things, even if they're online. Find them."
4. Do hard things with your huddle
"Find huddles where you can push yourself, whether physically, mentally, emotionally, or intellectually," says Baldwin. "Women must do hard things together," she says while recalling a time when she spontaneously called her friend — whom she had never done a short road trip with — to climb Mt. Kilimanjaro.
5. Build your own table
"We live in a patriarchal society, and there are only a few seats at the table for women," says Baldwin. "Shirley Chisholm famously said, 'if they don't give you a seat at the table, bring a folding chair.' But some of the women I met writing this book suggested we should build our own damn table. With a bigger table, we don't have to sharpen our elbows and push each other out of the way. There is room for all of us to succeed."
Baldwin recently announced that she is leaving CNN after 13 years at the network. And with the recent launch of Huddle, she's ready to continue shining a light on women's stories and begin a new chapter. Apart from celebrating her debut book, you can find Baldwin guest-hosting The Ellen DeGeneres Show, unwinding with The Class, and spending time with her adorable pug. After speaking with Baldwin, let's just say she's someone anyone would be lucky to have in their huddle. 
Check out Brooke Baldwin's new book, Huddle: How Women Unlock Their Collective Power, and follow along on Instagram @brooke_baldwin and @huddlethebook.