Beyoncé continues to break records like the ~Queen Bey~ that she is! During Grammy night, all eyes were on Beyoncé, who only needed four of the nine awards she was nominated for to break the record for most Grammys won by an artist ever.  She won Best R&B Song earlier in the night for "Cuff it," and Best Traditional R&B Performance for "Plastic Off The Soda," which she recently mentioned on Instagram was her favorite song off the album. The night was made historic and heartwarming when James Corden announced Beyoncé as the winner of Best Dance/Electronic Music Album for Renaissance, successfully breaking the record for most Grammy wins of all time!
In her win for Dance/Electronic Music Album, Beyoncé also became the first Black woman to win such an award. In her tearful speech, she first thanked God, her late uncle Jonny who was there in spirit for her. She also thanked her parents for loving and pushing her and she iconically thanked her husband, JayZ, and her children.
She importantly thanked the queer community for the creation of the musical genre she was heavily influenced by within her Renaissance Album. I'm crying already!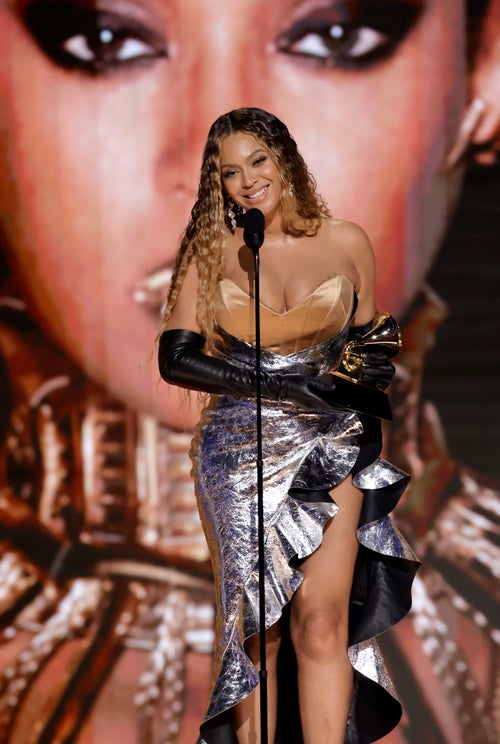 Up until this point, Hungarian conductor Georg Solti held the record for the winning most Grammy awards in history. He was the music director of the Chicago Symphony Orchestra for 22 years before passing away in 1997.
With 32 (thirty-two!) Grammys under her belt, it's safe to say that Beyoncé has officially solidified herself as one of this generation's biggest icons (as if that wasn't already a fact). Bow down, y'all — the Queen made history tonight!