Abby Ryder Fortson knew from the moment she read Are You There God? It's Me, Margaret that she had to be a part of the film adaptation. "I remember turning to my parents and just saying, 'Oh my gosh, this is it. This is the experience.' How did someone write this down, especially so many years ago?" she tells Her Campus in an exclusive interview. Judy Blume's enduringly popular novel was published in 1970, over 50 years before Kelly Fremon Craig's movie version premieres in theaters on April 28, 2023. Still, this gap didn't deter 15-year-old Fortson, who plays Margaret, from being able to connect with the source material. "I was going through the exact same stuff that she was," she says.
Are You There God? follows 11-year-old Margaret Simon as she moves from New York City to the New Jersey suburbs with her parents. It's a slice-of-life story that dives into the messy parts of being a pre-teen, including the ones often left off-page and off-screen: getting (or waiting for) your first period, buying your first bra, and navigating changing relationships with your friends, yourself, and even God. 
Even though the book was laser-focused on Margaret's young perspective, girls like Fortson won't be the only ones able to connect with the film — a deliberate choice by Craig. "When I reread the book as an adult, I felt all the things that I felt when I was Margaret's age, but I was also interested in Barb because I'm a mom," Craig says. "There were things about her that I found fascinating. I never knew she was an artist, and then she moved to the suburbs and she was this square peg in a round hole. And that became something that I wanted to explore. I liked the idea that women and girls would show up to the movie and everybody would have something to immediately relate to."
According to Blume, who revisited Are You There God? as a writer and producer for the film, this is the change that made her hail the movie as "better than the book" during an interview on The Today Show. "The book is all from a 12-year-old's point of view, which worked very well for the book, but for the movie, Kelly has created Barbara Simon, Margaret's mother. Her father, her grandma, too, but most of all, Barb," Blume tells Her Campus. "The way Rachel McAdams plays Margaret's mother is so important and wonderful. You're getting to see three different generations together. Each one really has a story, and I love that."
McAdams found inspiration for Barb in what she calls her and Craig's "parallel lives" to the character. "We both have young children. We're both working crazy hours, checking in with the kids in between scenes," she recalls of the filming experience. Blume also lent a hand to McAdams' process: "She sent me some great emails about Barb's early life before Margaret with Herb [Margaret's father and Barb's husband] and how they fell in love, and what it was like when she broke up with her parents, and all this stuff that's like gold to an actor."
Blume knows most people in the theaters will be other Barbs who may bring their daughters along with them. She made it clear to Craig and the other producers from the beginning: "The audience for this is the nostalgic audience." Blume has a bookstore, and says that women often come in and "cry, because I represent their childhoods." This movie is for them.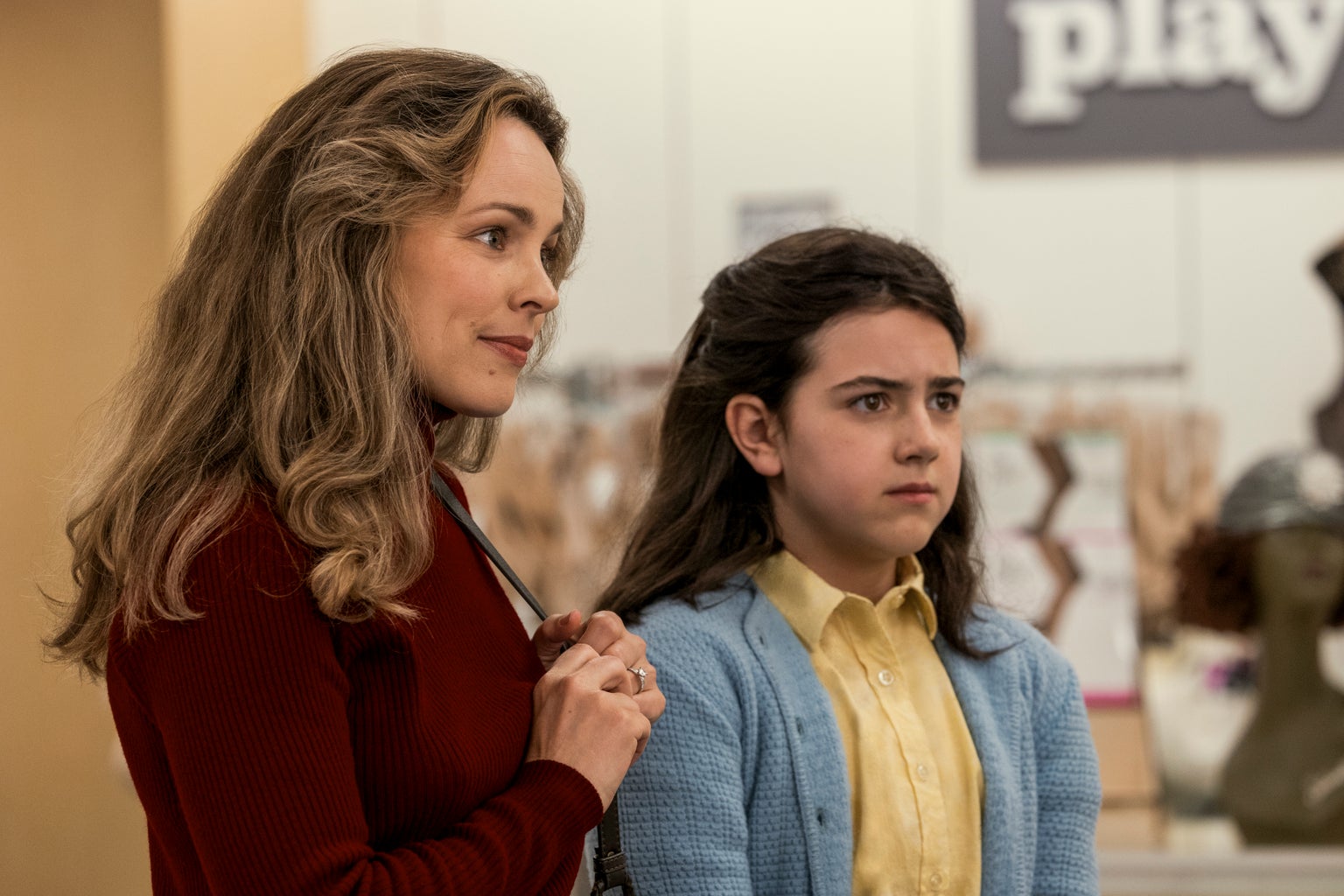 Still, that hasn't stopped her from thinking about today's Margarets — the young people currently experiencing changes in their bodies and their friendships. Many of those kids are doing so in a climate that's hostile toward the open discussion of puberty that Are You There God? fosters among its readers. The book was challenged and censored in libraries and schools throughout the 1980s, and the book banning epidemic has only become worse since then. 
The issue of censorship is top of mind for Blume, who lives in Key West, Florida, where a lot of these changes are taking place. "It's one thing with the young people themselves, who may feel freer to talk about this than they did once upon a time," she says. "But I think that there are a lot of men who are out there trying to make laws today. There's a legislator in Florida who's trying to put through a law where girls are not permitted to talk about their periods. Good luck there, right? Absurd. How can you stop what people are thinking or saying?"
The cast and filmmakers, however, are hopeful that Are You There God? and stories like it will continue to endure even as adults seek to challenge and ban books on menstruation and other "taboo" topics in schools. Given that Margaret remains as relevant and iconic in 2023 as she did in 1970, that seems pretty likely.
"We've already asked Judy to write the next Margaret," McAdams jokes. "I don't think she's taken the bait."