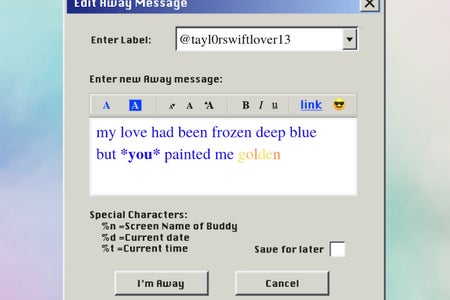 13 Taylor Swift Lyrics That Would Have Made Epic AIM Away Messages
What's the best Taylor Swift lyric of all time? Trick question! The limit does not exist — each song by Taylor has at least one line that hits you in the feelings and if you say otherwise, you're a liar (and in need of a new hobby because hating on Taylor Swift is tired). Since I'm so excited that ME! is finally here, but also upset that the countdown only lead to one song (for now), I've been listening to Taylor exclusively on shuffle for the past 48 hours.
The subtle hits like Dear John and New Romantics keep playing and I can't help but to text my friends with one-liners being all, how. does. she. do. it?!?!?! Seriously. "I can build a castle out of all the bricks they threw at me," in New Romantics is something I would kill to make my Facebook status if that was still a thing. This got ME!  me thinking: How incredible would my AIM away messages have been if I had Taylor Swift lyrics to put in them? And so, I rounded up 13 incredible T.Swift lyrics that never made it to AIM but would be iconic in Comic Sans. Do enjoy! 
2.

Dancing With Our Hands Tied 

13.

Look What You Made Me Do