If you've ever thought of an idea for a useful app that doesn't exist yet, now is your chance to make that idea a reality with Apple's 2024 Swift Student Challenge. The Swift Student Challenge is an opportunity for students to code an app using Swift, the programming language developed by Apple that's also used by professionals, and jumpstart a career in coding, app development, and more. The best part? The challenge opens in February 2024, which means you have a few months to narrow down your ideas to the best one.
This challenge isn't just for coders, either. Swift was created in collaboration with educators, making it an accessible programming language even if you have no prior coding experience. Apple's Swift Playgrounds app, available on iPad and Mac, was even designed to take learners from their first line of code to building their first app in Swift. So if you're a beginner, you'll have an easy way to learn the ropes as you work on helping your app idea come to fruition.
"We see coding as a universal language — one with incredible potential to empower people and help them build a better world," said Susan Prescott, Apple's vice president of Worldwide Developer Relations and Education & Enterprise Marketing. "And we believe students should have the same opportunities as professional developers with resources that help them identify, design, prototype, and build apps to solve problems they care about."
Participating in the Swift Student Challenge is also a great opportunity to build some skills that can help you have a leg up in the workforce. According to a September 2023 YPulse survey of 1,008 students between the ages of 13 to 24 in the U.S., only 54% of students say their school offers adequate resources for students to learn to code, even though 94% of them see the importance of coding as a skill in the future job market. More than three in four students expressed interest in coding or app development as a part of their career, including more than six in 10 who say they are not interested in a tech career. So whether you're a computer science major or not, the Swift Student Challenge should still be on your radar.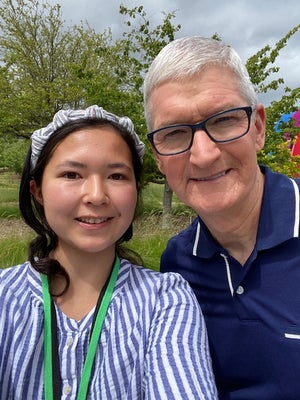 Need some inspiration? Just look at some of the past Swift Student Challenge winners. 2021 winner Damilola Awofisayo, a Duke University sophomore, founded TecHacks, a nonprofit that aims to increase the number of women in tech through virtual hackathons that enable female students to find a passion for problem-solving and computer science. Another past winner, 17-year-old Angelina Tsuboi, won in 2022 with her multi-language app Lilac, which connects non-English-speaking parents with childcare, housing, and translation services. Awofisayo and Tsuboi were featured at an event hosted by Apple on National STEAM Day, Nov. 8, alongside other past winners like Adrit Rao, Yemi Agesin, Brayden Gogis, and Anthony Tast, whose winning apps range in function from games to translation to helping people understand their medical records.
Winners of the challenge receive some pretty cool perks: You'll get a one-year membership into the Apple Developer Program, so you can submit apps to the App Store and receive support from Apple. The 2024 Swift Student Challenge will also introduce a new category of Distinguished Winners, which will recognize 50 students for standout submissions among the 350 overall winners. If you get this coveted title, you'll be invited to Apple's headquarters in Cupertino, California, in summer 2024. There, you can meet both the Apple team and the other winners — a pretty sweet networking opportunity you won't want to miss.
The challenge doesn't open until February, during which you'll get a three-week window to submit your app playground. Until then, you'll have to sit tight, but you can head to Apple's website to sign up so you'll be notified when the challenge does open. In the meantime, you might want to start thinking of what app you can create — and remember, no idea is too big or too small.