Once you press that "follow" button, there's no turning back. Goodbye productivity, hello cute cat photos, scintillating essays and mind-blowing works of art. Blogs provide endless hours of entertainment for people from all corners of the Internet universe. But have you ever wondered what it's like to run your own blog?
Whether you want to gain professional experience, meet likeminded people or simply have a creative outlet, a blog may be jut the thing you're looking for! There are more than 600,000,000 blogs on the Internet, and there are some pretty convincing reasons why you might want to consider jumping on the bandwagon. Here are seven reasons why it's a great idea to start your very own blog!
1. It gives you a creative outlet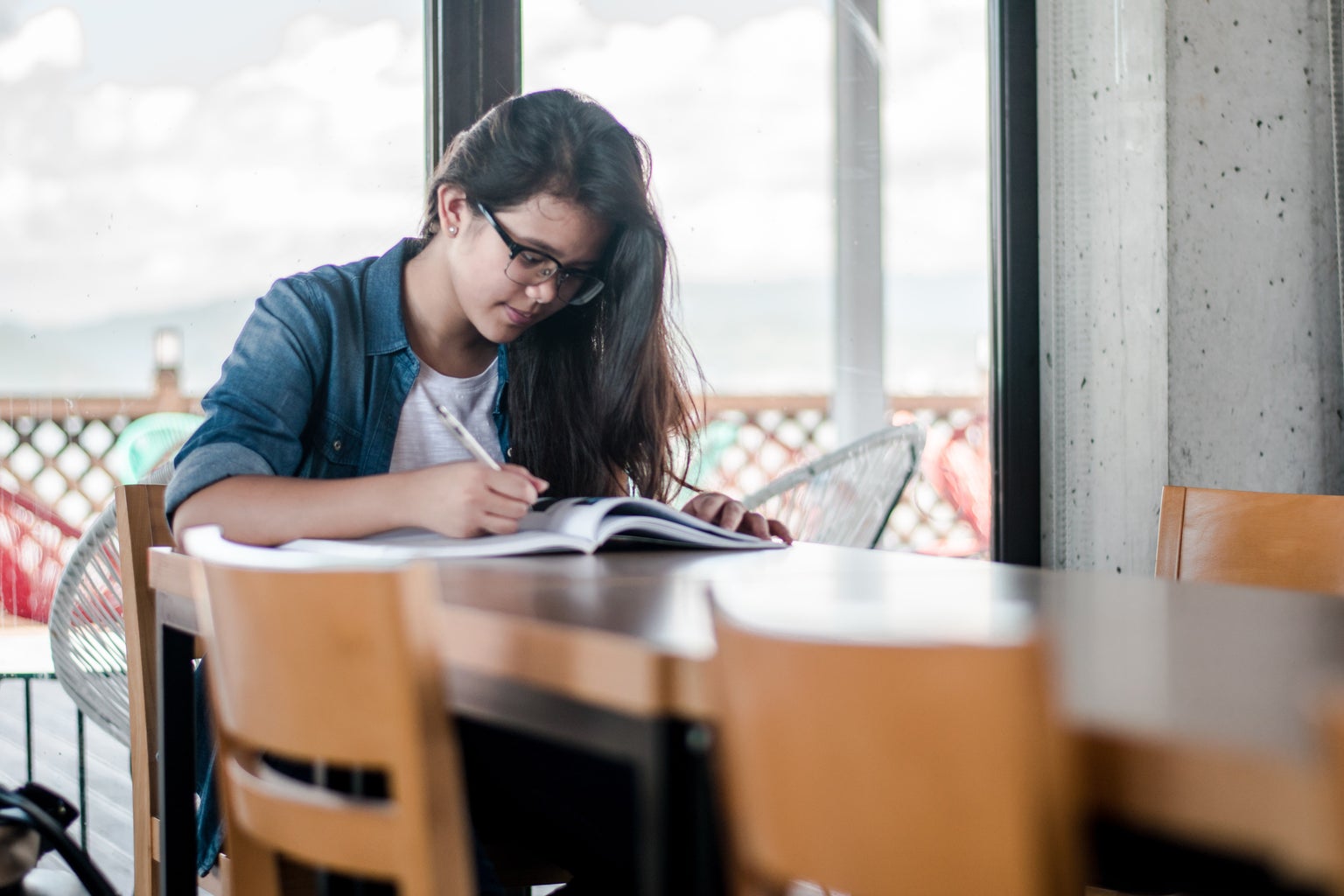 Sometimes life throws a never-ending stream of things to do at us, and with priorities like paying the bills and getting good grades, our creativity can get put on the back burner. But for many of us, this situation can't last too long — we need to set our creativity free! A blog can be the perfect solution, because it can give you the outlet you're craving.   
"The number one reason I started blogging was pure passion," says Gina Alyse, whose blog focuses on creativity, artistry and travel inspiration. "I saw that blogging combined all my passions: writing, graphic design and connecting with others. The underlying purpose of my blog is to inspire myself and others to follow their passions and live them out in a creative, unique way that makes you feel fully alive."
For many bloggers, their blogs started out simply as hobbies but then grew into something more. Kristyn Royster, the blogger behind First Impressions, currently has a career outside the journalism sphere but has continued to blog as a way to pursue her other interests and share what she's learned with the world.
"I started my blog to keep up with writing [and] serve as a fun hobby, and it's a great stress relief from work," Kristyn says. "After a long day of work, I love to come home and write about what I want to, and there's no pressure of a deadline or grade. Having a blog is so different from school and work because it's all done by you. You decide what to write about, you choose when to post and only you have the ability for it to succeed." 
If you love to write, draw or create anything in between, that might be the only reason you need to start a blog and get those creative juices flowing.
2. It allows your voice to be heard
Do you have something to say and want the whole world to hear it? From tips about fashion to your thoughts on the latest news story, blogs provide a platform for your voice to be heard.
"I would say a good reason [to have a blog] is if you have a voice and need an outlet and [a way] to control the frequency of said voice," says Elizabeth Guerrant of the now defunct blog Broke, Fabulous & Hungry, who blogged about life, fashion and food. "It can serve as a means to tell a story and promote what you feel needs to be said."
If you've ever dreamed about making a difference in the world, your blog could be the next little blog that could. Bianca Castro knows all about the phrase "I think I can." She lives in Doha, Qatar, a country in the Middle East where the majority of women are covered from head to toe in their cultural clothing, called abaya. Here, clothes that most people take for granted, like sleeveless tops, hems above the knee and fitted clothing, aren't part of the fashion vocabulary. Bianca constantly found herself in a closet rut and decided to start a fashion and lifestyle blog called Lil Miss Bianca at the age of 15 to do something about it.
"Imagine, [the] cultural traditions' gamut extends up to restricting the expats to wear ensembles which they describe as 'modest' and 'conservative,'" Bianca says. "Considering the normal temperature here, which is 40 to 50 degrees Celsius [104-122 degrees Fahrenheit], being comfortably stylish whilst conforming to the dress code is most certainly difficult, and that is basically the reason why I ventured into the industry of blogging."
Bianca certainly hasn't chosen the easy path to go down; she faces challenges that most style bloggers don't face on a daily basis. Nevertheless, she hopes that her blog is inspiring others in Qatar to express their personal styles despite the present cultural dress code.
"I'm confident that I was not the only one who finds herself in a closet rut and in a difficulty to be chic without considering all the short-hemmed garments a choice," Bianca says. "That's why I chose to establish a style blog that caters to the cultural dress code in Qatar and inspires the citizens and expatriates alike to learn how to fashionably dress up despite all the hurdles along the way. My blog has become an interactive zone for all the fashion-oblivious, fashion-frustrated and fashion enthusiasts."
Maybe you, like Bianca, have noticed a dilemma and want to create change. Maybe you're looking for a way to raise awareness for a cause you're passionate about. Or maybe you want to touch the lives of women like yourself in some small way. Why wait to do something about it? Blogging might just be the platform you need to let your voice be heard and make a difference in the world.
3. You can earn money
Aside from being personally rewarding, blogging might even be able to keep you out of those waitress uniforms or away from those long work shifts! Blogs can help you earn some extra money on the side, and it won't even feel like you're working. For Melissa Poster, who blogs at Fashion Trend Guide about fashion, trend forecasting, reviews and shopping guides, what started out as a creative outlet soon became an actual business after only a few months of work.
"I was able to monetize Fashion Trend Guide within six months of its start, and before I knew it, blogging took up a large chunk of my time," Melissa says. "It's exciting to see the growing number of bloggers who are sharing their passions and influencing millions of readers around the world."
Melissa was initially able to start earning money by hosting banner ads with fashion brands on her blog. She used statistics like monthly page views and monthly visitors to determine how much to charge brands.
"I knew that once I had thousands of monthly page views, I could begin to monetize," Melissa says. "If you want to monetize, there isn't a need for millions of followers. You can be successful at monetizing your blog with quality content, an honest and authentic voice, and a loyal readership." 
Melissa has since joined several programs for publishers that allow her to work with more advertisers and brands. She now mainly uses affiliate programs and sponsored content (posts she writes for her blog on behalf of a brand), which are currently more popular than traditional banner ads.
So who knows, with the right dedication and passion, your blog may soon become your very own moneymaking side business and give you a snazzy title of Ms. CEO!
4. You get to meet new people
With blogging, meeting new people doesn't have to mean mingling at campus gatherings or striking up a conversation with the person sitting next to you in class. Instead, it can mean chatting with someone across the world about similar interests, networking with likeminded young women or even building relationships with companies you love.
Through her beauty blog, ExtraExtravagant, Sockwun Phng wanted to create a space where beauty and style enthusiasts could have meaningful discussions about a common interest. Her blog has since helped her to talk with people she never would have met otherwise.
"This is such a fast-moving niche, and when I post something, I always encourage my readers to share their opinions regardless of whether they agree or disagree with my post," Sockwun says. "I also sometimes ask readers to add on to guides that I post so that we can work together to build towards a blog that can truly answer questions about such a complicated industry."
The prevalence of social media is making it easier for fellow bloggers to connect with one another. By participating in the blogging community, befriending other bloggers, sharing stories and messaging other users, you'll be able to meet a wide variety of individuals. Blogging is a great way to connect with people from all walks of life!
5. You'll gain professional experience
Many bloggers have wanted to pursue a career in journalism or fashion their entire lives, but instead of just sitting around and waiting for it to happen, they decided to take matters into their own hands. Running a blog is a great way to practice editing and creative writing and get experience.
"I was a journalism major in college and I thought this would be a good way to hone my writing and PR skills and show employers that I had experience and was able to balance a lot," says blogger Briana Luca of Royally Pink, a lifestyle blog.
Even for the collegiettes not interested in pursuing a career in journalism, having a blog can still help you gain valuable real-world experience and develop skills like content marketing, digital marketing, SEO, social media optimization, graphic design, coding, pitching to brands, advertising, photography, personal branding and public relations. Because you're in charge of all these different aspects yourself, running a successful blog is pretty much like running your own business singlehandedly!
All these skills and experiences that you get from establishing a professional online presence can help shape your identity as a creative professional and impress potential employers because it shows not only your hard work and dedication but also your ability to juggle responsibilities and handle a big load. It can be a great addition to your resume, especially if you highlight the skills, experiences and achievements you've gained as a result of blogging.
6. You can establish and grow an online portfolio
Blogging can be a great way to keep track of all the great work that you do, from writing clips to photography — a portfolio of sorts. You can expand your portfolio in a variety of ways and demonstrate your clever use of the Interwebs at the same time!
"Starting a blog was a no-brainer for me because I wanted to expand my writing experience and grow my portfolio," says Caroline Moses, who blogs about fashion and lifestyle at The Caro Diaries. "It turned into so much more once I began blogging because it was a great way to step out of my comfort zone, earn some money on the side and collaborate with companies I know and love."
Having a blog that seconds as a portfolio also means that way more people will be able to see your work. All it takes is the click of a mouse! Morgan Hegarty, who blogs at The Enthusiast about her interests and life experiences, started her blog three years ago as a way to get her writing out into the world.
"Doing so has been the best because it's introduced me to lots of people as a writer, and when companies ask for my work, I can just direct them to my website," Morgan says. "It's a great way to get started out as a writer, and you can make money off of it, like I just started doing. Starting a blog is the best way to introduce yourself to the world."
Collecting all of the work you've done on one website makes it easier not only to impress potential employers but also to keep track of all the progress you've made. It's a win-win!
7. You can preserve memories
Going on a study abroad trip soon? How about a road trip with your besties? College is arguably one of the best times to make memories, and you'll want to be able to look back on them years later. What better way to go about doing so than to blog about your adventures? That way, whenever you have a sudden urge to relive those fun and crazy days, the time machine will be just a mouse click away. Plus, you'll be able to share your adventures with the entire world!
Blogger Frances Dumlao started her old travel blog when she studied abroad in London during her freshman year of college. "I was so inspired by all the places I traveled to that I decided I wanted to share my adventures with the world," Frances says.
And if you find yourself firmly planted in the wonderful US of A, a blog can also be perfect for remembering all of those homegrown adventures as well. Tianna Gallinaro started a blog the summer before starting college in the hopes of documenting her adventures as a college freshman and, well, a big-city tyro.
"It has become a kind of scrapbook of my life where my friends and family can keep up on my life," Tianna says. "I also try to make it a place where I can connect with fellow college students, millennials, and bloggers. I recently looked back on some old posts from last year and can't believe how many memories I have preserved because of my blog."
Whether you're staying in the country or going abroad for a year, you want to simply record your daily musings or recount your movie-worthy adventures, it looks like the blog is becoming the new scrapbook.
All it takes is a few clicks of your keyboard, and the rest could be history! Blogging may be the best creative hobby for you to take up. If you give it a try, you could find your perfect little corner of the Internet universe.