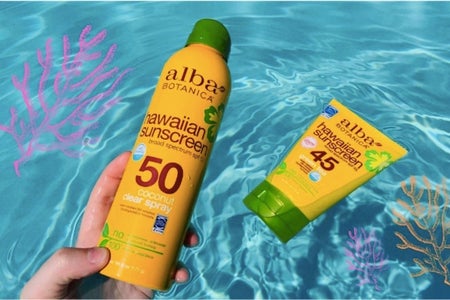 Why You Need to Be Using a Reef-Friendly Sunscreen
This is a sponsored feature. All opinions are 100% our own.
Hopefully this isn't news to you, but trust me when I say you need to be wearing sunscreen every single day. Even when it's cloudy (or cold), damaging UV rays are peeking through the cracks and reaching the skin you work *so* hard on. That can mean premature skin aging, sun spots, and even skin cancer—regardless of how light or deep your skin tone is.   
If you're already using a daily SPF of 30+, bravo. But if you're new to the SPF game, welcome to my Ted Talk 😉. Of course you want to make decisions that are good for your skin and body, but what if I told you that you could also show your love for the planet (and its furry friends) at the same time?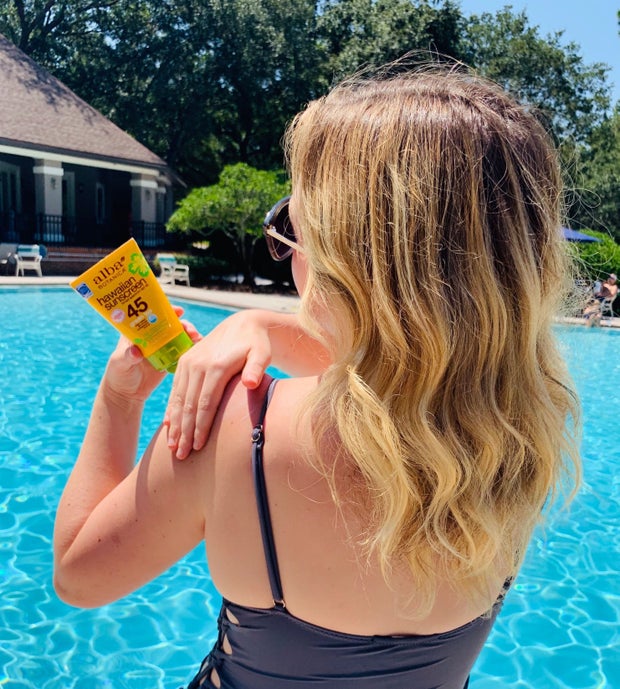 The downside to most sunscreens is that while you're covering your bases when it comes to sun protection, you're introducing foreign chemicals into the ocean that deform—and in some cases bleach—our fragile coral reefs. Even when sunscreens include "water-resistant" on the bottle, the formula is still dissolving into the ocean and interfering with the fragile equilibrium that coral reefs depend on. That's why it's crucial to look for sunscreens that are specifically labeled as reef-friendly (meaning, they don't include ingredients that have been identified as having adverse impacts on coral reefs). 
You've swapped your single-use straws for reusable options to protect our oceans from plastic pollution (which is amazing, btw), but I'm challenging you to take things a step further. Upgrade your sun protection to a reef-friendly formula for the thousands of marine life species that call coral reefs home. Going reef-friendly isn't a compromise for your skin either—the formulas are just as effective at protecting against UV rays and feel (and smell) like the sunscreens you already know and love. Shop two of my favorites below for a little indulgence that makes a huge impact. 
For full body protection in a delightful mist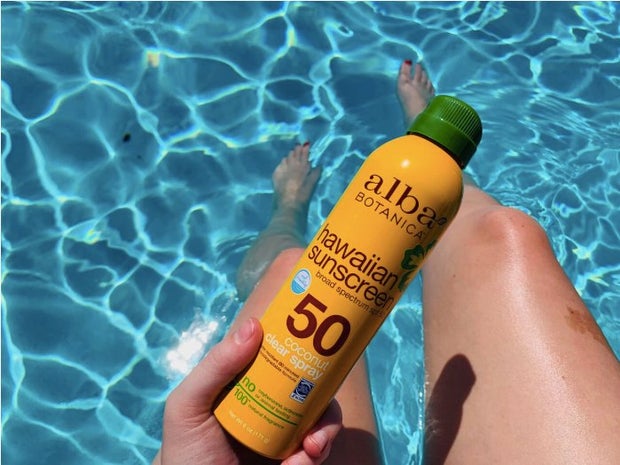 Hawaiian Coconut Clear Spray SPF 50 Sunscreen, Alba Botanica, shop now 
Trust me (and my fair skin), Alba Botanica's Hawaiian Coconut Clear Spray SPF 50 sunscreen is the gold standard of reef-friendly sunscreens. The spray applicator makes it easy to reach every nook and cranny, and the coconut-scented mist feels so cooling when the sun is beating down on the beach. The biodegradable formula is completely cruelty-free (duh), has no synthetic fragrances, and is recommended by the Skin Cancer Foundation. 
For luxurious coverage on your face and body  ​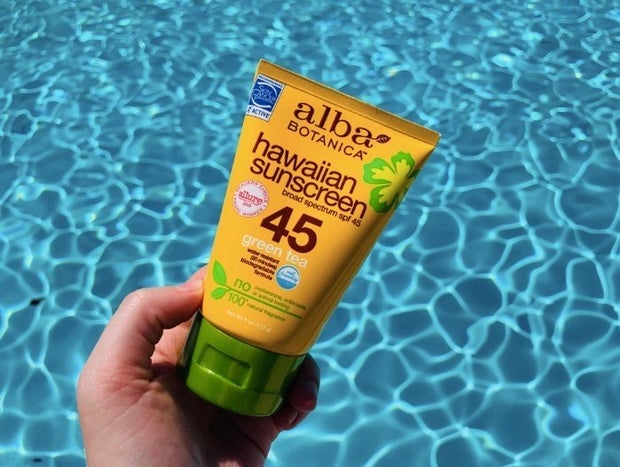 Hawaiian Green Tea Lotion SPF 45 Sunscreen, Alba Botanica, shop now 
Alba Botanica's Hawaiian Green Tea Lotion SPF 45 sunscreen deserves a permanent place in your daily skincare ritual. The nourishing, non-greasy formula is infused with Aloe Vera, Green Tea, and Chamomile, and feels more like a moisturizer than a sunscreen (it absorbs as quickly as a moisturizer too—no white cast). It's the most indulgent step in my daily skin care routine, while not harming our oceans. 
Let Alba Botanica Do Beautiful for you so you can Do Beautiful for our coral reefs. Shop more cruelty-free and reef-friendly beauty from Alba Botanica (including our Beauty Editor's favorite acne patches) here.