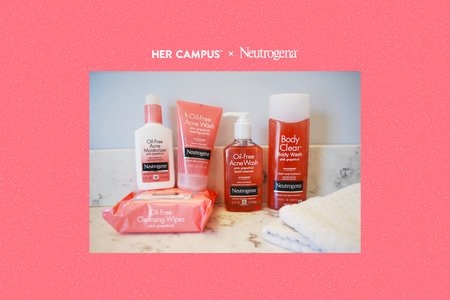 Image by Madeleine Bokan for Her Campus Media
The Ultimate Graduation Day Skincare Routine
This is a sponsored feature. All opinions are 100% our own.
Oh hey graduate ✨✨. Whether you're celebrating the big day on a video call or in your living room, you deserve to feel your absolute best and that starts with a solid skincare routine. I interviewed graduating senior, Isabella Bokan, for her best tips, tricks, and master plan for getting ready for graduation. 
 
1. Hydrate:
"The rumors are true, you guys. Staying hydrated is a game-changer for skin — I see a difference in my complexion with the more water I drink. So, the week before any event (especially ones where I'm planning to take lots of pictures), I put in more effort to stay hydrated. From drinking extra water to using my oil-free moisturizer, I feel like a hydrated, educated grad."
2. Use products you can trust:
"I have acne-prone skin and it has surely been a journey finding products I love and can trust. The Neutrogena® Pink Grapefruit collection keeps my acne at bay, thanks to salicylic acid and vitamin C, while leaving my skin feeling soft and refreshed. Plus, the scent is delish! I use the Neutrogena® Oil-Free Acne Wash Pink Grapefruit Foaming Scrub at night, so I can wake up ready to put my best face forward come morning. I love this product because unlike many other scrubs, it does not contain plastic microbeads. The MicroClear® Technology gently exfoliates my skin to smooth away roughness without over-drying my acne-prone complexion."
3. Shower the night before:
"Showering the night before takes the stress out of getting ready early the next day. This way, I can blow out my hair before bed, and in the morning I can take my time with my skincare and makeup routine all without feeling like I'm rushing. Pro-tip: For a major glow, I use the Neutrogena® Body Clear® Body Wash Pink Grapefruit. It's specially formulated to treat body breakouts without over-drying. Yes, please!" 
4. Pamper yourself:
"Since my favorite nail salon is currently closed, I'm testing my luck at giving myself a mani and pedi. Purple is my favorite color, so I'm choosing a light violet for a pop of color against my white graduation dress."
5. Disconnect before bed:
"After my nails are dry, I'm officially ready to get some sleep. Since graduation feels so different than I expected, I'm disconnecting for 30-minutes to an hour before I fall asleep, to reflect on the last few years and to get excited for all that is to come." 
6. Wake up with happy music:
"I can't lie, I'm bummed I won't be walking across the stage on graduation morning. But I'm staying positive by setting my alarm to wake me up with an upbeat playlist full of my favorite music and then I fully plan on having a solo dance party to wake myself up." 
7. Get glam:
"After applying my Pink Grapefruit Oil-Free Acne Moisturizer, I'll start working on a subtle makeup look. I want to have a natural look in my graduation photos, but still, something that makes me feel dressed up for the occasion. My go-to is a neutral sparkly eyeshadow and a bold lipstick." 
8. Put on your cap and gown:
"Last but certainly not least, I'm going to put on my grad cap and gown and take a mirror selfie. If that doesn't make it feel real, I don't know what will! My family and I are planning to have a big brunch ahead of my virtual graduation, and then have a mini photoshoot in the backyard. Thanks to my favorite Neutrogena® products I'll be totally ready for my close up."
We hope these tips help you get inspired to treat your graduation day like the important milestone that it is. Happy graduation, grads!