Clear More Space in the Skincare Aisle, Because Young Women are Here to Stay
I'm 22 years old, and I use wrinkle cream. 
Go ahead and laugh, gasp in shock, faint, I don't care, because it's true. I'm 22, and this wrinkleless skin gets covered in wrinkle cream at least once a week. 
As the saying goes, "Momma knows best." For as long as I can remember my mother always told me, "It's never too early to prevent wrinkles, it's only ever too late." I've been using wrinkle cream since I turned 21, when I called my mom from the Walmart skincare aisle asking which brand and product she recommended after years of "It's never too early!" following me around everywhere. Although the cream I use is lightweight and mostly focuses on erasing fine lines and protecting the skin from sun damage, we all seem to have a fixed view when it comes to wrinkle cream, and who should be using it. And this fresh-faced 22-year-old isn't it.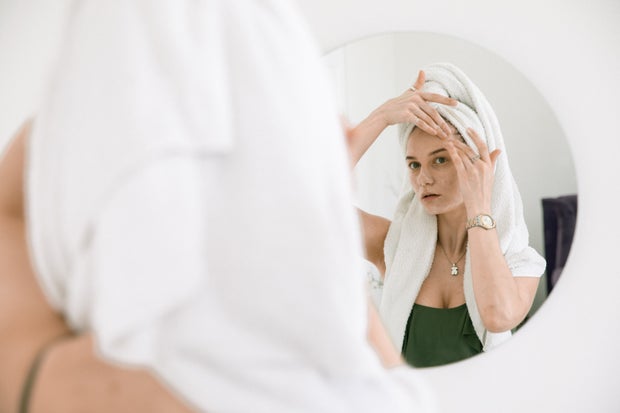 Photo by Ekaterina Bolovtsova from Pexels
Brand marketing and age… it's all changing
When wrinkle cream comes to mind, you might think of a 50-year-old woman, who's beginning to realize that she's not the 20-year-old she used to be and wishes to recapture her still youthful appearance before the deep lines really sink in. However, skincare marketing has drastically changed to include a wide variety of ages and skin concerns, taking acid serums and wrinkle creams from an old woman's dreadful coming-of-age item to a young woman's unthinkable daily routine. Turn on your TV and you'll notice the multitude of skincare ads from Olay to Neutrogena, or more expensive brands. All of them aimed at women, but no longer just older women. In the early 2000's, skincare ads typically pertained to women in their mid-to-late 30s and 40s – such as Covergirl using Faith Hill, aged 34 in this advertisement from 2001 – to sell products to smooth and even skin tones, something that's still heavily apparent in beauty marketing today. Although the same concept is being marketed to women, brands are adding in a younger bunch, such as Gigi Hadid, 25, for Maybelline and Lana Condor, 23, for Neutrogena. 
Even in 2015, Refinery29 published a piece on skincare brands shifting focus to include Millennials and the younger generations. From our years as teenagers fighting acne to fighting wrinkles in our "older" age, we tended to forget about what comes in between. Nowadays, that's not the case. Walk into Ulta, Sephora, or even Walmart, and you'll find a beauty or makeup product promising to fix any problem you could possibly have. Brands – and consumers – are no longer looking for specific items pertaining to their age group, but rather individual products pertaining to their skincare and beauty needs, as well as their values. 
Brands are now displaying younger faces next older ones. Among the ranks of Christie Brinkley, 67, who has her own skincare line, and Jennifer Aniston, 52, for Aveeno, now comes Emma Chamberlain, 19, for Bliss or Kendall Jenner, 25, for Estee Lauder. The products they market to consumers range from anything like their own skincare brands, such as Kylie Skin by Kylie Jenner, 23, to acne topicals, like Proactiv (Kendall Jenner) to Aveeno (Jennifer Aniston), to even having male representatives, such as Origins did with Chinese star Xiao Zhan, 29. 
And brands are proudly displaying taglines of "Cruelty-Free" and "Vegan" and "Not Tested on Animals" to appeal to its more environmentally-friendly and animal-friendly consumer group. Brands like Bliss thrive on this, even making it a part of its core values, alongside zero waste and other concepts that are becoming increasingly important to the younger generations. 
cottonbro via Pexels
The impact on college-aged women 
As a woman in her early 20s, I was curious to see how often young women feel pressured to prevent the aging process, especially with social media apps like TikTok causing small skincare brands to blow up with cult followers from all the newfound visibility; and with new skincare brands and lines being specifically designed with young women in mind. So I asked some of the young women around me about their skincare routines and the brands they use, and I got an answer I wasn't expecting. 
With the beauty industry largely focusing on women and the anti-aging process, I suspected my fellow peers would feel a little bit of pressure to prevent aging, like I do. And certainly, there were a few of them that did worry about preventing wrinkles and sun spots, but for most of them, skincare was simply just self-care. "I think they go hand and hand. I'm under the impression that protecting my skin, especially from the sun, will help aging," Carli Scolforo, who attends Siena College, 21, says. She cleanses her skin before applying moisturizers and facial lotions with SPF every morning before class.
But for those of us a little more concerned about aging and protecting our skin from damage, I found that we tend to focus more on serums, such as those that include Vitamin C, Retinol, Niacinamide Acid, Hyaluronic Acid and Glycolic Acid. Although it seems counterintuitive to put acid on your face, acids are actually quite beneficial to your skin when used correctly. Does it seem odd that young women in their late teens and early 20's are putting such heavy products on their skin? Maybe, but these acids do more than just prevent fine lines and wrinkles, take off dead skin cells, and protect from sun damage. They actually prevent breakouts, which is right up most young adults' alleys. 
I definitely fall into the serums category. When I received Bliss' PM Serum as a birthday present (something I had asked for), my grandmother asked me, "You're already putting serums on your face? Aren't you a little young for that?" Perhaps she was right, but I'd already been using Bliss' Bright Idea Vitamin C and Collagen serum for a year, and even bought it for my mom's birthday because I found it life-changing. How something so small as a Vitamin C serum could help clear up blemishes, while leaving my skin looking bright and healthy amazed me. My twin sister had been using the AM and PM serums and highly recommended them, so of course I had to try it for myself…even as someone who looks 12 years old. You'd think I would be the last person to consider age prevention, but skincare has become a form of self-care that just happens to clear my skin (mostly, curse the stress pimples) and prevent fine line and wrinkles. 
Skincare doesn't have to be a complex, 15-step process to be good. Emily Weinert from Siena College, 22, just uses one product: St. Ives. For Weinert, simplicity is key when it comes to controlling her skin. "I don't like to have blemishes, it makes me feel extremely insecure, but at the same time I have gotten better at covering them with makeup." One of the easiest ways for young women to prevent blemishes is facial cleansers. Whether yours is $30 or $3, it's all about exfoliation. "I use St. Ives to prevent pimples and exfoliate," Weinert says. 
However, 15 steps isn't a bad thing, either. Alexis Hooten, from Siena College, 18, uses facial cleansers, multiple serums, and nourishing oil to keep her skin looking radiant and nourished. "I have a pretty detailed skincare routine depending on what I want to do for my skin. Over quarantine, I noticed my skin was starting to get oily, so I started using the CeraVe face wash for normal to oily skin, and I also started using some serums [from The Ordinary]. And then I finish off my routine with Cetaphil Oil Absorbing Moisturizer." 
Whether you're stepping into the skincare aisle for wrinkle cream like me, or facial wash like Weinert, taking care of your skin is the most important step. Buy what's best for your skin and what will benefit your skin goals. Whether you're clinging to a youthful appearance for as long as possible at 22 or making your last ditch effort to get rid of a pimple before you squeeze the life out of it, skincare is now designed with everyone in mind. Older women are no longer secretly covering up their wrinkle cream under their other groceries, but asking the younger ones to read them the back of the label or reach the products on the higher shelf. 
Clean up on Aisle Skincare: young women are here to stay. 
Just a heads up — this article may contain affiliate links. While a purchase through affiliate links doesn't impact the price you pay, Her Campus Media may receive a small commission. All products' prices and availability are accurate as of publication.