How to Pack Your Beauty Products to Pass TSA Standards
Although it might not seem possible, especially during those dreadful 8 a.m. lectures, spring break is fast-approaching! Personally, I'm going to use the break to catch up on my beauty sleep and watch The Vampires Diaries for the fourth time. But if you're jet-setting, there are a few key practices to keep in mind when packing your beloved beauty products. 
For starters, it's safer to pack your beauty products in a carry-on than to store them in traditional luggage. My sister once packed her Melisa Michelle x Ulta palette with her clothes thinking the cushioning would protect it, and the mirror ended up shattering. Of course, there are worse horror stories about flying with cosmetics, but I definitely learned my lesson through my sister's experience. Typically, if the products you deem essential to travel with are extremely valuable, irreplaceable, or limited, you should keep them with you on the plane instead of in your checked bag.  
Airlines generally have strict rules when it comes to cosmetic items for obvious reasons. Unfortunately, those rules don't always account for well-executed makeup looks and glowing skin. Feeling overwhelmed about the idea of packing is normal, but it doesn't have to be needlessly difficult. Here's how to pack your beauty products to meet TSA guidelines, so you stay glowy for your whole spring break trip.
The TSA guidelines for cosmetics
The first step in effective packing is to translate all the government-enforced limitations into something you understand.  According to the Transportation Security Administration (TSA), Makeup in a solid or powder form is allowed in carry-on and checked bags with no quantity or size limitations. For example, products like eyeshadows, highlighters, and blushes are either considered solids or powders—those are only limited by the maximum weight for baggage (varies by airline, so be sure to check yours for specifics). 
Rules are stricter when it comes to liquid products like foundation and moisturizer. TSA states, "When packed in carry-on bags, makeup in a liquid, lotion, gel, paste or creamy form, must be in containers that are 3.4 ounces or less." In addition, the TSA promotes the "3-1-1 rule," meaning that liquids can't exceed 3.4 ounces and must be kept in a one-gallon zip-locked bag. Passengers are only allotted one liquid bag per carry-on. If that seems like a lot, consider the fact that the expectation is your one-gallon bag will also contain items like moisturizer, toothpaste and shampoo.
You can either buy travel-safe containers like this one from Amazon that includes bottles for your favorite liquid products, or you can just buy specific travel-sized products.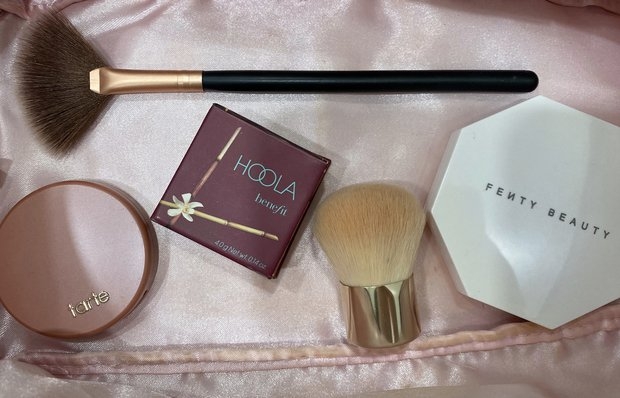 Sara Marsetti
Travel-friendly products
Primer
Some people swear by primer while others think it's pointless. If primer is an item you can't part with during spring break, then Maybelline New York's Baby Skin Instant Pore Eraser ($6, Walmart) primer is an excellent travel companion. I use this product religiously and always love the way it makes my skin feel silky smooth.  
For a higher-end alternative, Urban Decay's Optical Illusion Primer  ($16, Sephora) yields fantastic results. When I use Optical Illusion, my pores are less defined and my foundation glides on with ease. If used sparingly, the travel size will last well beyond spring break. 
Eyeshadow
Irrationally, I want to bring 
all 
my eyeshadow palettes with me when I travel because they are my babies and I love them dearly. My decision-making ability used to short-circuit when it came to packing my eyeshadows, but then I started using
Huda Beauty's Nude Obsession Eyeshadow Palettes
($29, Sephora). This palette corresponds with your skin tone, and the shades are highly pigmented and easy to blend. It's basically the only shadow palette you'll need during a vacation. If you are shopping on a budget, ColourPop offers a rainbow of
nine-shade palettes
(seriously, every color) for $12 each. 
Mascara
Most of the time I would not recommend buying a travel-size mascara because of the product-to-price ratio, but when it comes to flying, it's a necessity if you find yourself running out of space in your gallon bag. I believe Milk's KUSH High Volume Mascara Mini ($12, Sephora) is worth the slight price gap because it delivers on its promise to noticeably thicken and lengthen lashes.
Highlighter, Blush & Bronzer
The beautiful thing about highlighters, bronzers, and blushes is that they are usually combined in convenient palettes. For instance, Tarte's Hamptons Weekender Contour Palette ($19, Sephora) is my go-to travel kit because it is highly pigmented, usable and smaller than my wristlet wallet.
Urban Decay also has a trio palette titled Naked Flushed ($34, Urban Decay) that comes in six variations so consumers can find their perfect match. Although there are liquid and cream versions of these products, powdered versions do not have to be put in the gallon bag, allowing more room for essentials and other toiletries. 
Lipstick
There are two ways to approach lipsticks depending on your formula preference. If you like traditional lipsticks, then you will most likely be able to leave them out of the gallon bag. Beauty and Fashion Tech, recommends keeping a plastic bag in your purse just in case airport security questions your lipsticks, but says this is rare. That being said, if you are looking for a usable travel set, Ofra Cosmetics's Everyday Nudes ($20, Ulta Beauty) are long-wearing and perfect for any look. The Everyday Nudes set contains four liquid lipsticks (all 0.4 oz each) that fit every skin tone.  
Even though we all want to pack perfectly the first time, you might have to repack and reposition until you get things just right. Be sure to check your airline's specific restrictions prior to packing. There are tons of travel-size items on the market, so feel free to experiment in the time leading up to spring break.