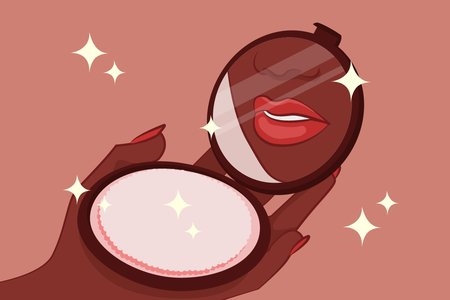 Introducing 'Beauty for Black Girls', Our All-New Page of Beauty Content, Made (With Love) For You
Hey friends,
Before we hop into this, let us introduce ourselves.
I'm Rachel, the Senior Editor here at Her Campus, who you sometimes see testing out face masks for an article or talking about vibrators on Instagram. I oversee lots of aspects of our digital and social – so when you check out the @HerCampusBeauty feed, know that it was curated by me, with love.
I'm Gina, HC's Beauty Editor and resident skincare queen. I'm the gal behind all our national beauty articles, which entails guiding our team of college beauty writers and interns, assigning and editing content, and working closely with Rachel to make sure everything we're doing on our site is cohesive with what's going live on our social channels.
We're so excited to introduce you to Beauty for Black Girls, our new page filled with makeup, skincare, hair, product talk and more all made with love specifically for our black girl readers and community members. It houses some old favorites, but mainly it's a place for us to feature our new and exciting content for black girls.
Yup, this launch does corresponds with Black History Month because we wanted a special way to celebrate black beauty, not just in history, but IRL right now. But, this is a living page that will continue to grow and develop, and that's because inclusivity is something that's always-on and that we hold ourselves accountable to--not just a word we treat loosely.
As the two beauty obsessives at HC, we realized something: there are a lot of shades Gina can wear that Rachel can't, and testing products or talking about what's trending on Instagram carries differences for the both of us – because complexions are ~complex~, and, real talk, black girls have specific, and yet still varied, needs when it comes to beauty. Black girls don't look any one way, and that's the beauty of us.
That's why having a plethora of identities weighing in and represented on this platform of ours is so important, from the beauty writers we work with to the brands we partner with, because diversity needs to be a foundational part of beauty-focused publications, businesses, and the industry as a whole.
While diversity hasn't been something we've treated like a trend (and if you glance at our beauty content, that's pretty apparent), it doesn't hurt to renew our vows and re-commit in an active way to highlighting the personal experiences of black girls, having honest conversations, and hyping all the products and companies contributing in a real way in 2019. Portions of the beauty industry are moving in the right direction, continuing to innovate what they're doing for WOC, and so we're pledging to stay on top of our shit too.
So, we've created this page that's YOURS, where you can come and hang knowing you fit our standard of perfect exactly as you are: pro-shaving or leg hair for days, light skin or dark skin, clear skin or acne-prone, nervous about wrinkles or excited to age, natural hair or weave or braids or however you live your beauty, your way.
Going forward, you can expect to see even more content in the beauty vertical and @HerCampusBeauty account that includes
Imagery with diverse models and skin types
More articles and posts from our black writers, editors, and influencers
Content that gives credit to the black cultural figures that started trends in beauty
Beauty advice and products recs specifically for black women
Real-talk conversations celebrating strides in the beauty industry, and getting transparent about when things are really messed up
Keeping hanging out with us, and expect even more.
Love,
Rachel & Gina