How to Use Temporary Dye for the Most Extra Festival Season Hair
I'm just gonna say it: Festival season for me is all about the outfits and beauty looks. People start planning their aesthetic weeks in advance, and festival posts rack up the likes on Instagram. It's the time to go all out, and the more extra the better. So go for it and have fun! 
This year, I'm all about pink hair for the weekend. Here's your guide to temporary hair color and how to get the most playful festival hair ever. 
Temporary options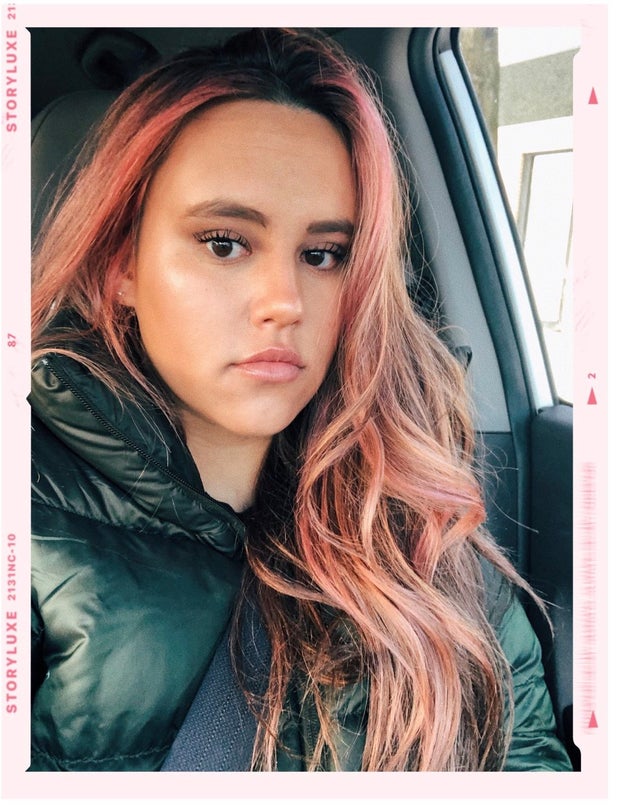 Crazy hair for the weekend that'll wash out by Monday? I got you. 
Kristin Ess Temporary Rose Gold Tint ($12) is perfect for you if you have blonde hair or lighter, highlighted pieces. It comes in a spray can and it's super easy to use. Just wash your hair, spray it all over, wait 2-3 minutes then rinse out and condition. If you want darker pink, leave it in a few minutes longer. It lasts for about three washes depending on how porous your hair is, and eventually fades from pastel pink to a rose gold color. If you have a ton of hair/ long hair make sure to buy two cans, especially if you want a more intense color. I used an entire can for my hair! 
If your hair is dark, don't think you have to bleach it all over to rock a festival-inspired 'do. Hair chalk and glitter sprays are your best friend! With hair chalk, you just grab the pieces you want to color, apply it and set it with hair spray. It'll add a pop of color, even on dark hair and it washes out with one shower. I love this Amazon Hair Chalk ($16) for my color. 
Hair glitter will definitely be everywhere this festival season. There are so many glitter spray options out at the moment, and adding glitter to your hair is as easy as spraying hair spray. IGK has a few good options, so check out the IGK Holographic Foam ($22) and IGK Glitter Spray ($16) specifically. 
You can also add glitter to your roots on your part. The Glitter Up Babe Body & Hair Glitter ($12) is perfect if you need to get your hair done.
Semi-permanent
Manic Panic ($15) is a semi-permanent dye, so it'll last for festival season and then some. It stays around three months, so not quite temporary, but I have to mention it because it works really well on dark hair. I added pink and purple steaks onto my dark brown hair and I was shocked with how bright my hair looked without bleaching it first. It comes in tons of colors so if you're down to rock colored hair well after festival season, then this is a great option that won't damage your hair.
Two words: Colored extensions! Colored clip-in extensions braided into your real hair is the perfect festival look. Just imagine the Instagram posts. First off, braids are great for festivals because they keep your hair out of your face in the heat and they're cute. Adding colored clip-in extensions just elevates the look and has you starting new trends instead of following existing ones. The best part about clip in extensions? Just take them out and your hair is back to normal. It doesn't get easier than that.
Amazon has tons of options for colored clip-ins that won't break the bank, like these Amazon Color Extension Clip Ins ($13). 
Aftercare
Your hair may need some extra TLC after the festival is over, so this shampoo gets everything out and this hair mask will soothe dry, overstyled ends. You're welcome!
Follow Reece on Instagram.