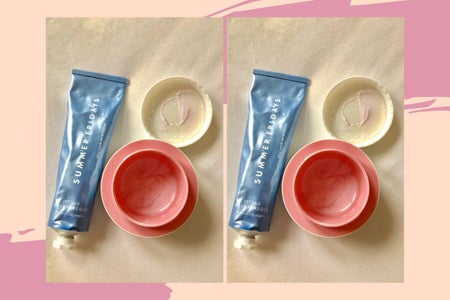 What's the Point of Overnight Masks? When to *Actually* Use This Powerhouse Skincare Step
We all know Korean skincare has a leg up in the game. Korean-beauty products, like serums, have become such a buzzy, new phenomenon in Western beauty markets, and the products are taking the Western beauty world by storm. One iconic product everyone's loving (myself included) is a sleeping, or overnight, mask. Instead of leaving the mask on for 15 minutes before rinsing, these masks are designed to work their magic while you sleep. No extra work required.
Sleeping masks are amazing to seal in other skincare products, like serums. This final skincare routine step ensures every bit of your other products are yielding their greatest potential results — which, like, duh, if I'm spending this much on skincare products, I better be getting all the benefits! They also act as a barrier and keep bacteria and impurities away from your skin (as you sleep on that pillowcase that really could use a wash).
Like any other skincare product, there's an array of specifically curated formulas for each skin concern. For example, if your skin is on the oilier side, ingredients like hyaluronic acid will still moisturize, but won't clog pores. 
So how often should you be using overnight masks? Two or three times a week is the sweet spot, especially if you'd like to use it in place of moisturizing. This step can be used on the reg, or even just on the nights when you know you'll be skimping out on much-needed beauty sleep. I'm not saying an overnight mask will turn you into Beyoncé, but you're definitely going to be feeling the "I woke up like this" vibes after using one.