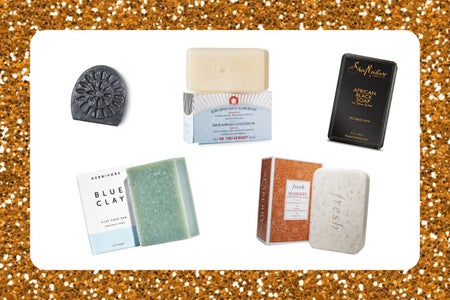 The Best Facial Bar Soaps to Use if You Want to Cut Down on Beauty Waste 
When you think of facial cleanser, generally you picture an attractively packaged tube or bottle from which you can squeeze the perfect dollop onto wet finger tips. Follow that with lots of foam and bubbles sliding around your cheeks. You would rather take an all-water rinse than touch the five-in-one mystery bar your boyfriend uses to wash everything (everything), and it's easy to shudder at the memory of that slowly eroding block of Irish Spring in the shower corner in your childhood home.
But actually, your boyfriend and your dad may have been on to something. What's appealing about the bar soap phenomenon? First, if you're a fan of Mother Earth, bar soaps are like giving her a nice hot-stone back massage­, instead of hosting a rager at her her beach-side condo without so much as a clean-up crew. She'll love you for the effort, and little things make a difference. According to a University of Oregon study, it takes five times more energy for the raw material production of liquid soap than bar soap, and the packaging takes nearly 20 times the energy. The study concluded that bar soaps have a lower environmental impact in categories like carbon footprint, ecotoxicity and ozone depletion potential.  
If the green aspect doesn't catch your attention, that's not the only reason to reach for a bar soap. Generally, they go for much lower prices than liquid soaps, provide much more uses, are easier to travel with (hello TSA liquid limits), and work just as well as their fluid counterparts. Now that we're all on the same page and absolutely living for bar soaps, I've rounded up a list of the best ones on the market.
1.

Ultra Repair Gentle Cleansing Bar

First Aid Beauty, firstaidbeauty.com, $7; shop now

This super moisturizing cleanser is packed full of antioxidants, shea butter and colloidal oatmeal, which soothes dry skin. The creamy lather cleanses, but also leaves it nice and hydrated. The squalene will help retain the skin's natural moisture barrier, so the hydration lasts well after you've cleansed. The gentle formula is made without irritating ingredients like silicones, mineral oil, sodium lauryl sulfate, alcohol, parabens and fragrances. If your skin is sensitive, this is a top choice.

2.

Pink Clay Gentle Soap Bar

Herbivore, sephora.com, $12; shop now

The Herbivore bar is a go-to for all-around gentle cleansing. French pink clay is known for its ability to extract impurities without drying. The lightly scented bar can be used for both face and body, and it's 100% cruelty free and vegan.

Herbivore Botanicals, nordstrom.com, $12; shop now

Another adorably packaged goodie by Herbivore Botanicals, the blue clay rendition is formulated for combination skin. Rare Cambrian blue clay found in Siberian lakes clarifies and balances skin. The clay has properties that allow it to seep deeply into the pores and pull out impurities while retaining moisture. The lavender essential oil gives it a naturally calming effect (and scent!) and also works as an astringent.

4.

Charcoal Cleansing Bar

Beauty Counter, beautycounter.com, $26; shop now

Best for oily, acne-prone skin, the blend of Japanese binchotan charcoal, organic green tea and organic coconut oil, this bar detoxifies and pulls impurities while retaining hydration. The cleanser will leave your skin clear, smooth and creates a brighter complexion.

6.

African Black Soap Bar Soap

SheaMoisture, ulta.com, $6; shop now

The African Black Soap bar deeply cleanses, clears and smooths skin. The ethically sourced shea butter is the golden ingredient in all of SheaMoisture's products. The African Black soap is known to treat and calm acne-prone skin. The natural scent can be strong for some, so if you have a sensitivity to scented cleansers this might not be the right product for you.

7.

Coalface Cleansing Charcoal Bar

Lush, lushusa.com, $15; shop now

Best for oily skin, the gently exfoliating charcoal bar leaves skin clean and matte. Rosewood and sandalwood oils clam irritated skin and work to reduce redness. Coalface kicks it up like, 10 notches in the green beauty game. It's part of Lush's "Naked" line, which is completely package-free. Like the other "Naked" products, the formula has little to no water, doing away with the need of synthetic preservatives.

8.

Seaberry Exfoliating Soap

Fresh, nordstrom.com, $17; shop now

A natural antioxidant, seaberry oil is rich in omega 3, 6, 7 and 9 which work to soften and restore dull skin. Three exfoliates, cranberry, bamboo and bitter orange, work together to sloth away dry skin to even skin tone and leave skin looking radiant and glowy.

Cetaphil, dermstore.com, $13; shop now

Cetaphil packs all the skin-loving goodness of their liquid wash into a compact package with this gentle cleansing bar. The hypoallergenic formula is soap-free, meaning it won't dry out your skin. Stearic acid is a naturally derived amino acid that attaches to the dirt and oil on your face and gets it the heck out of there.

10.

pH5 Soap-Free Cleansing Bar

Eucerin, baroness.com, $5; shop now

While advertised for sensitive skin, all skin types will benefit from the gentle cleanser. Our skin's natural pH level is slightly acidic, at about 5.5. A lot of cleansers on the market are at a pH that is much too alkaline and can actually damage your skin's protective barrier, which can lead to all sorts of problems like dryness, irritation and breakouts. The key ingredient, pH5 Citrate Buffer, neutralizes harsh alkaline irritants, aids the skin's natural shedding of dead skin cells and creates an environment where the skin barrier can thrive.
These bar soaps have the same benefits as your usual liquid cleansers, only at a fraction of the price and are arguably like, a billion times better for the environment. Goodbye unnecessary plastics and packaging, we're taking beauty notes and hopping on the bar soap train.
Just a heads up — this article may contain affiliate links. While a purchase through affiliate links doesn't impact the price you pay, Her Campus Media may receive a small commission. All products' prices and availability are accurate as of publication.