8 of the Most Inclusive Beauty Brands You Should Be Shopping This Black History Month & Beyond
Black History Month is here! Since the Black Lives Matter movement has been gaining more attention over the past few years, many people have shown solidarity by supporting Black-owned businesses. While it's important to support these businesses year-round, supporting them during Black History Month is especially important, since Black people are often underrepresented in the beauty industry. In celebration of Black History Month, I've curated a list of Black and Brown-owned brands to support that are diversifying the industry and changing it for the better.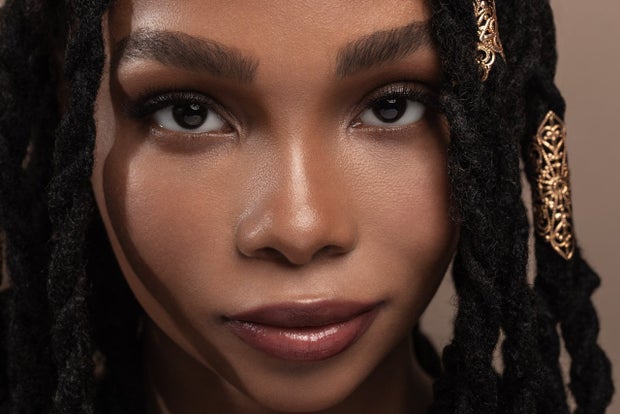 Photo by RootedColors from nappy
Nyakio Beauty was started by Nyakio Grieco and specializes in clean skincare products. Just recently, Grieco was featured in a video for Harper's Bazaar, where she showed her nighttime skincare routine and showcased some of her Nyakio Beauty products. Nyakio also has a platform called Thirteen Lune, which highlights Black and Brown-owned beauty brands. Nyakio Beauty products are also available at Target.
Co-founder and CEO of Golde Trinity Mouzon started her brand in 2017, and has been rising to the top in the beauty industry since then. In November, Mouzon was even featured in Teen Vogue's Beauty and Wellness summit. Golde is known for its superfood products and face masks, and can also be found at Sephora.
Mented Cosmetics is an inclusive beauty brand started by Black women for all women. Amanda Johnson and KJ Miller started Mented Cosmetics in 2017, and have made it their mission to make products that support all skin types and tones. Popular Makeup Guru Jackie Aina even called it "the best makeup for women of color." Mented is also available at Ulta Beauty.
Started in Miami, FL, where the sun always shines, Black Girl Sunscreen was created for Black women to have a brand of sunscreen that protects our skin and doesn't leave a white residue behind. If you're looking for a product that leaves your skin moisturized and protected, Black Girl Sunscreen can also be found at Ulta Beauty.
Deepica Mutyala first launched Live Tinted as a digital community that focused on diverse and inclusive beauty. The platform later launched a brand targeted to women of color, and since launching, Mutyala has been a speaker at the Teen Vogue Beauty and Wellness summit. 
Started by Tatiana Elizabeth, Skin Buttr is a beauty brand that specializes in whipped shea body butters and scrubs. Skin Buttr's products are designed to leave your skin glowing and smooth, and they're dedicated to promoting healthy skin with formulations made by skincare specialists. 
Pat McGrath, AKA "the most influential makeup artist in the world" according to Anna Wintour, is huge in the beauty and fashion industries. The makeup artist has her own line of products called Pat McGrath Labs, which went viral after her eyeshadow was featured during the Maison Valentino's Spring-Summer 2020 show. Pat McGrath Labs is also available at Sephora. 
If you haven't heard of Rihanna's makeup brand, Fenty Beauty, then you've probably been living under a rock. Fenty Beauty was first launched in 2017 and has completely changed the makeup game. Rihanna launched her brand with over 40 shades of foundation, with the perfect matches for darker skin tones. Since Fenty's launch, other beauty brands have started to follow suit in creating more inclusive shades. Fenty Beauty is affordable and specializes in face makeup, with colorful lipsticks, bright highlighters and foundation galore. Fenty Beauty is available at Sephora.