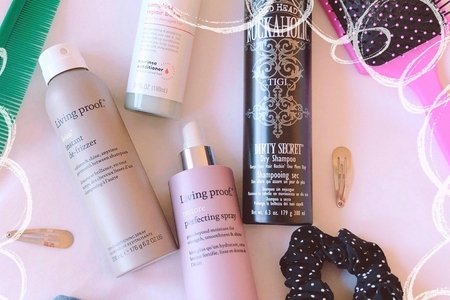 10 Products You Should Be Using If You Air-Dry Your Hair
Blow-drying and heat-styling your 'do every day can seriously damage your hair, causing problems ranging from frizz to split ends. Air-drying your hair leaves your hair much healthier, and significantly shortens the time you spend getting ready and styling your hair. Air-drying your hair might not always feel like the most Instagram-worthy option, but a few key products will help you reach your perfect hair aesthetic without all of the damage.
From sprays to leave-in-conditioning treatments, these products aim to reduce frizz, smooth and soften hair, protect your hair from damage, and provide easy, wearable style for every hair type – fair to thick, curly to straight, and thin to wavy.
These 10 products will completely change your attitude toward air-drying your hair and make your routine so much better!
1. Rapid Dry Lisse Hair Towel
Aquis, $30; shop now
The way your hair looks during the day starts with how you dry it right out of the shower. Traditionally, toweling your hair dry creates friction, leading to frizz, split-ends, and damage.
This towel and Aquis' collection of other options specific to your hair type has a special wicking fabric. Not only does the towel cut drying time by 50 percent, it also helps prevent damage, creates bounce and volume, and defines curls while helping hair stay shinier, smoother, softer and vibrant.
2. BioSilk Silk Therapy Original
BioSilk, ultabeauty.com, $28; shop now
BioSilk is known for their silk-infused hair care products, and their original leave-in, weightless replenishing and reconstructing treatment is amazing for using right out of the shower. Ideal for all hair types, this formula repairs hair from the cuticle to the ends, and provides incredible lasting shine.
If you're looking to add texture to your hair using a similar product, they also have a variety of lines, including a coconut-oil infused spray and a beach texture spray that adds slight beach waves to your natural hair. A bonus? All of their products smell so amazing and feel so light and healthy for your hair.
3. Hydrasource Hydra-Seal Spay
Biolage, ultabeauty.com, $18; shop now
This spray contains aloe to help hair retain moisture. It works wonders on straight hair by infusing moisture into the hair, controlling frizz and adding shine. If your hair is naturally straight and medium-to-coarse in texture, this spray may be perfect for using on damp hair after showering.
4. Sea Salt Pomade
FatBoy, $21; shop now
This is a product that I discovered in the summer and absolutely adore. It's a really unique texture, blending together the texture and finish of a sea salt spray with the flexibility of a cream pomade. The pomade is easy to use, can be applied to wet or dry hair for two different styles, and you only need a little bit of product to create perfect beach hair. It doesn't leave hair sticky or crunchy, and is formulated with amazing natural ingredients that help nourish your hair while styling it.
Sea kelp and algae provide antioxidants, which keep your hair shiny and healthy. Coconut oil and Shea butter are natural moisturizers which strengthen and protect your hair. My own hair is quite straight, and this creates lovely, fresh-from-the-beach waves.
5. Atmos-Shield Hair Protectant Treatment Spray
Orlando Pita Play, $34; shop now
This product creates a barrier to shield your hair from all kinds of damage, while keeping your hair touchable, soft, and smooth. I use this most days after showering and while it smells amazing, it also works really well by helping to prevent frizz.
You can rest easy knowing your hair has something on its side, working to keep it safe from UV damage. If you end up deciding to heat style your hair later in the day, this product also works well as a heat protectant spray.
6. Complete 10 Leave-In Conditioner
Equate Beauty, walmart.com, $10; shop now
Most beauty lovers swear by It's a 10 for their hair care products, and while they are amazing, their price point is a little steep for everyday use. This product is Equate's version of their leave-in conditioner, and having tried both, this one works equally as well at a much more affordable price. A healing hair balm that nourishes, restores, and protects hair, it has over ten benefits and detangles, smooths, tames frizz, and lasts all day.
7. Briogeo Farewell Frizz Rosarco Milk Leave-In Conditioning Spray
Briogeo, sephora.com, $20; shop now
This leave-in conditioning spray, made with rosehip, argan, and coconut oils, is 96 percent naturally derived to restore moisture and softness without adding weight, grease, or product buildup. A little of this softening product goes a long way, and the product works even on thick hair. For straight or textured hair, this product protects, revitalizes, and nourishes while preventing frizz.
8. Ouai Air Dry Foam
Ouai, sephora.com, $28; shop now
Perfect for curly or wavy hair, this time-saving foam is meant to be scrunched into damp hair and will create soft, frizz-free waves. Created with kale as a main ingredient, it keeps hair soft and prevents any crunchiness or buildup throughout the day, while conditioning and detangling. Plus, carrot protein helps provide humidity resistance, which we all know is completely essential.
9. Waterfall Moisture and Shine Lotion
R+Co, $29; shop now
This lotion leaves hair glossy, soft, and manageable in only a few moments. It can be used on wet or dry hair, and contains beautiful natural ingredients, like rosemary to maintain scalp health and keep hair clean, witch hazel to balance hydration levels and prevent frizz, and babassu oil to moisturize dry, damaged hair and create healthy, smooth locks. Especially powerful for long hair, this product works beautifully for both straight and curly hair.
10. Perfect Hair Day In-Shower Styler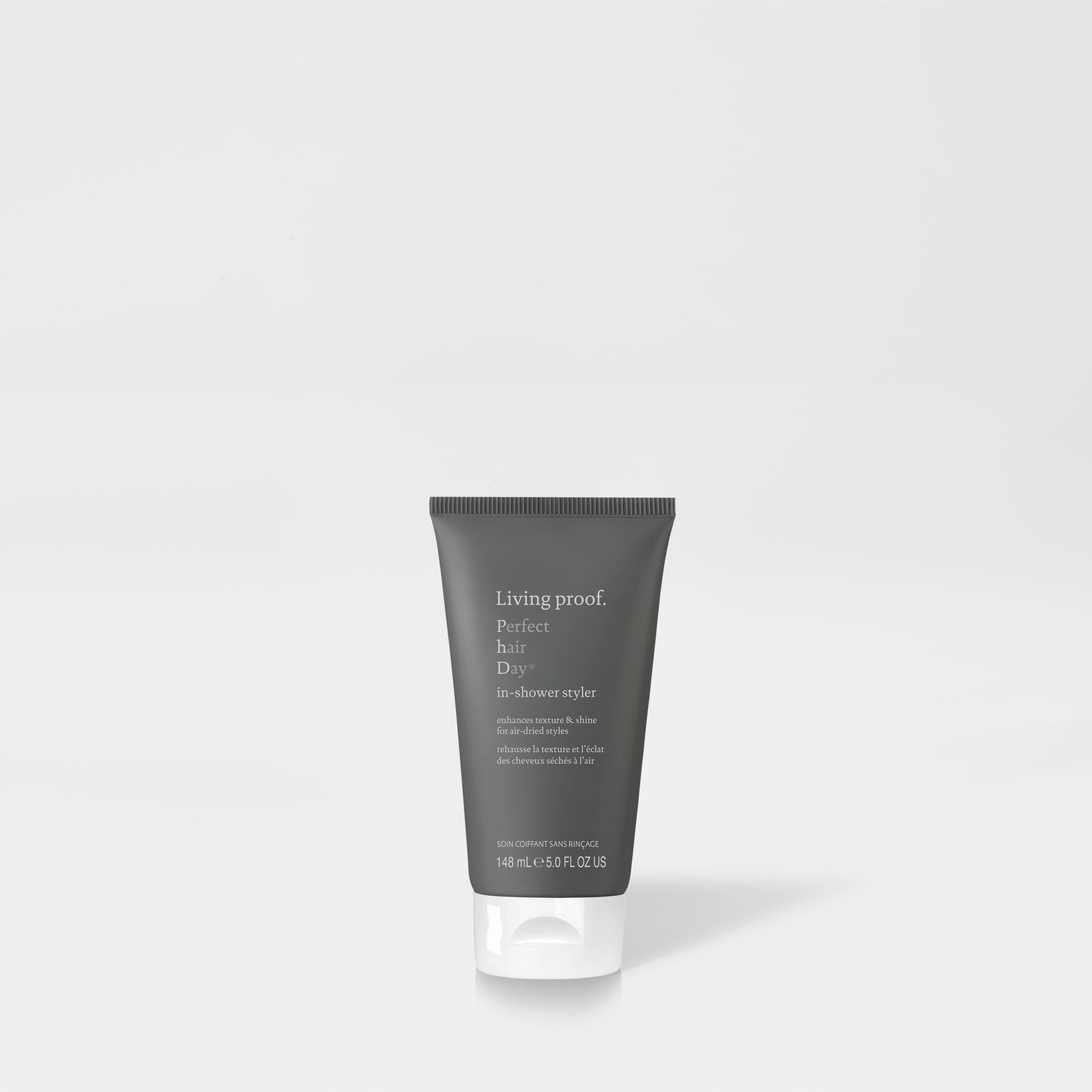 Living Proof, $25; shop now
The most innovative product on our list, the Perfect Hair Day In-Shower Styler creates just that. You apply the product in the shower and rinse off lightly, and it creates waves in air-dried hair with enhanced body, softness, natural texture and shine. Performing best on straight to slightly-wavy hair, this product was specifically formulated to create beautiful air-dried waves.
Air drying your hair has so many benefits for keeping your hair soft, nourished, protected and healthy. With these products, you don't have to sacrifice having a great hair day and cute, stylish looks. Instead, you can have sleek, straight, shiny hair without heat treating your hair or beachy waves without needing to take a vacation. All of these products shorten your routine and add gorgeous, healthy ingredients to your hair care that will revitalize the way you look at air-drying. 
The Her Campus National Editors write about products we love and think you'll love too. Her Campus has affiliate partnerships, so we get a share of the revenue from your purchase.