Janet Lynn West-International Federation of Body Builders Figure Pro
Towson University has graduated many students who have gone on to a variety of careers (and we've interviewed many of them!). Everyone from teachers to lawyers to politicians and even actors has graduated from Towson. However, I can't say that most of us knew that we could count, Janet Lynn West, an International Federation of Body Builders Figure Pro, as one of our alumni. Janet is well-known in the body building world, having achieved the status of IFBB Figure Pro in July 2011 at the National Physique Committee's Masters Nationals in Pittsburgh, Pennsylvania. 
But before she was a celebrity in the body building circuit, she had a varied career that included over 10 years in the corporate world in human resources and accounting. She even was a NFL cheerleader for a season with the Washington Redskins. Today, in addition to being her own trainer, she is a personal trainer, model, mother and coach to her own team of competitors, The Granite Girls.
When Janet started at Towson in the early 80s, she already found her passion in fitness. Her love for fitness and dance led her to double major in dance and accounting. With a friend, she founded the first pom squad at Towson. "I think that was my favorite memory of Towson," she said. "We used to do the half-time shows at the football games and I a made a lot of new friends."
While still at Towson, Janet cheered for the Washington Redskins during the 1982-1983 season. "The Redskins went to the Super Bowl that year, and we won!" she said. "It was the best season I could have picked!"
She didn't make the big jump into body building until 2006 (after over a decade in the corporate world), when, she says, she "made the jump cold turkey." She first became a certified ACE personal trainer and then quickly began her ascend to IFBB Figure Pro, competing at competitions across the country.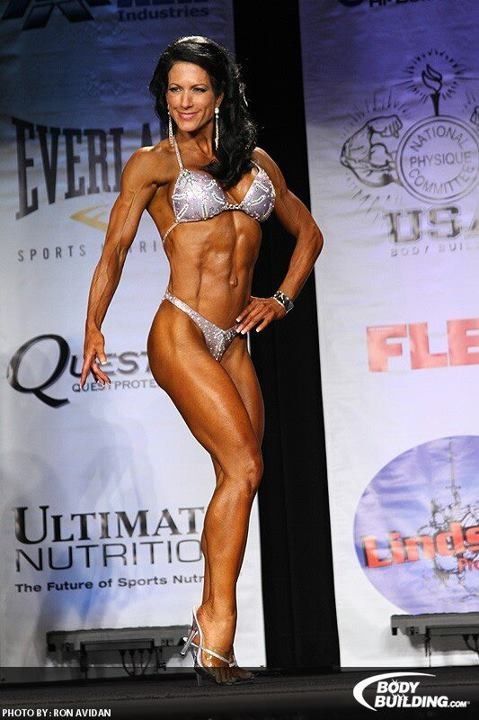 The process to compete in a competition is grueling. Janet says that she begins dieting and training three months before a competition. Her exercise regimen includes 10 cardio sessions a week and strength training five days a week. "I do one hour of cardio in the morning and one hour in the evening," she said. "During my break [from training clients] I do a half-hour of strength training." 
And if you are wondering how Janet gets that famous deep tan during competitions (for muscle definition) she says that she uses a combination of exfoliation and a special tanning lotion made especially for the sport. The exfoliation begins a week before the competition and she applies three coats of the lotion over a two day period.
"I don't use a tanning bed," she says. She says that although some competitors use tanning beds, she would never be able to promote a healthy lifestyle and use one. She only uses natural methods to achieve her physique.  "I think that it should be important that [we achieve these results] in realistic ways."
I know what you are all thinking, "I wanna look like Janet, but there is just no way that I could go to the gym that much nor would I ever have the discipline!" That's okay, Janet says the first step is to change what you eat. Lay off the fried-food and multi-complex carbs and try to eat small portions every four hours. Then, hit the gym five times a week for 30 minutes of cardio and three times a week for strength training and you'll have a beach body in no time.
And while Janet did not pursue her true passion until much later in life, she tells us to follow our heart when it comes to our careers, "Choose your career with your heart and don't let anything stop you from following your dreams."

Wanna know more about Janet? Go to her website or like her on Facebook!
You Might Also Like...