Are you an aspiring broadcast journalist at Syracuse University? Have you ever heard of the program, CONNECT Syracuse? It's a public affairs program that's broadcast locally every week, and produced 100% by students. It's a great opportunity for students who may not have the time to commit to the other two networks on campus, but want to have some experience and some videos in their portfolios. It's especially great for freshman and sophomores who don't have any serious broadcast journalism classes, but want to do more besides "storytelling" behind the camera.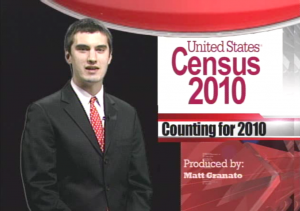 CONNECT offers a great opportunity for underclassmen because they get to help produce long or short news pieces - either as a cameraperson, a reporter, an editor, etc. And, those in CONNECT get to work with upperclassmen, and learn from their experiences and essentially be mentored and guided by them. You also get to explore Syracuse - one of the first shorts I helped out with involved us going to a snowshoe competition, and I had never even ventured off campus before that. You really find out how amazing the city of Syracuse, and Onondaga County in general, are - and just how much it can offer. There's always so much going on that we never hear about because we're sheltered in the Syracuse bubble, but CONNECT would help you really explore and learn more about Central New York. Plus, you'd get to add to your portfolio and hone your skills before graduation - making you an almost expert before getting a job. It's a great opportunity, and people should definitely join. Plus, CONNECT is open to all majors interested in broadcast journalism - I'm a PR/EEE dual major and I joined for a semester because I thought that using a camera, and being a braodcast journalist be a great skill to learn. It's definitely a once-in-a-lifetime opportunity, especially as a student, and everybody should really take advantage of it.
You Might Also Like...