As if we weren't already infatuated with Scandal star Kerry Washington, her recent Saturday Night Live appearance and her smart handling of the heavy diversity issue on the show only made us love her more. She's stylish, she's outspoken, she's funny – if only we could be friends with her! Here are just a few reasons why we think Kerry would make an awesome BFF.  
1. We could always depend on Kerry to be open with us.
2. She knows how to demand respect from others. 
3. She knows about all the best beauty products.
4. She isn't afraid to laugh at herself (as we saw through her hilarious Oprah impression on SNL).
5. She doesn't pretend to have all the answers. 
6. She'd make for a great dance partner…
7. …and she knows how to have a good time wherever she goes.
8. She would help keep us on track with our workouts.
9. She can handle the tough stuff…
10. …and if you mess with her, she won't hesitate to call you out (as seen on SNL's "What Does My Girl Say" video).
11. She might lend us some clothes from her closet.
12. She knows plenty of fun facts for trivia nights...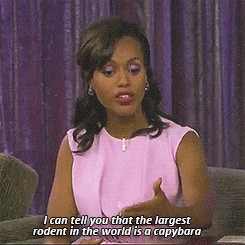 13. ...and she'd always be down for a girls' night in with wine. 
14. We could always depend on her to practice discretion. 
15. Best of all, she knows that nothing is more attractive than confidence.  
You Might Also Like...