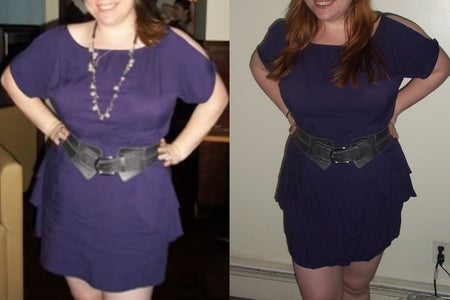 Lose the Freshman 15: My final weigh-in
This is a sponsored feature. All opinions are 100% our own.
Wow, 10 weeks already? This experience with the Jump Start Diet has been phenomenal and life changing for me. I don't even cringe when I step on the scale anymore.
Last week's weigh-in revealed a 1 lb weight gain for me after Easter break. But I am pleased to report that even with minor slip-ups this week, I have lost a pound and completed this program having lost the Freshman 15!
I started the program at 210 lbs…which was a little hard for me to admit, even though I wholeheartedly was not ashamed. Some people still don't believe me. I've had people come up to me and tell me that I'm lying about my weight just to make the blog look better.
Wait? So being over 200 lbs makes the blog better?
Hey, it's not my fault I carry weight well and look smoking hot no matter how much I weigh! Haters gonna
hate. But I'm pleased to say that with the program, I am now well under the dreaded 200's and well on my way to losing even more weight (hopefully before my wedding next year!).
But obviously numbers can be misleading then if people think I'm lying about my weight. That's why I just don't care to obsess over numbers. Instead, let's look at results. And I must say, I am pleased.
This before picture  was posted when New Balance sent me a package of awesome new gear at the beginning of the journey.
Now,   not only do I look mighty fine, but the pants don't fit me at all. In fact, if I do more than walk slowly, they end up around my knees. Totally embaressing—but definitely a good sign.
This before picture was also posted in my first blog ever as my before body shot. This was taken last summer at a VH1 party I attended in NYC. Look at me now! And if I look like I'm holding my waist weird, it's because my belt is literally falling down. Look at that gap!
I think the most shocking part was that while I was trying to recreate these same looks, I put on my favorite strapless bra which I haven't worn in a while (I haven't had an occasion calling for one). It DOES not fit me at all anymore. I'd have to stuff my bra to. So, yes—I went down a bra size! WHOO HOOO!
Some may think I'm crazy for celebrating, but big-busted girls will understand. No one wants to be a 40DD. At least I don't. The back pain is too much.
So here I am: 15 lbs lighter, 1 bra size smaller, and in need of a new wardrobe and newbelts. Thank you SELF magazine. You showed me I can take back my life at any stage.
I'm excited about my new life post-graduation. And while I'm sad to end the Her Campus/SELF magazine Lose the Freshman 15 journey, I know my new healthy lifestyle won't end here.
In fact, if you want to keep up with my weight loss journey, follow my personal blog The Bloated Bride. It went on hiatus during this experience but I'm revving it up again, and I'll be focusing on how to integrate into true adulthood while staying healthy (and of course planning a wedding).
Oh and P.S. Thanks to your suggestions, I totally picked dress A for graduation!
Don't be a stranger! I'd still love to talk to you and support you during your own weight loss journey too. Email me anytime at [email protected] or follow me on twitter @Nikki_Roberti or @Bloated_Bride.