It's not a secret that the world is fast-paced. Especially in an environment with other ambitious college students, it's easy to feel like you have to cram so much work into the day to achieve your goals. Right now, students are growing up with the mentality that "good things come to those who hustle." While working hard to achieve your dreams can be an excellent thing, it's also important to rest so that you don't work yourself to the point of burnout. This can be very difficult to achieve in a hustle culture full of demanding expectations from employers, professors and parents alike.
You might be reading this and wondering what exactly "hustle culture" is. The term may be fairly new, but people have been experiencing burnout for quite a long time in the professional world. Essentially, hustle culture refers to the phenomenon in which people are expected to remain productive and work more than they rest.
I decided to do some research of my own and asked my Instagram followers about the effects of hustle culture in their lives. My first poll stated the following: "Has an increased workload at school or work ever affected your mental health?" The poll results showed that 100% of the 62 people that voted stated yes, indicating that increased workloads at school or work had a very large impact in the daily lives of college students and young professionals. My second poll asked: "Do you feel pressured to stay busy at school or work?" 92% of the 63 people that voted in this poll said yes, indicating that many college students and young professionals felt pressured to "look busy" and remain productive in academic and professional settings. 
At this point, you're probably wondering how falling into constant work habits can lead to a deterioration in your mental health, or if hustle culture and your mental health are even connected. To get to the bottom of this, I spoke to Dr. Natalie Krenz, a licensed clincial psychologist at Children's of Alabama. She spoke on the connection between mental health and hustle culture and shared a few tips on how students and young professionals can heal from burnout. 
There is societal pressure to stay busy.
Society puts an unhealthy amount of stress on people to "stay busy." After all, many of us look up to productive people and strive to accomplish as much as our classmates or co-workers. This results in us taking fewer vacation days and feeling guilty for not being at work 24/7.
When asked about society putting an unhealthy amount of stress on people to stay busy, Dr. Krenz compared our vacation days in the United States to the number of vacation days in other countries. "We are expected to work harder and longer hours," she says. "We have a culture of guilt for taking vacations and time for ourselves. At a job, there is an expectation to always be busy — and look like you are working constantly."
How does staying busy affect your mental health?
It may seem obvious that staying busy and not getting enough rest can affect our mental health, but I wanted to know the direct connection between mental health and being overworked. I asked Dr. Krenz how staying busy all the time can impact your mental health and if there are any mental health issues that can be caused by a lack of rest. Dr. Krenz states that a lack of rest and sleep can cause or worsen various emotional struggles.
"If we are not getting enough sleep, it is difficult (if not impossible) to work on mental health issues we may be struggling with, including anxiety and depression," says Dr. Krenz.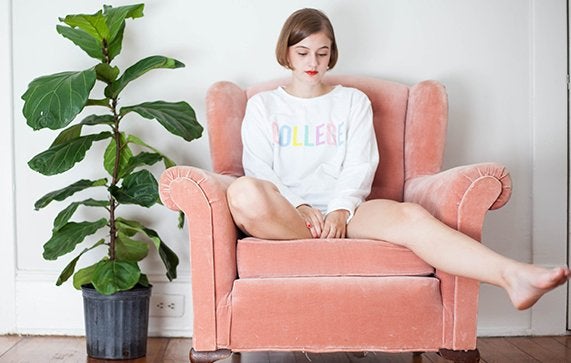 Struggling college students can heal from burnout.
If you are a college student struggling with the side effects of burnout, don't worry! There are several ways you can rest and "re-fuel" before you head back into your productive state of mind. Dr. Krenz says that healing from burnout includes finding a balance between school work and fun activities. "Meditation and mindfulness skills are very benefical to help individuals with emotional struggles as well," she shares. Dr. Krenz also says that journaling can be an effective tool for people to get their feelings out and "restructure their negative thinking." 
Another way you can heal from burnout is by talking to a professional about the struggles you are facing. There is no shame in seeking help, and it can be a crucial part of your healing process! "Going to therapy to obtain support and learn coping skills will benefit anyone dealing with stress and/or mental health struggles," states Dr. Krenz. Many universities offer workshops and counseling services to college students (often for free and included in your tuition). If you are seeking counseling resources on your campus, try reaching out to your academic advisor or your university's counseling department for more information.
How to prevent burnout in the future.
Maybe you've never actually reached the point of burnout yourself. In that case, stopping burnout before it can start is even more important than healing from its effects. I was curious if there were ways to prevent burnout and what steps college students should take to make sure that they do not reach that point. "Having a good balance between work and relaxation is crucial," says Dr. Krenz. "Make sure that you are engaging in pleasurable activities daily and doing things that make you feel good about yourself." Another way to prevent burnout is to "be mindful of your own limitations and mental health." These daily activities might include things like journaling or meditation, or anything else that can make you focus on the present moment in the middle of a busy day, like taking the time to do an elaborate skin care routine before bed.
Hustle culture may be a pressing issue in our society today, but there are many ways that we can prevent and heal from this. If you are struggling with burnout, try using one of Dr. Krenz's recommendations to help you heal. And of course, always remember to reach out to someone in your life if you need to talk about your struggles with burnout!