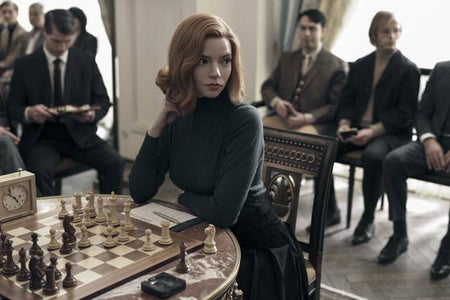 7 Ways to Dress Like Beth Harmon from 'The Queen's Gambit' & Feel Like a Queen Doing It
The entire time I was watching  The Queen's Gambit, I simultaneously stared at the screen as I attempted to purchase versions of Beth's clothes. Beth struggles to be respected in the male-dominated world of chess because she values what she wears just as much as she values playing chess. She's described as "too glamorous" to be a world champion, but like the badass she is, Beth manages to force the world champion to knock down his king while looking like a queen. 
From classic but chic shift dresses to stylish trench coats, Beth is the winter style icon we all wish to be. While she's gracing chess tournaments across the world, she always looks fashion-forward, refined, and even veers into a cool dark academia vibe — especially as she's just starting out. Beth inverts what's expected of her as a chess player, but also as a woman in the 1960s; she is very liberated in her actions and expresses herself through her clothes. If you want to go out there and feel like an empowered woman with a vintage touch, follow this style guide to channel your inner Beth Harmon.
The Queen's Gambit is a gem of a show, and Beth Harmon is the perfect style icon for these chilly winter months. Her sophisticated vintage look is perfect for casual days on Zoom or if you need to dress up, making it the perfect versatile wardrobe. I don't think I'll ever give up this '60s-inspired glam vibe ever again.