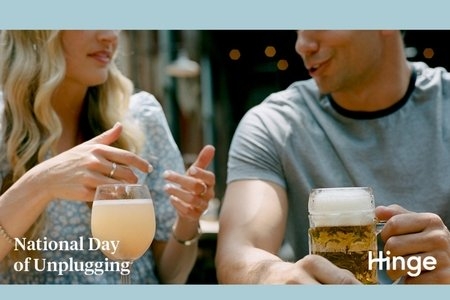 Hinge Will Pay You $100 to Unplug for a Date
There's a new way to make money off of dating apps — and no, it's not what you're thinking. In honor of the National Day of Unplugging, which falls on this Friday, March 6, Hinge is offering $100 for users who decide to meet up with a potential match and put down their phones. Yes, you read correctly: Hinge wants you to abandon your phone completely, and find the (possible) love of your life. Hinge is a dating app specifically designed to be deleted after people find their ideal match, so the goal is to promote IRL relationships too.
The dating app revealed that 80% of their users feel like they would benefit from less screen time on their phones, which is an increase from the 77% of users who felt the similarly last year. Now, they're encouraging people to take a break from the app and instead, set up a date with one of their matches — they'll cover the cost. The service wants its users "to connect with people, not profiles." For my shy users who have been lusting over that tiny profile picture for months, now is your opportunity to be bold.
"Introducing people on Hinge is just the beginning of a connection," says Nathan Roth, Chief Marketing Officer at Hinge. "The real magic happens in person and in real life. We'll never stop encouraging our users to meet up, and this Friday, we're excited to give them a little extra incentive to set up a date and put Hinge away."
How does it work?
Set up a date through the Hinge app.
Pause Hinge on National Day of Unplugging — March 6, 2020 — for 24 hours starting at 4 p.m. EST.
Fill out the form at unplugwithhinge.com and respond to the 'We Met' survey in the app confirming your date.
Once Hinge verifies your request, you'll receive an email with a $100 e-gift card reimbursing you for your Hinge date (while funds last). This offer is first come, first serve. It ends on March 8, 2020 or when a total of $25,000 in gift cards are claimed. Start swiping!