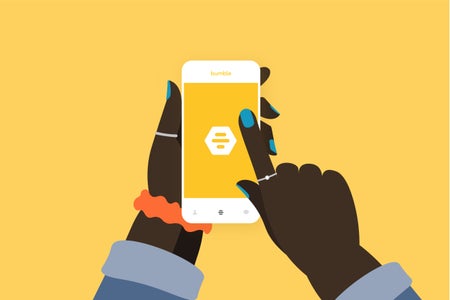 Here's How To Discuss Dating Apps With Your Parents
This is a sponsored feature. All opinions are 100% our own.
As you're headed home for the winter break, you may already be bracing yourself for the twenty questions your parents will ask as soon as you step foot in the door. Of course, they're just excited to have you home and will definitely want updates on things like your grades and your roommates. But if we're being honest, they'll probably be most interested in hearing about your love life. In the past you may have changed the subject to avoid the uphill battle of explaining dating apps to Boomers, and while it's hard to imagine our parents in college, they definitely live vicariously through the stories you share with them. So humor them, and let them take a walk down memory lane, all while learning about how dating is successfully done in 2020. And don't worry, we aren't going to make you tackle this talk alone - here's how to explain dating apps when your parents (inevitably) ask.
Start with the basics
For starters, acknowledge that yes, you are dating. Whether you're checking out your options, looking to meet new people, or seriously searching for a relationship, it's up to you how transparent you want to be with your housemates (aka mom and dad). Spoiler alert: this will most likely be met with excitement and tons of questions. To keep this conversation on track, start with the basics. Make sure you explain how Bumble's mission aligns with your views, as the App promotes accountability, equality, and kindness in an effort to end misogyny and re-write archaic gender roles. If you're on Bumble, you can confidently say that it fits into your busy schedule, especially in this remote world, where meeting people in real life has become harder than ever. This new way of dating is something that your parents' might not understand right away, so break it down for them in your terms.
Showcase who is on Bumble
You know you're in good company on Bumble. Bumble's users are held to a high standard; a company rooted in mission and values, Bumble encourages building equitable relationships rooted in confidence, kindness, and respect. These values will most likely resonate closely with your parents' goals for your 'person', too! With Bumble's safety suite including features like Photo Verification and 24/7 live moderators to manage bad behavior, you (and your parents) will feel confident that Bumble is helping you stay safe in your dating life. And, don't forget to mention how, on Bumble, women always make the first move.
Explain that it isn't just about looks
If you've tried talking about dating apps with parents before, you've probably gotten a question on why dating apps are so focused on photos. While it's true that dating apps showcase a person's photos, they also provide insight into their personalities, hobbies, passions, and oftentimes inform you about a person far beyond what you would learn from first meeting someone in person. Show your parents how the interactive and thoughtful features of Bumble go far beyond just images and help you see a lot about your matches before you even start talking. Through Profile Badges and prompts, plus fun activities like the Question Game, you can actually learn the important things about matches sooner than you would if you met IRL. And we're talking the biggies, like life goals and personal views. These are the things that matter to your parents, since all they want in the world is for you to be happy and find your perfect match. So make sure to call those out, we stan brownie points!
Show them your profile
If they're still not quite understanding, you can take it a step further and show them your profile. Chances are this will seal the deal because your parents love any chance to feel involved in your life. By showing them your profile, you're pulling back the curtain into this important (and to them, often mysterious) chapter. They'll get to see the images and prompts you chose to represent yourself to potential matches. Maybe even ask them if there's anything they think you should add to your bio to show the real you.
Have an open discussion
After you've successfully explained what a dating app is, it's worth having an open discussion in terms of today's CDC guidelines and restrictions. Luckily for us, Bumble has many virtual offerings like Phone and Video Calling that make dating from home seamless. Still, there may come a time when you feel ready and comfortable to meet a match in person. To avoid any arguments with your parents down the road, talk to them about their comfort levels of you seeing people IRL while living under their roof. They'll appreciate your respectful consideration for their health and comfort, and in our experience, with more trust comes more freedom!
With a social networking app like Bumble, dating doesn't have to be a tense topic. In fact, it can be an exciting chat or evening activity where you teach your parents about how technology is having a wonderful impact on your life. And together, you'll be normalizing app dating. If you're not on Bumble, what are you waiting for?! Download the app here.