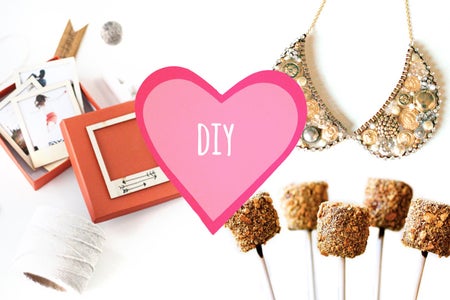 7 DIY Valentine's Day Gift Ideas
This is a sponsored feature. All opinions are 100% our own.
Sometimes the best way to show your love on Valentine's Day is to get down and dirty with crafts and make something memorable! Whether you're a DIY master or an arts and crafts novice, we've got you covered with the do-it-yourself gifts that anyone could make (and anyone would love!).
1. DIY Statement Collar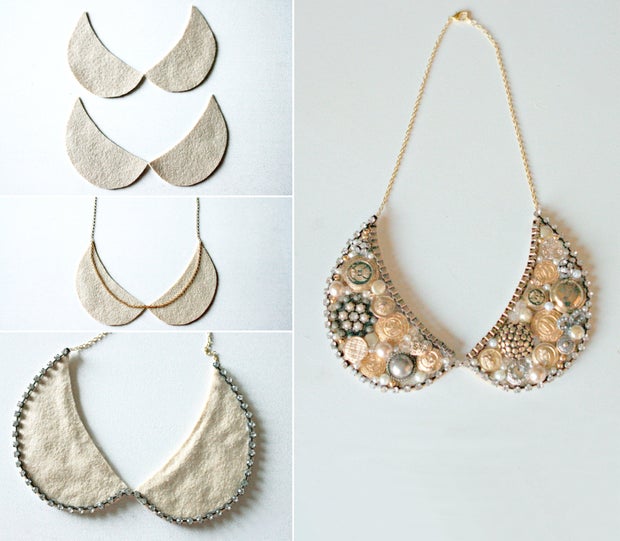 Feeling crafty this Valentine's Day? Show your sweetheart or bestie that you know her style – and are giving V-Day your utmost effort – by making this gorgeous, customizable statement collar. Here's the how-to, courtesy of The Plum Verbena:
What you need
Buttons
Beads
Chain
Clasps
Jumprings
Felt
Pattern
Glue gun
Jewelry tools
Steps
Cut out your pattern and pin it on felt, then cut out felt to match the pattern. Repeat until you have four identical pieces.
Line up felt so you have two side by side in each row – it should look like you have two felt collars in the making.
Lay out your chain on one set and glue into place.
Glue the remaining two pieces of felt on top so that they are flush, with the chain sandwiched inside.
Glue on your buttons and beads! You want to cover every visible piece of felt.
Add your clasp to the necklace chain.
Let your gift speak for itself! This chalkboard mug will provide endless entertainment in the mornings. Here's the how-to, courtesy of Wit & Whistle:
What you need
Porcelain mug
Painter's tape
Pebeo Porcelaine 150 Chalkboard Paint
Soft-bristle paintbrush
Chalk
Steps
Clean and dry mug.
Use painter's tape to cover the parts of the mug you don't want to have the chalkboard effect.
Apply the paint to the uncovered area with the brush.
Remove the tape immediately.
Let paint dry for 24 hours.
Bake mug for 35 minutes at 300 degrees F.
Let cool to room temperature inside unheated oven.
Gift it along with the chalk!
Show your guy you care with some tasty, homemade Guinness barbecue sauce! There's no better way to a man's heart than through his stomach, they say, so let's at least test the theory, shall we? How-to courtesy of The Black Peppercorn:
What you need
2 tbsp butter
2 onions, minced
5 garlic cloves, minced
½ cup molasses
1 cup Guinness beer
½ cup white vinegar
1 ½ cup brown sugar
1 tsp salt
½ tsp black pepper
½ tsp cayenne
1 cup tomato paste
Saucepan
Spoon
Mason jar
Steps
Melt butter in saucepan.
Sauté onion and garlic in same saucepan until they begin to caramelize (approx. eight minutes).
Add molasses, beer, brown sugar, vinegar, salt, pepper and cayenne.
Bring to a boil; let cool at a low, rolling boil about 10 minutes. Stir occasionally.
Stir in tomato paste and lower heat.
Let sauce simmer 30 minutes, stirring occasionally.
Remove from heat and let cool to room temperature.
Puree in a blender until smooth.
Pour sauce into mason jar.
Nothing says "Valentine's Day" like sweet treats! Satisfy your valentine's sweet tooth with these easy-to-make, easy-to-eat marshmallow confections.
What you need
1 package large marshmallows
1 package heat & dip Baker's chocolate
Graham cracker
Small chocolate chips
Skewers
2 bowls
1 plate
Wax paper
Steps
Place wax paper on plate.
Add marshmallows to ends of skewers.
Crush graham cracker and add to first bowl.
Empty chocolate chips into second bowl.
Heat Baker's chocolate until melted.
Dip marshmallow in melted chocolate.
Dip wet marshmallow in either crushed graham cracker or chocolate chips until it is covered.
Place marshmallows on wax paper and let cool.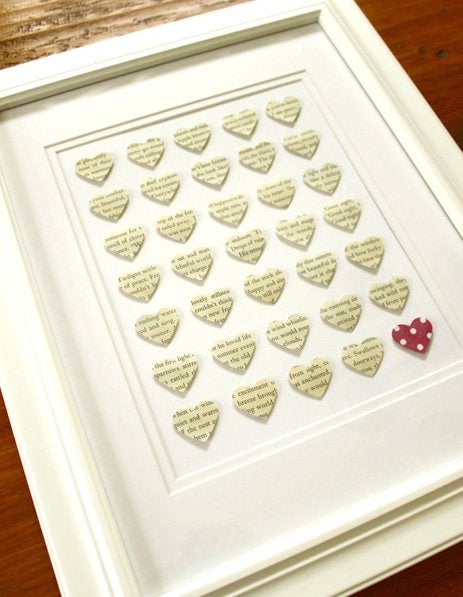 Can't find the words to say how much you love someone? Let the literary masters say it for you! Choose a bunch of his or her favorite books or a single one that stands out, and make something memorable.
What you need
Frame
Colored paper backing
Book or books
Scissors
Pencil
Plain paper
Printed paper in pattern of your choice
Glue
Steps
Cut backing paper to fit frame.
Trace a small heart onto plain paper, then cut out.
Using the small heart template, trace out desired number of hearts from passages of book and cut out.
Using the small heart template, trace out one heart from patterned paper.
Glue literary and patterned hearts onto backing paper in desired pattern. Let dry.
Add backing paper with hearts into frame and seal.
6. Stress Relief Survival Kit
Come Valentine's Day, we're all dealing with the stress of homework assignments, internship apps, winter weather woes and everyday struggles (you know the struggle is real). Give your valentine what he or she really wants this month: stress relief! Also, a really good laugh.
What you need
Bubble wrap
A good sense of humor
Steps
Buy bubble wrap.
Present it as a gift labeled "Stress Relief."
Pop bubbles!
Make memories even more memorable with this adorable frame set! We're obsessed with this wooden take on the classic Polaroid. The best part? You can pick any pictures you like – no need to buy a clunky old Polaroid to make it work! How-to courtesy of Sugar & Cloth.
What you need
Wooden Polaroid frames (can be found at craft stores)
Photos
Tacky glue
Scissors
Small circle magnets (optional)
Steps
Print out photos on matte paper.
Cut photos into 2 3/4" x 2 1/4".
Spread tacky glue on the backside of Polaroid photo frame, and press onto front of photo.
Cut excess paper around the side of the frame.
Glue a magnet to the thickest part of the bottom backside of the photo.
Repeat process on all Polaroid frames with all photos.
Once dried, your valentine can display the photos on mini-fridges and other magnetic surfaces! If you opt to not include the magnet, you can rest them up along your bookshelf to show off the good times.