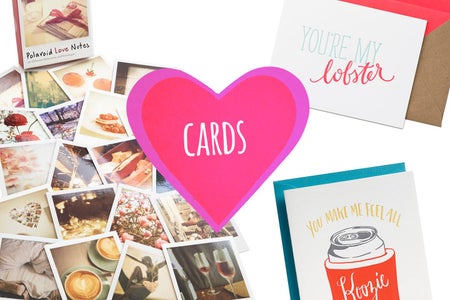 19 Unforgettable Valentine's Day Cards
This is a sponsored feature. All opinions are 100% our own.
Remember the good old elementary school days when collecting Valentine's Day cards was the highlight of your day (heck, maybe even your month)? Let's bring back that awesome excitement of choosing the perfect card and sending love with actual, written words (Gasp! No texts?!). Check out these Cupid-approved picks!
As a bonus, sign up for a free 30-day trial to FreeShipping.com to score free shipping and 10 percent cash back on purchases we heart!
Eated the Candy Hearts, $3.49 at Hallmark
This chipmunk just gets you (and your Valentine's Day candy struggles).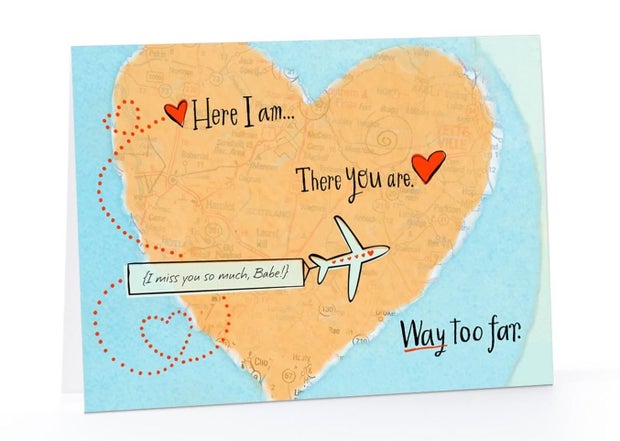 Way Too Far, $3.79 at Hallmark
Long-distance relationships aren't easy (understatement of the century?), but a V-Day card like this will make the distance feel that much smaller.
Nine Lives Valentine Card, $3.95 at The Paper Source
It's a bold statement – all nine lives? Wow, you might really like this person, whether it's your bestie or beau! And might we add, those cats on the front are totally purrfect.
Made For Each Otter A6 Valentine Card, $3.95 at The Paper Source
Not to be outdone by cats, these otters are here to make your Valentine's Day unforgettable (and oh-so-adorable)!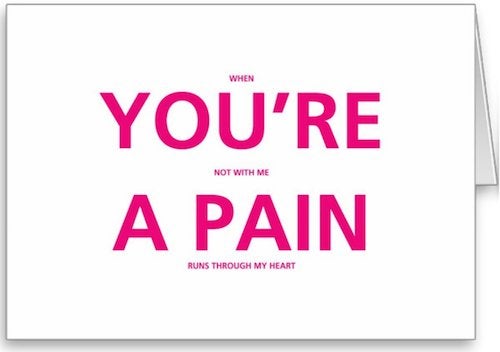 You're a Pain – Funny Valentine's Day Card, $4 at Zazzle
Passive-aggressive? Well, only if you mean it. Otherwise this is the perfect way to say "I really, really like you," while still packing a sarcastic, witty punch.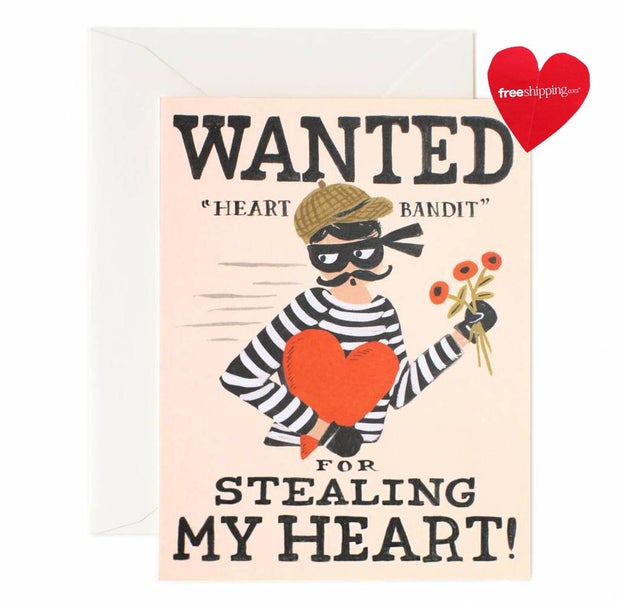 Heart Bandit, $4.50 at Rifle Paper Co.
Call him or her out on that criminal activity! (Not that you mind it...)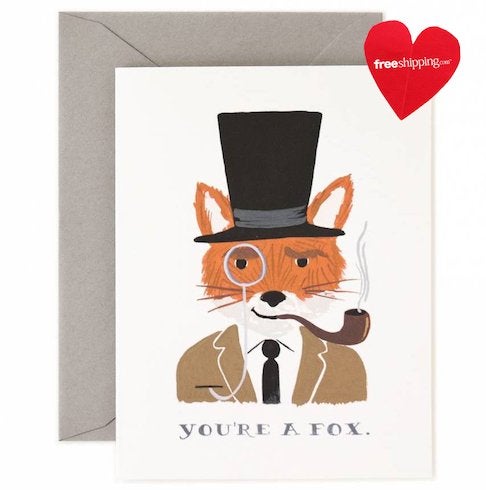 You're a Fox, $4.50 at Rifle Paper Co.
Again with the animals – honestly, they just say a heck of a lot more than we humans can. Show your appreciation for that foxy friend in your life!
Letterpress A6 Dear Valentine Card, $4.95 at The Paper Source
Just what you needed to have your sexiest Valentine's Day yet! You're welcome.
You're the Cat's Pajamas Card, $5 at Catbird
Sensing a theme here? Yet another cat comes to your rescue on Valentine's Day, letting your lover or bestie know that you think they're more than just a little cool. Come on, they're the cat's pajamas!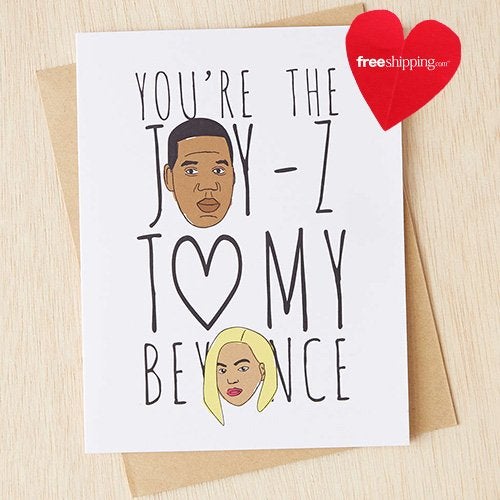 Diamond Donatello Jay + Bey Card, $5.50 at Urban Outfitters
Crazy in love? Drunk in love? Say it with Jay and Bey, because you just CANNOT RESIST!
Koozie Love Card, $5.95 at The Paper Source
For the one who makes you feel all koozie inside – which is a pretty spectacular feat, if you ask us.
I Pine for You Card, $6 at Anthropologie
Pineapples, hibiscus and gilded letters, oh my! This must be one fancy Valentine you've got by your side to deserve such a gem.
Bee's Knees Card, $6 at Anthropologie
Nothing beats being the bee's knees. We repeat, NOTHING!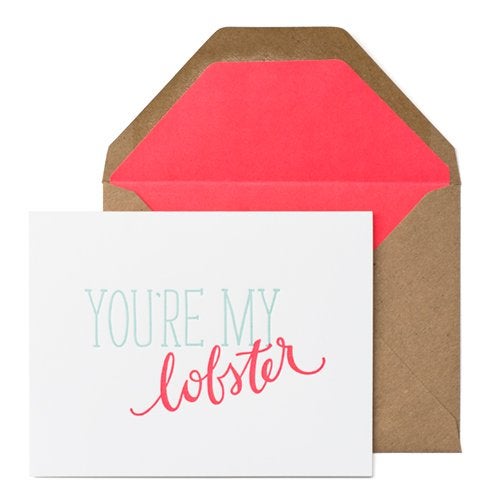 Lobster, $6 at Sugar Paper
Every Friends fan knows the importance of being someone's lobster. It must be love!
You Have My Heart Card, $6 at Anthropologie
Does it get any more adorable than this cutout, printed heart card? Nope, we think not.
You're Cute Card Set, $12 at Anthropologie
Why settle for a single Valentine's Day card when you could show your love for days on end? Surprise your sweetheart with these little love notes whenever you're feeling really in love (or simply can't help but call out how cute you think they are).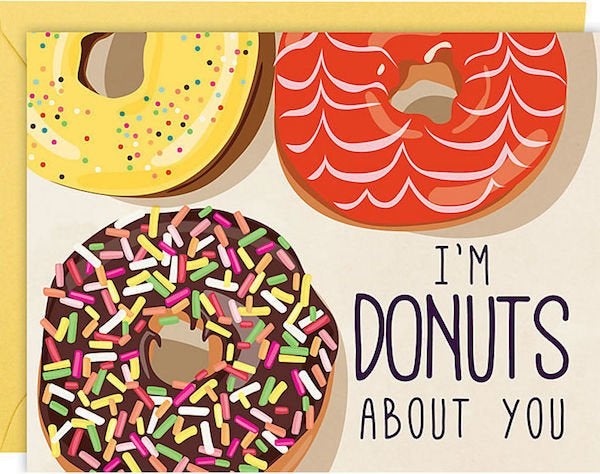 Donuts About You A2 Valentine Cards – Set of 10, $12.50 at The Paper Source
To be donuts about someone means to crave them like you crave chocolate frosting and a flaky pastry center – so, like, a lot. You like them a lot.
Give Up My Phone A2 Valentine Cards – Set of 10, $12.50 at The Paper Source
Now that's saying something! This card gets us.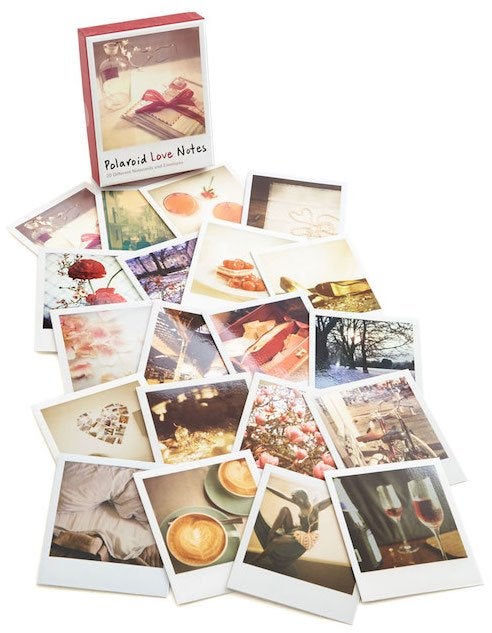 Instant Attraction Notecard Set, $14.99 at ModCloth
Polaroid love notes – why didn't we think of that?! This set of 20 different gorgeous Polaroid cards are perfect for every person in your life – the bestie who always joins you for coffee dates, the cutie who's stolen your heart, the girl who makes every night a party and even your sister way across the country.