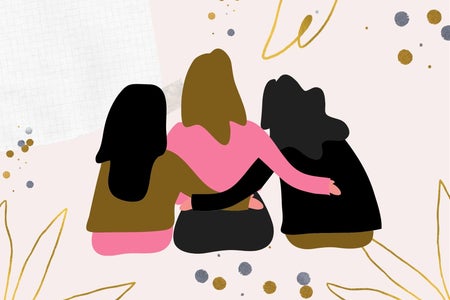 3 Reasons the Kardashians are More Than Their Fame
To the world, the Kardashians appear to be picturesque, living the best life with all the money by their side. Honestly, what would be better than having your own hairstylist, makeup artists, a jet, the paparazzi following you, and fans who admire you? To me, that would be a lifestyle I could surely adjust to. But society overlooks their lives by making fun of their fame, money, clothing, and especially their TV show, Keeping up with the Kardashians. As seen through their show, there are extraordinary sides of the Kardashians that are unseen to the majority of the public. Here are three of them.
1.

They've filmed their weakest moments on the show.

I've watched all 17 seasons of their show. I do realize that reality tv showcases a reality different from the average person which makes the shows seem scripted. But I can tell you that they aren't the stereotypical rich and famous family. They have broadcasted every moment of their lives on their show for the world to watch. Khloe's divorce with Lamar Odom was filmed, showing the world the Kardashian at her weakest point in her life. Kourtney and Scott's disastrous but beautiful relationship was filmed. More recently, Khloe's pregnancy with NBA player Tristian Thompson, including the cheating scandal, was filmed. Broadcasting their emotional difficulties to the world is not something everyone could do. It took a lot of strength to be vulnerable when they wanted to be strong for the world. Remember, just because they are famous doesn't mean they don't have emotions too!  

2.

They have an incredible family bond.

Their family bond and loyalty toward one another are unlike any family I have known. I have never witnessed a family who laughs and argues as much as they do. Yes, they are constantly arguing and making a scene out of situations, but they always bounce back two times better. They are a strong enough family that they can argue with the ones they love, but are always able to mend their relationships. They are also each other's best friends. Kim, Khloe, and Kourtney have always been so close with each other. Kylie and Kendall are close as well. The sisters go on vacations together with their individual families. They also make time for just each other by planning girls' trips. Also, the sisters do an incredible job with putting their family first and their relationships second. For example, when Tristian Thompson and Jordyn Woods (Kylie's BFF) were caught kissing, Kylie was very protective of her sister Khloe's feelings, even though her BFF of years was also hurt in the process. Kylie decide to call it quits on her friendship with Jordyn because her loyalty was with her sister Khloe.  

3.

They are all very successful in their careers.

What's better than a successful business woman? Kylie Jenner at a young age has shown people what it takes to be young and successful. Her makeup line, Kylie Cosmetics was inspired by her lack of full lips when she was teenager. Kylie would overline her lips to make them look fuller (me too). She created her business to help other women who experienced what she experienced. Kim also has a makeup line called KKW. Recently, Kim decided to follow the footsteps of her dad Robert Kardashian, by going to college to become a lawyer (you go girl!). Khloe has struggled with her weight, but she has achieved her goal body. She created a clothing line called Good American to help complement curvy women and all body types. Kourtney has a passion for interior and exterior design. Her home has been featured on the front page of magazines. Kendall is pursuing her dream of being a Victoria's Secret model. She has even spread her wings from VS modeling and has modeled in other fashion shows. 
Last but not least, Kris, the women behind all this madness. Kris has managed all of the girl's careers at some point in their lives. What an amazing woman she is - not only for managing five separate people, but dealing with and raising them.