If Girl Scout Cookies Were Your Besties: The Ultimate Girl Gang
It's that time of year again: Girl Scout cookie season has finally returned!
Regardless of your background (or lack thereof) in the Girl Scouts community, a lot of us can agree there's nothing quite as comforting as munching on their fun-sized goodies.
I was inspired to put together this article after nearly a year ago when one of our lovely writers, Hannah Hippensteel, wrote an amazing piece about her favorite Girl Scout cookies called: That's the Way the Cookie Crumbles: Ranking My Favorite Girl Scouts Goodies. Not only is it a cute comprehensive guide, but also she gives a short description about each treat—make sure to check it out. (If you have any questions about ingredients, click here.)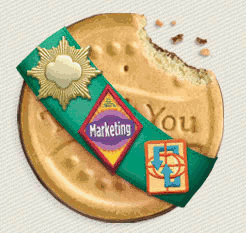 A box (or two) of Girl Scout cookies is the perfect gift for anyone with a sweet tooth this Valentine's Day: your roomie, R.A., S.O., B.F.F…. and, of course, yourself! Besides their giftable versatility, these goodies come in a variety of delicious flavors (and personalities) to choose from.
Have you ever wondered what your favorite treat says about you or your inner clique of chicas? Read on to get excited for this year's sales lineup, while meeting the members of the ultimate girl gang.
S'mores:  Outdoorsy Opal
She's a nature-loving, tree-hugging, and adventure-seeking kind of woman who's most comfortable outside. She floats like a butterfly and knows her way around a map—did I forget to mention that she's also a pro at roasting marshmallows?
Caramel deLites/Samoas:  Passport Patty
She's a travel-addict who spends more of her time with her feet walking in the sand and kicking at the ocean than anywhere else. There isn't a tropical paradise she hasn't been to, and she just can't get seem to get enough of coconuts—she thinks they're a de-Lite!—no matter her voyage.
Thin Mints:  Relaxed Roxanne
She's the "Cool Girl" of the group who's popular and friends with nearly everyone. She knows how to remain calm in moments of extreme chaos, and she's your go-to buddy when you're in need of a refreshing viewpoint for some drama that's blowing up your phone. And her favorite color? Mint green, of course.
Shortbread/Trefoils:  Bookworm Betty
She loves reading and getting lost in the stories between her palms with each passing day. She may come off as shy when you first meet her since she uses her words sparingly and chooses not to say everything that's on her mind. When she feels the need to tell you something, though, you'd better believe that it's important—so listen up and take notes!
Peanut Butter Patties/Tagalongs:  Highway Henley
She has the best taste in music and knows all of the picturesque, Insta-worthy spots in town. She's naturally a night owl, so drives at dusk are your guys' times to rant and bond no matter how much time has passed being apart from each other—you two go together like peanut butter and chocolate. And if she suggests a spontaneous road-trip, you'll want to "tagalong." Trust me.
Lemonades:  Citrus Cyrus
She was born with ultraviolet eyes and sun-kissed skin, and there isn't a season that she loves more than summer. Although she takes advantage of rainy days to catch up on laundry or hunting down a great deal at thrift stores, you can usually find her basking beneath the rays and sipping on her favorite year-round drink: lemonade.
Do-si-dos/Peanut Butter Sandwich:  Jammin' Jessa
She has the smoothest dance moves on the dance floor, no liquid courage needed. She's not only the life of any party you go to, but also she's the most dependable person you'll ever meet: if you tell her a secret or divulge a really personal insecurity, she'll take it to the grave.
Thanks-A-Lot:  Grateful Greta
She never goes a day without saying "thank you," nor does she take anything (or anyone) for granted. You mean so much to her as a friend, and she always makes sure to show her appreciation for you.
(GF) Caramel Chocolate Chip:  Faithful Frankie
Her skin's as light as milk, her eyes as dark as cocoa. She's the epitome of a classic best friend—always been there for you when you need a shoulder to cry on—but she won't sugar-coat her opinions. She tells things the way they are (even if it hurts), and you admire her loyalty and candor.
Savannah Smiles:  Zesty Zelda
Her room may be a total disaster, but she knows exactly where everything is. She's as sweet as a lemon tart with a feisty soul and the most beautiful smile you've ever seen—I guess those middle school braces paid off!
(GF) Toffee-tastic:  Maternal Mavis
She's the designated "Mom" figure of the group who plans ahead for everything and gives the best advice (and sweetest hugs!). She may come off as serious and mature for her age at times, but she always has the warmest intentions.
Pick up a box (or two) of Girl Scout cookies this Valentine's Day and share them with someone special, whether it be your roomie, R.A., S.O., B.F.F., or yourself. Be on the lookout for these tasty treats at selected Winona booth locations.
For all my Winona State readers, Girl Scouts will be selling cookies on campus on Feb. 14th from 3 to 5:30 PM. (If you aren't able to make it to their table, no sweat! They'll be coming back on Feb. 18th from 10AM to 12:30 PM, and Feb. 21st and 28th, and Mar. 7th and 21st from 3 to 5:30 PM.)
Happy Girl Scouts season!