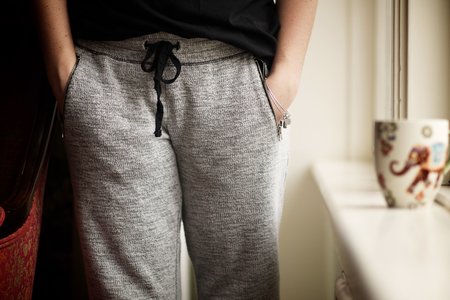 Arianna Tucker / Her Campus
Staying Single & Positive During Quarantine
During this period of quarantine and social distancing, it can definitely feel a bit lonely, especially when you're single. Lots of people are looking for a quarantine bae to pass the time (virtually, of course) — which is totally okay if both parties understand that that's the only thing you're looking to do. However, if you don't feel like engaging with people that will leave after the quarantine, remember the benefits to being single right now and entertain yourself in a healthy way!
You have the time to focus on yourself
This is probably the most overused thing that single people hear — but hear me out! Focusing on yourself doesn't just mean continuing to live your life as you currently live it, it can also mean trying new things, learning new hobbies and becoming more comfortable with being alone. For me, I like to dance when I'm stressed out, so I've started to make it a habit to have a dance break everyday. Another aspect of focusing on yourself can include putting a greater effort into the connections that you already have. Check in on your family and friends and catch up with people that you haven't talked to in a while. We're all stuck at home, so someone is bound to reply.
You can figure out what you want and don't settle for less
This is definitely the most important thing to do before you decide to get booed up. In other words, know your worth! Think about the qualities that mean the most to you and look for people that have those qualities. It's important to not have unrealistic expectations of every person you talk to, but at the same time it's okay to have a few things that are non-negotiable (being kind, compassionate, funny, etc.). Understand that everyone is different in their own way and don't try to force certain expectations on an individual — i.e., don't think that you can change someone into being something that they're not. But even before doing this, manifest the same qualities that you look for in others. Practice kindness, compassion and whatever else it is that you value.
You can do whatever you want without taking anyone else into consideration
If you feel like you're envying other people's relationships, realize that there's a lot more to what you see! Whether your feed is full of cute couple quarantine pics or secret videos of a boyfriend reacting to his girlfriend dancing to a TikTok, each relationship has its challenges. Compromise is inevitable, which actually is really helpful in growing as an individual, but can also feel a bit overwhelming if you aren't in the right headspace.
You have the time to talk to new people
Quarantine can honestly come in handy because you can shoot your shot with people that you were interested in before quarantine and blame it on Miss Rona if it doesn't work in your favour. (Just kidding!! Unless…??) Stay optimistic during this time because a quarantine bae might actually be real bae material, so do as you please!
Overall, staying at home can definitely be overwhelming, single or not! When feeling down about your situation, no matter what it is, try to be grateful for the great things that you do have and make adjustments to improve your life as you see fit.