Food is a love language; we bake cookies for friends and spend hours in the kitchen cooking for loved ones as a way of showing affection and appreciation. In my journey to have a better connection with what I eat, I used to have body image issues and an unhealthy relationship with food for a large part of my life. I have tried to nourish my body and make what I eat out of love for myself. I do live on-campus and dining halls are my best friend, but that also means I don't have regular access to a kitchen or the need to buy tons of groceries. The alternative I have found for when I want to make a snack or meal special is charcuterie boards. As a college student, I love it, even more, when I can make a beautiful board for cheap. Being able to arrange food in an aesthetically pleasing way and create yummy combinations is fun and creative. 
I don't tend to plan out what I put on a board. Usually, I just go with whatever my longtime favorites are and add any new items that catch my eye. For those with meal plans, I definitely recommend grabbing your fruit choices from a dining hall. This way, you don't have to buy a whole bag of grapes or a carton of blueberries. Now as for grocery stores, I typically shop at Kroger, which has an extensive cheese collection. Lately, I've been going to Aldi and you can get a lot of great foods for your board here at a lower price. For charcuterie inspiration, I love That Cheese Plate. The creator Marissa Mullen has tons of step by steps and recipes available for free on her site and Instagram. I keep her boards in mind every time I build one! Now let's get to the key components of a charcuterie board. And remember, just add what you like and try new items as much as you want; what's important is that you enjoy it!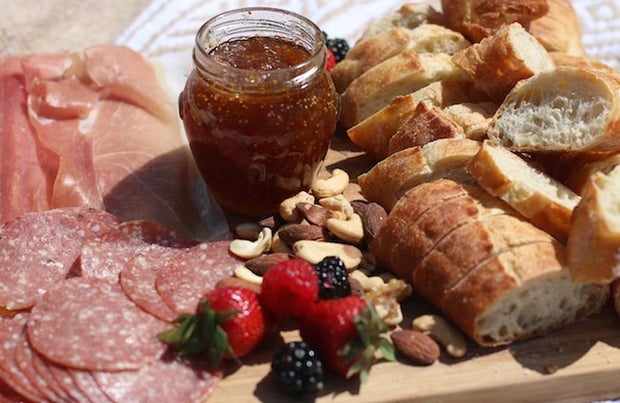 Her Campus Media
Cheese
Most experts recommend incorporating a variety of hard and soft cheeses. Goat cheese is a must; I love to mix in some honey with mine and the tart, the softness of the cheese is great with fruit and a cracker or piece of bread. Brie is another classic soft cheese. If you've never tried it, try looking for sample sizes first. I usually just break it up and add it to my board on its own. You can bake it and even add different herbs and oil to it to elevate this classic. For my hard cheeses, I usually stick with cheddar and gouda because I can use them for sandwiches.
Meat
Genoa salami and prosciutto are as adventurous as I get here, mostly because the meats can be expensive at times. Also, I am trying to shift to a primarily vegetarian diet. Salami is a staple and you can typically buy it already cut and can be folded to create a "river" which looks really cool on a board. Salami and brie go well together, and prosciutto are incredible with mozzarella. You can usually buy these two together with cantaloupe. Ham and pepperoni are other options if you're looking for meat that you can use outside of the board.
Produce
Take whatever direction you want here. Strawberries, cantaloupe, grapes, apples, raspberries, and blueberries are my go-tos — disclaimer, I usually have a lot of fruit hanging around regardless. Dried fruits are good too, like apricots, figs, and raisins. Cucumbers, olives, pickles, radishes, tomatoes, and carrots are great vegetables to add as well. Go with what's in season and trust your gut on what produce will make for great combinations with the other elements of the board. 
Crackers and Nuts
Bagel chips are the most versatile dipping option in my opinion. This is another area where I just stick to what I know I like or look for the most versatile option, because the cracker is primarily a vessel for the cheese, spreads, and meats. Nuts that are frequently used are cashews, Marcona almonds, and pistachios. Sometimes, I'll add a few slices of baked bread as an option too!
Dip
Fig spreads are incredible on charcuterie boards; fruit jams are fun and will also add pops of color to the board. Honey is also a sweet dipping option. Lately, I've been picking up a jalapeno and artichoke dip as a substitute for cheese. Hummus will also work well on a board, especially if you have lots of vegetables.
Garnish
These are visual appeals like flowers, rosemary, and thyme. Adding a garnish will definitely make your board pop for Instagram.
Shopping for charcuterie board items is just as fun as eating them in my opinion. I think these are great ways to get creative and try new foods. You can make special boards for football games or holidays too. You don't need a kitchen and can control your budget. Just have fun and enjoy it!