The Low Down: UVA Basketball Players, Ranked
Did you know we're a basketball school? Of course you did, because it's all we talk about every year when our football team gets trampled. Alas, it is finally the *best* season of the year for Wahoo sports, and it is just about the only thing I want to talk about, so here I go. 
As a fourth year and long time marching band member, I have been to my fair share of basketball games, and have gotten up front and personal with many of the players out on the court today. Well, as up front as you can get from 6 rows back behind media and cheerleaders, but still closer than most students have gotten (hi, nosebleed seats). So with all this lovely experience, I have decided that I am now finally qualified enough to rank our current roster of players based on both their attractiveness/hotness AND skill, because both are important (but not equally important amiright ladies ;-) (as a former ~varsity~ basketball player (benchwarmer), I know just as much as you would expect about the greatest game of all time, which is A LOT). So brace yourselves -- here is my VERY biased ranking of our lovely, no. 3 ranked in the nation, men's basketball team. GO HOOS.
Read: this final list below takes into account both their level of physical hotness and basketball skill (the individual break down will be listed under each player's name). Remember it's the personality that counts, kids.
*Reviewed while listening to Chance's Acid Rap on replay (in case anyone was wondering. I felt compelled to include this.)*
1. De'Andre Hunter
Is anyone really shocked to find this mans up top? Not only is he argubly the best player on our team, considering his consistent stability and point scoring abilities and versatility in the paint and around the 3pt line (NEVER forget that game winning three pointer versus Louisville last season), he won ACC's Sixth Man of the Year last year and made the All-Freshman team. He also stuck around another season instead of going into the NBA draft so he's probably a #loyal #hoe. I'm also a fan of hair do and he seems like the kind and silent type, and I'm kinda into that. De'Andre, you have my heart.
Skill: 5/5
Looks: 4/5
2.  Kyle Guy
Anyone who knows me knows that Kyle was bound to be in my top 3. I have been a Kyle fan since the man bun days, a day 1 fan over here. I only rank him slightly below De'Andre skillwise because he isn't always as steady as De'Andre. These past two games (esp. versus Duke last week), he was like 3/10 from the three point line. It was not pretty. But when he is on, he is ON FIRE. So I am always grateful when he is having a good game.
Looks-wise, he's just my height (6'1) and I know this because he was kind enough to take a photo with me and my nerdy band friends at a football game this year. While Kyle is no longer a single man, I am LITERALLY in love with the relationship he has with his fiancee Alexa Jenkins. They are literally so cute I want to die. They VLOG together!!! That is relationship GOALS right there!! Also I heard she just got into ND Law, which is INCREDIBLE, so I just can imagine how much he values the brains behind the beauty in a woman. I support that relationship so hard and CANNOT wait to fawn over their wedding photos later this year. 
Look at how cooperative he was. I am thankful for that. Peep me in the middle. He even has those massive shoes on. I am def taller. (Photo courtesy of the author)
Skill: 4.5/5
Looks: 4.5/5
3. Braxton Key
My rankings after this point got hard because I either had to compensate for skill with looks or vice versa. But my solid number three is newcomer Braxton Key. Not only does he also have times that he is FEELIN' it on the court, he is pretty hot. I am a big fan of the 5'o clock shadow and also his ability to move the ball down the court and into the lane. A solid addition to the team this year that periodically starts, who is also hot. Go hoos.
Skill: 3.5/5 (4/5 on a good day)
Looks: 4.5/5
4. Mamadi Diakite
There is truly a special place in my heart for Mamadi and here's why. My first year I was at the AFC shooting around with some buddies at a really dead time of the day, and in walks Mamadi, immediately walking over us to ask us if we want to play 2 v. 2 (it was me and two boys). Of course he is on my team and we proceed to demolish the boys on the other team (he even tried to share the ball with me! there were boys on my IM team that couldn't even do that 5 v. 5). The highlight of this little skill sesh was definitely when he tried to show me how to shoot a basketball, even though I'm 6'1 and clearly played some sort of sports in HS (basketball! you guessed it). But it was so nice playing with him, he is so kind and VERY tall, and he is generally a pretty good looking guy. 
As a player he has improved TENFOLD and is probably one of the best tall guys we got. He's gotten stronger and better at handling the ball and has some good post moves he's been using down low. This season he has periodically started, but always gets in the game and contributes off the bench. He's a frequent double figure shooter and a great addition to the team that really shows how good Tony is at developing young players.
Skill: 4/5
Looks: 3.5/5
5. Kihei Clark
Alright so Kihei ranks pretty low on my looks list, but mostly because he's 5'9 and I'm 6'1 and I can't even PICTURE myself standing next to him and trying to hit on him. So yeah. But skill-wise he is one of the best ball handlers on the team, which is why he's ranked so high. He also has really nice teeth and is one of those bench players who always contribute when they come off the bench, which I really appreciate. A solid player who consistently plays every game.
Skill: 3/5
Looks: 3/5
6. Marco Anthony
A lot of you are now wondering why Marco Anthony is number 6 because he never plays. Well, he's the *hottest* one on the team in my opinion, and this has been confirmed by one of my gay best friends who agrees with me (hi, @Cole). So yeah. He's hot. He's most attractive. He scored that perfect 5 in my opinion. Also I love his name, it reminds me of Marco Polo. He also has great teeth (a kink, truly).
Skill wise, he's a sophomore, what do you expect. He's taking time to develop under the illustrious Tony Bennett, so I'm not shocked that he's not the next Lebron or anything (yet). He played in 13 games last year, so he's on his way to greatness. It takes time. At least he's gonna look good doing it. *swoon*
 (Image NOT MINE and is courtesy of TheSabre.com) (Find this image here: https://virginia.sportswar.com/wp-content/uploads/sites/14/2016/10/Marco...)
Look at that WHOLE MEAL.
Skill: 2/5
Looks: 5/5 
7. Jay Huff
Jay Huff. Seven foot wonder. Giant. I saw him in Starbucks today actually. Skill-wise, he hasn't been good in the past, but is really stepping it up this year. He did really well in the game last night against Wake Forest, and blocked 14 shots last year. He's on the way up. Plus I think for some reason every UVa student has a special place in their heart for this gentle giant. 
I really don't think he's attractive, because the teeth aren't great (I know some people can't help it, I said this was a biased article!) and also I don't think he works the five o'clock shadow turned beard (he's just too skinny in my opinion). I do like tall boys, but that's about all Jay has going for me. Killing it on the court though. Keep it up Jay!
Skill: 3/5 (and on the way up)
Looks: 2/5
8. Ty Jerome
Alright, so YEAH Ty is low on this list, but I am of course aware that he is really fricking good at basketball. We know this. But I just do NOT find him very attractive. If you are curious about my specific reason, you can contact me on your own time and try to sell me on Mr. Jerome. Until then, he ranks low on looks. 
Undoubtedly the best 3 pt shooter on the team and one of the best shooters generally, I'm sure the team would be lost without Ty. He was all-ACC Third Team last year and I'm sure he'll rank even higher this year. He also averaged almost 13 points per game last year, which is damn good if you ask me (I think he was tied for top most on the team? unsure about that though). Ty is good at basketball. Shocker. Not really.
Skill: 4.5/5 (on a good day)
Looks: 1.95/5
9. Francesco Badocchi and 10. Jayden Nixon
Grouped these two men together because I know almost equally nothing about both of them. Badocchi is a redshirt freshman and Nixon is a true freshman. Both are developing young athletes, so they garner a low score from me just by nature of the biased system I have created. I think both a relatively hot though. I like Jayden's hair, and Francesco has a really symmetrical face (also decent teeth). They rank about the same for me because I've judged them almost purely on looks and not on skill. Sorry boys.
Skill: 1.5/5
Looks: 3/5
11. Francisco Caffaro
I know even less about this mans than the other two mans above him. I know he is very tall, a true freshman, and he is from Argentina. I bet he has a really sexy accent, which is about all I am going off of right now for this ranking. Sorry Francisco. ALSO OMG we have a Francisco AND a Francesco. SO FUN wow I just noticed that. 
Skill: 1/5 (just freshman things)
Looks: 2/5 (def for the accent)
12. Jack Salt
I have not always been the biggest Jack fan. He HAS gotten better over the years, I do recognize that, but he is just SO SLOW, he has very minimal post moves (almost NONE of which are effective), and I KNOW he cannot do more than three dribbles on the court without getting confused. I *get* that he has started almost every game, and I also *get* that he is good at rebounding, but that is literally the minimum in this case, he's 6-10 playing college ball on full scholarship, he should be an AMAZING rebounder. Also Tony always has to take him out first even if he starts because he's out of shape/slow/insert one of the multitude of critiques here.
I really think that Mamadi and Jay are eclipsing him in potential, which is why he is down here on the list. Also, I find him very unattractive (sorry buddy). He is tall though and has that going for him!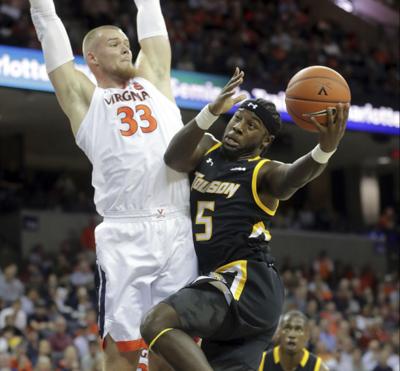 Image courtesy of the Daily Progress and the photographer Andrew Shurtleff (NOT MY IMAGE)
Image link: https://bloximages.newyork1.vip.townnews.com/dailyprogress.com/content/t...)
Someone EXPLAIN how this bald/bearded look is a good combo. Oh yeah: it's not.
Skill: 3.5/5
Looks: 1.5/5
13. Kody Stattmann
He's a true freshman, I don't know much about him, Tony's protege, you know the drill. I usually like long hair, but I'm just not a fan of his medium length hair for some reason. Makes me yearn for the Kyle bun from my first year. RIP Kyle's bun. This mans will probably have some potential next year, but it's just too soon to tell.
Skill: 1/5 (that freshman grind)
Looks: 1.5/5
14. Austin Katstra
And last but not least (but actually), we have Austin Katstra. I actually just learned he has a second "t" in his name, that is really cool. Austin is down here because he's a walk on/not that good (but good effort, buddy!), and really is one of those practice players that probably won't grow to be much (but he gets the free swag! so he's still really winning). Practice makes perfect though so I know he's still out there working hard. 
Summer (our other CC) thinks Austin is pretty cute! Go you Austin! Me, I just don't feel it. 
Skill: 1/5
Looks: 1/5