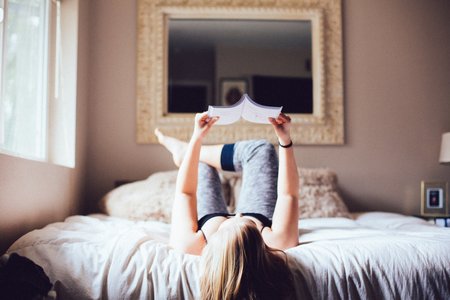 Breanna Coon / Her Campus
Every book you read leaves you with a unique feeling as you turn that final page. Whether it be heart wrenching, inspiring, peaceful, or angry, every book has a lasting impact on you. Sometimes you end up reading a book that leaves you with feelings you were unprepared for. Let me help you avoid surprises and tell you exactly what mood you will be in after you finish these books!
1.

Inspired - I'll Give You The Sun by Jandy Nelson

The beautiful, unique imagery of this book helps portray the artistic personalities of the main characters. The passion and creativity these characters exude will inspire you to implement art into your own life. This book will make you want to connect with your creative side!

2.

Nostalgic - The Goldfinch by Donna Tartt

Anna Schultz / Her Campus

The descriptive language of this book really brings you into the scene. It will remind you of childhood with its vivid language and imagery. This book follows a boy from childhood to young adulthood and captures what it's like to navigate childhood trauma while growing up. This book will make you nostalgic even if your childhood wasn't as crazy as the protagonist's!

3.

Romantic - Call Me By Your Name by Andre Aciman

This book takes you through the bittersweet love story of two young men in Italy. It shows the ups and downs of a relationship in a genuine way.  The inner dialogue of the protagonist is so beautiful and sincere that it will make you crave a heartbreaking and intense love in your own life.

4.

Despair - The Time Traveler's Wife by Audrey Niffenegger

The complex story line of this book comes together in the end in a way that will rip your heart out and then throw it on the ground and stomp on it. It follows a very unconventional, yet extremely wholesome, love story. While the ending will make you cry, the book is amazing and I highly recommend it.

5.

Zenned Out - The Tao of Pooh by Benjamin Hoff

The simplistic language of this book uses characters from Winnie the Pooh to explain the teachings of Taoism. This book will force you to take a deep breath and reflect on life. It is short and easy to read and is definitely worth your time. You will be relaxed and find yourself in deep contemplation after this read!

7.

Existential - All The King's Men by Robert Penn Warren

The narrator of this book goes off on tangents about life that will send you into an existential crisis in the best way possible. The narrator explores love, work, and his past in a profound way that you will find is easy to apply to your own life. This is also a great book for you if you love historical fiction!
While these books will probably make you feel a range of emotions, I hope this guide will help you pick the best book for your desired mood. All of these books are amazing, so whatever you choose will be a great choice!