4 Women in Poetry You Should Know
Women are some kind of art I believe. I think more than anything women are powerhouses and shapeshifters and warriors. Throughout history, women for a very long time didn't have a voice and even now we see how sometimes our voices are silenced. Literature and poetry are one of many ways women are able to make breakthrough changes and share what we have to say. And these are four amazing modern poets that can inspire you for women's history month.
Morgan Harper Nichols
https://www.instagram.com/p/CKZP017AtrI/?igshid=1lxthdxxk95ga
A mixed-media artist she creates poetry with a mix of art and you can find her pieces all over Instagram. She owns a blog and podcast as well as sells her art online for print and download for screensavers. She is 31 years of age and is based in Los Angeles, CA. Check all that this millennial influencer has to offer on her Instagram @morganharpernichols.
Cleo Wade 
https://www.instagram.com/p/CJ7CIX5jcxM/?igshid=ifxujyg0v35i
By far my favorite. Cleo is 31 years of age, and she has been an activist and poet for years. In 2018, she released her first poetry book "Heart Talk." Where she gets readers honest about who they are and what they can achieve. She encourages people worldwide to own their wide potential and how amazing they are and to act accordingly. She is based in Manhattan, New York City, and has recently released a kids book. She is involved with the Women's Prison Association, Lower East Side Girls Club (LESGC) and the National Black Theatre in Harlem. She is an inspiration for many young girls and you can find more about her or join her weekly Instagram lives @cleowade.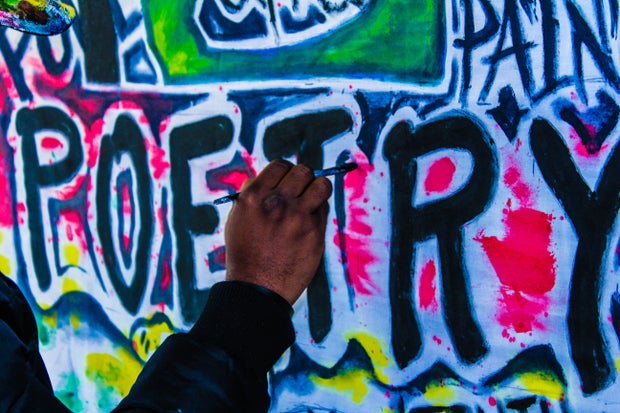 https://unsplash.com/@iamtru?utm_source=unsplash&utm_medium=referral&utm_content=creditCopyText
Samantha King Holmes 
https://www.instagram.com/p/CIyCHT6hXyc/?igshid=1tcq3bx9z9qfi
Samantha is honest, she's real she's raw. If you ever needed honesty in your world, she will captivate you with such. You can see through her poetry she has felt pain. She has gone through life and has built herself back up again, and she shares her testimony throughout her work. Married to the poet R.H Sin, she has made a voice and space for women all on her own. She does photography as well. Also, based in New York City you can check out her lovely family and the most adorable toddler on Instagram @samantha.king.holmes. 
Rupi Kaur
https://www.instagram.com/p/CMay75qhMiL/?igshid=1vuscitc2pzqp
The youngest on the list at age 28, Rupi Kaur, was born in India. She rose to fame through Instagram and tumbler, and it is no doubt you have seen her beautiful work on your timeline. She published her first poetry collection, "Milk and Honey,",= at age 21 as a university student. So if you ever needed some encouragement this beautiful lady is it. Selling over 8 million copies and translated into over 40 languages, it is no doubt the impact she has made in modern art. Her most recent work, "Home Body," released in 2020, is a must grab, and you can check more out about her @rupikaur_.