Kacey Musgraves: The Yeehaw Queen We Deserve
If you hadn't heard of Kacey Musgraves before the 61st Grammy Awards, you've probably heard of her now. Her fourth studio album, "Golden Hour," took home all four of the awards it was nominated for, including Best Country Album and the coveted Album of the Year. Along with the killer tribute to Dolly Parton she took part in, her performance of her latest single "Rainbow" was widely acclaimed as one of the best of the night. If that's all you know about Kacey, though, you're missing out.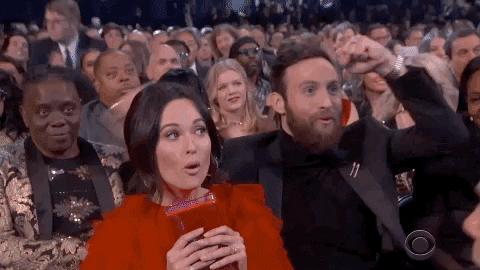 According to her Instagram bio, Kacey has been properly yeehawing since 1988. More importantly, she's been a progressive voice in country music—a traditionally conservative genre—since she first came on the scene in 2013. In her breakout single "Follow Your Arrow," Kacey sings about how important is it to be true to yourself no matter other people's expectations:
"Make lots of noise / Kiss lots of boys / Or kiss lots of girls / If that's something you're into."
From the release of "Follow Your Arrow" to the present day, Kacey has been anything but shy about her support for the LGBTQ community. At an event for the 2018 New Yorker Festival, when asked how she felt about being a gay icon in country, Kacey expressed her frustration at the lack of inclusivity in her genre: "It's crazy that a certain kind of a person could feel excluded from a genre that's so real—or supposed to be so real," she said. "That has always really pissed me off. Because I love the genre so much, I felt, 'Well fine, maybe I'll just have an all-gay audience."
Since the release of that first single, Kacey's support for the LGBTQ community hasn't diminished. Her latest single, "Rainbow," is a touching love letter to her LGBTQ fans with an equally touching video. That's not just my interpretation; in an interview with Taste of Country, she said she hoped the song would serve as an anthem for the LGBTQ community: "I feel a kinship and a friendship with that community. They really opened my eyes up to a lot of different things that I wasn't aware of growing up in a small town in Texas. I will always be an ally and a strong supporter."
Perhaps more importantly than her outspoken support for the LGBTQ community is Kacey's openness about her less-tolerant past. While some artists might be more comfortable simply embracing (and profiting off) their allyship, Kacey makes it a point to discuss her evolution as an ally who grew up in rural East Texas—not exactly a hub for progressive activism. In a letter for Billboard in celebration of Gay Pride month, she writes "To my friends in the LGBTQ community: thank you. While the career stuff is great, it's fleeting. You changed me as a human."
Beyond supporting the LGBTQ community, Kacey's lyrics also tackle important topics like safe sexual intercourse, recreational marijuana use, and questioning your religion. Unfortunately, despite (or perhaps due to) her unabashedly progressive lyrics and advocacy, country radio has largely failed to embrace "Golden Hour." That doesn't bother Kacey much, though. "I love country music; it has my heart. If radio wants to play it, of course, that will make me happy," she told Refinery29. "But getting anyone to like or to play the music will never affect the way that it comes out. It will be what it will be, and I have to have hope that this music will spread by word of mouth because people connect to it. That is more powerful than any radio signal, really."
So, are you convinced that you should listen to Kacey Musgraves yet? Good news: you can't go wrong with any song on "Golden Hour." Looking for a girl-power country disco anthem? Give "High Horse" a listen. Feeling nostalgic over a lost love? Time to put on "Space Cowboy" (the Grammy winner for Best Country Song) and hide your tears with your cowboy hat. Just want to have a mellow night in? That calls for "Slow Burn" on repeat. Overwhelmed with the wonder of new love or the beauty of the natural world? "Butterflies" (another Grammy winner) followed by "Oh, What A World."
I could go on, but I'll just let you find out for yourself. To quote the yeehaw queen herself, "welcome to the yee yee club bitch."