Why We Love Her: Gina Rodriguez
Hey guys! Hope Fall is treating you well. I'm back with the Why We Love Her series, which is all about showcasing strong, talented and inspiring women. One of the most fresh and talented actors on the screen today, Gina Rodriguez, is all that and more. Here's why we love her!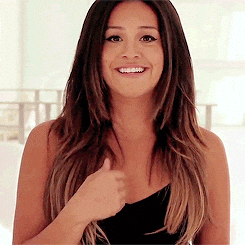 1. She plays our favorite virgin on the CW's hit show 'Jane The Virgin'
I cannot wait to see what happens to Baby Mateo! The show returns October 12, so be sure to check it out!
2. She's a master of her craft
Gina was admitted to New York University's Tisch School of The Arts at the age of 16 and graduated with a Bachelor's of Fine Arts. BEAST.
She's maintained an extensive theater career, staring in a number of shows. She's even done an awarded portrayal of Frida Kahlo in 'The Last Moments in the Life of Frida Kahlo' at the American Stage Theatre. This girl is no joke.
3. She can salsa
 She's been a dancer from a young age and even performed in a dance company!
4. She's an actor and a writer
Gina will soon publish a book titled 'I Can and I Will: Tools My Daddy Gave Me'. The inspirational book written in honor of her father is said to be released this year.
5. She makes a damned good speech
Here's a clip of her acceptance speech at the Golden Globes. You'll be happy you watched it.
6. She can pack a punch
Gina is obsessed with boxing. Strong girls rule!
7. She loves her job, and you can tell
The 'Jane The Virgin' star is constantly talking about her amazing cast members. We love them too!
8. She's a ball of sunshine
Backstage magazine says she "…exudes positivity and is impossible not to fall for, both onscreen and in person". (source) 
9. She's got style
Our girl looked gorgeous at this past Emmy Awards!
10. She's an advocate for diversity
Gina is never silent about the need for change in the media.
On the topic of diversity in Hollywood, she states, "[It's about] creating a different perception of minorities in the media. That was a huge mission and still is for me. So I will choose what's best for my career, my journey, my integrity". (source)
Tell us about the women who inspire you and let us know if you love this ball of sunshine as much as we do!
Until Next Time,
Raven